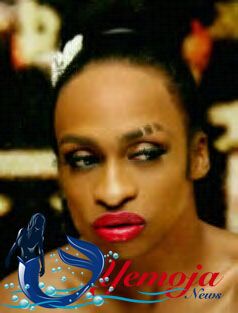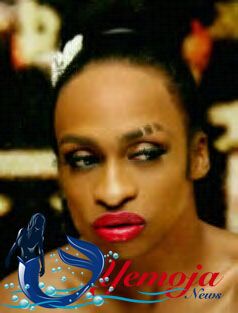 Happy New Week! Today is Halloween in my neck of the woods. For some places around the country, the bad weather might preclude a full on celebration of candies, ghosts, witches and what have you. Halloween is definitely not on my list of holidays to celebrate or indulge in. I've never cared for it. Does Nigeria celebrate Halloween? I am aware the folks at Swe Bar do.
It seems more Nigerians are now joining the list to celebrate this American holiday. Yemojanews.com a site that reports on entertainment news and personalities, published, over the weekend, Denrele dressed in female accessories and full blown makeup resembling that of a "drag queen." Is this a trick or treat, just in time for Halloween . . . or maybe not?
What caught my attention about this story is the "I gotcha tone" embellished throughout. In addition, the fact that Denrele's picture shows him in full blown glossy red lipstick and makeup with hair accessory, is equated to outing his alleged homosexuality to the world.
Rumors of Denrele being gay has surfaced since I can remember. A few in industry circles, behind closed doors, have even sworn about his affairs with fellow male entertainment industry people. At the end of the day, if he is gay, what should we do? Stop all of our activities because . . ?
Anyway, the more interesting question on my mind is does wearing lipstick etc. as a man automatically mean you are gay?I recall college here in the States. There was a very weird man who would, during lunch time,visit my college campus in the middle of the day dressed in women's clothing. I had never seen anything like it before. Worse, he did not know how to style himself. So, it was bad. His chest would be bare with hair everywhere, he would have a short skirt and2.5 inch heels with more hair on his legs, he would carry his purse which had a very long strap and just walk all around campus twisting/winding his waist. It was an awful sight, in my view, and I use to trip out when I saw him. I was just blown away. I had seen drag queens but never someone like this before. I was convinced he had a mental health issue.
Later, from television shows, among others, I learnt about transsexuals, which it appears this man fell into. But, I still believe based on how he portrayed himself, there was something off about him.
In May, I got to read the story of Janet Mock and gained even more insight into the mindset of transsexuals! You all have to read this.
Back to my question, when we see a man in lipstick and hair accessory, should we automatically conclude, as most of us do, that he is gay? In fashion and entertainment, even here in the States, we typically do. But should we?
I recall an instance walking into one of the court houses here in California where I practice enroute to the courtroom where I'd be meeting some of my clients and handling my cases that were on calendar for the day. Halfway through the hallway of the courthouse, a man stopped me. He told me I was "very beautiful." His compliment was one I had heard almost my entire life so it was not something extraordinary to me. I thanked him and was about to keep it moving when he actually held on to my arm to stop me.
Why? He proceeded to launch into how he, on weekends, loved cross-dressing, he was in fact a drag queen and performed at some drag queen clubs in San Francisco, which was about one hour from where I was. I looked at him and looked behind him at his family. "Are those not your children," I inquired? "Do they know you do this?" He confirmed they were his children, without me asking, he said he was not gay and his children knew he loved dressing in drag.
Needless to say, I really was confused why he felt the need to stop me on a very busy morning with all of us trial attorneys rushing into court to begin our day, only to tell me what was very irrelevant set of facts to that setting and my work. I was not his attorney and I was unsure what the point was?!
In any event, I wonder, generally speaking and not related to whether Denrele is or is not gay, when a man is seen in women's accessories, clothing or makeup, is that an unequivocal conclusion he is gay?
I am curious because to me, Nigeria's music industry, I expect, will continue to evolve. With continued evolution, I know we too will see musicians like Prince etc. who will wear makeup and clothes that are deemed more appropriate for women. I can only imagine how Nigeria's society will react . . .
Anyway, enough musings on a Monday.
Have a great week ahead.
Read the Denrele story here.