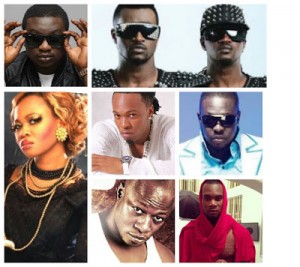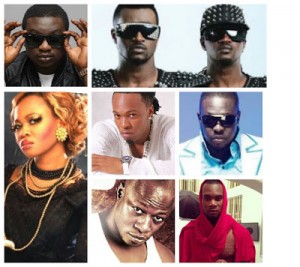 When you really sit and think about it, the song an artist distributes to the public is an opinion he or she may have about whatever the subject matter is. Whether the opinion is out of necessity to make quick money does not change the fact that it is an opinion, a perspective the artist holds.
Now in reality, if some of these opinions and actions are voiced and acted upon in everyday life: home, social or business environment, we would be screaming sexual harassment, gender discrimination and the list goes on. However, put a beat on it, add some visuals and all of a sudden, it sounds so good and of course many want to "lean with it, rock with it."
Who are we to judge right? Your conviction of right and wrong is entirely your issue and those around you that care enough to slap you up the side of your head if they see you going astray. So, if it sounds so good and if the music moves you, then I suppose you do you. Fine. As adults, we can do whatever we want with our lives, although we do not have unfettered discretion/freedom as all of us like to think. Whatever we do, we do not have a right to rob children of their innocence.
It is certainly not done in any civilized country and if Nigeria claims to be civilized, at a minimum, it ought to protect its children.
The National Broadcasting Commission (NBC) (think the equivalent of the FCC here in the US) charged with regulating the broadcasting industry has released a list of music videos that are now banned from playing on local tv networks . Some of these videos I have already deemed awesomely bad videos because of their failure to protect children and how they completely degrade women. I took particular issue with Timaya's 'Bum Bum' and D'Prince's 'Take Banana.'
I believe the industry should be challenged to "come up higher" with the quality of music it produces and the accompanying visuals it uses to market and sell its music. I also believe industry professionals, as citizens of whatever countries they produce music in, have a duty and obligation to the next generation. I believe part of that duty is to to self regulate and protect these young ones until they are of legal age where they can make the personal choices and call for themselves the way we all have. Needless to say we know some kids will be kids but it does not discharge the obligations of the adults.
If the industry is unwilling to act responsibly and self regulate, then a body like NBC should step in and hit these professionals where it hurts, the pocket book. When your music's reach is limited to a smaller amount of Nigerians i.e. only those who have cable television and/ or internet access, then you will review your pocket book next time you decide to do a music video unfit for NBC. The same applies if you want your music to be shown on local televisions across the continent.
YOU, the artist, can easily have your producers/sound engineers edit the "niggas" and profanities used. You can also easily have your video director edit certain sexually degrading scenes to women and children in your videos. I think more of these kinds of regulations are needed and I find it weird it took this long for NBC to get to it.
List of Banned Videos by NBC are:
1. Tillaman ft Vector- Ko Ma Roll (contains Intimate and suggestive dance steps)
2. Wande Coal – Go Low (scenes of nuditiy in the video)
3. D'Prince – Take Banana (contains Intimate, vulgar, words and suggestive dance steps)
4. Flavour – Shake (vulgar and suggestive dance steps)
5. Goldie – Ski bo bo (features minor with suggestive and immoral dance steps)
6. Chuddy K – Chop My Dollar (features ladies and children with suggestive and Intimate dance steps )
7. Timaya – Shake Ur Bum Bum (Intimate, suggestive dance steps with vulgar lyrics
8. P Square – Alingo (Intimate dance scenes at the end of the musical video)
-Uduak
Photocredit: DailyPost