Have you all ever noticed an article that says "FOR IMMEDIATE RELEASE" on it. It seems to have some sort of urgency and you wonder what the fuss is about. If you have paid attention, you have noticed Nigerian artists such as Duncan Daniels, Zara, Naeto C or their representatives send you this kind of "article" if you are on their fan page, or distribute it on Facebook, online or websites you frequently visit. For many by now, you know these kinds of "article(s)" are called "press releases." Well, what does a press release do and what is its purpose? Whether you are an artist or non-artist, how can you use it to get the media talking about you, your music or event? Here we go with my answers:
What Does a Press Release Do?
A press release falls under the bigger umbrella of marketing. There are two important roles press releases serve. The first is to inform the media about your music, event etc. The second is to get the media to write about your event so the public can become aware of your music/event. These days, we can now add a third role press releases serve. Press releases in an age of social media and blogs serve to create public awareness without necessarily having to go to the media, per se.
It is always helpful to know what you want your press release to do when you craft it.
Why Should I Care?
Press releases are an effective form of promotion. They are newsworthy pieces written for the press. It doesn't get better than having the media write about you for free! Talk about saving pounds, dollars, naira in these hard times! In addition, a story written by the media about you or your event is viewed as less biased than if you wrote your own story. It is always better to let someone else sing your praise. Finally, the bulk of stories in the media, especially Western media, that you see are from press releases which are released through newswire services (services that are all about press releases).
Where do I Distribute my Press Releases?
E-mail, Facebook, newswire and web based release services are the medium to distribute your press releases.  When I say e-mail, obviously I mean you have a media contact database that you e-mail your releases to.
For newswire services, there are a lot of free services and of course paid ones. Many of the free press release services will allow for your releases to rank high on google so that if someone types up your event or name, your release will show on google's first or second page. However, you should know that these free services do not necessarily convert to the media writing about you. These services are great if no one really knows who you are or you are just trying to create awareness. Paid services, especially newswire services are more effective at allowing reporters to hear and write about you because newswire services are were reporters go, first and consistently, for ideas on stories to cover.
Could you Please Give Examples of Press Release Services?
Certainly. Examples of free press release sites commonly used by Naija's Entertainment industry includes: prlog.org, free-press-release.com, prurgent.com, fastpitchnetworking.com, pr-inside.com, pr.com and clickpress.com. Examples of paid newswire services include businesswire.com and prnewswire.com. There are also many emerging paid press release services focused on niche markets, including Ladybrille's, depending on the target audience you are trying to reach. Services like businesswire.com and prnewswire.com, as you can imagine, are not used as much by emerging artists, individuals or small businesses because they are not as affordable and range from $200-$800 or more depending on the package chosen.
Facebook arguably is also an option and quite effective. While its is not a press release service per se, Naija musicians and organizations post their press releases on Facebook and they typically tag Naija media influencers like Not Just Ok, Ladybrille, TruSpot, Bella Naija, NET, Linda Ikeji, We Run Things, DJ Mighty Mike, Switched on Naija and other media houses on their friend list. If these influencers write about them, then typically others follow, although not always guaranteed.
How Often Should I Use a Press Release?
ONLY if you have a newsworthy event or information to share with the press! First impression counts. Do not abuse this tool or else you will be blacklisted, please believe that. Use only when you have a newsworthy event i.e. album release, album listening party, signing with a new record label, dropping a new single, you have a music event of some sorts relating to your work. Abeg, unless you are on CNN for something positive, do not contact other media organizations to tell them one of them just wrote about you. It is so annoying and a turnoff.
What Should My Press Release Include?
A good press release is strong. It also has:
• active sentences
• no grammar or spelling errors and no text messages kind of writing
• contact information
• a strong headline
• Is short, not more than 500 words
• Is less about the hype, bragging, subjective claims etc. The whole, "this is the first ever and best thing since slice bread" is so overplayed. If it is, make sure it is and don't say it. Have someone else say that and preferably an industry insider or expert. Remember the "press" in press release. Many times, the media might publish your release "as is" if it is well written and objective.
• Includes quotes, at least one or two. If you can include an expert in the industry, that is always good!
Cheers,
Uduak
Photocredit: Webtreats  under Creative Commons License
Subscribe to Our Podcast Show
Some of Our Achievements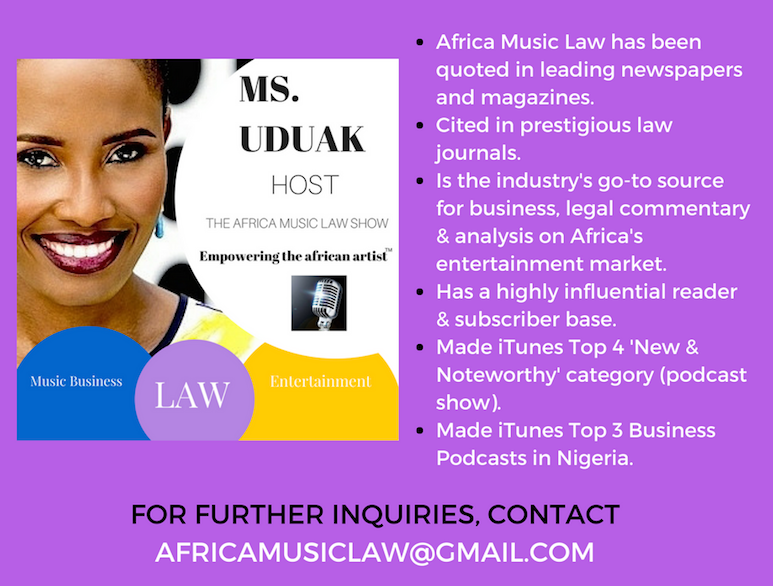 AFRICA MUSIC LAW™ (AML) is a pioneering music business and entertainment law blog and podcast show by Fashion and Entertainment Lawyer Ms. Uduak Oduok empowering the African artist and Africa's rapidly evolving entertainment industry through brilliant music business and entertainment law commentary and analysis, industry news, and exclusive interviews.
Credited for several firsts in the fashion and entertainment industry, Ms. Uduak is also a Partner and Co-Founder of Ebitu Law Group, P.C. where she handles her law firm's intellectual property law, media, business, fashion, and entertainment law practice areas. She has litigated a wide variety of cases in California courts and handled a variety of entertainment deals for clients in the USA, Africa, and Asia. Her work and contributions to the creative industry have been recognized by numerous organizations including the National Bar Association, The American University School of Law and featured in prestigious legal publications in the USA including ABA Journal and The California Lawyer Magazine. She is also an Adjunct Professor at the prestigious Academy of Arts University in San Francisco.
For legal representation inquiries, please email (uduak@ebitulawgrp.com). For blog related inquiries i.e. advertising, licensing, or guest interview requests, please email (africamusiclaw@gmail.com). Thank you for visiting Africa Music Law™.