Nigeria's music industry is young. It really is. Mistakes will be made, it is inevitable. The question is at what price will those mistakes come? Today, August 17th, 2012  Wizkid was supposed to perform in California, along with Skales and Rotimi. On Monday August 13th, 2012, the Promoter of the event Eche-Enziga Emole, according to him, received  news from EME's management that they had to cancel the event. Emole flipped out. Indeed, he had a right to be angry, very angry. However, the approach to handling that situation was not right. He took to twitter and went off the meters about Banky W, EME to anyone and everyone who would listen.
I shared his view here on AML on why he was so angry. Prior to that, in my first writing, I said a joint press statement should be issued or a solo press statement that addressed the issues the Promoter raised, (would be the) appropriate (way to go). I also said, as to the Promoter, getting on twitter was not the right way to go because it reflected a poor image from a perspective of a business owner and how such owner acts under pressure. As of today, Emole and EME have released a joint statement and have now resolved their issues. You can read it below.
However, since this platform is always about keeping it as real as real gets, it only makes sense to discuss some of the  mistakes Emole made and one you, as a promoter, should avoid if you ever find yourself in a cancelled concert situation.
Mistake #1: Never forget that people do not easily forgive and they definitely do not forget: Showbiz is not  a place people easily forgive. There are many passive aggressive people who are willing to wait it out and drive that dagger in your back for the wrongs they perceive you did them; or the way you handled a situation, when the opportunity presents itself. Don't be afraid to speak truth but execution is just as important when you speak truth. Indeed, don't be afraid to go it  alone but don't give people reasons to make your sins worse than theirs. Someone can hit you with a stone. If in response, you throw a grenade on that person, needless to say, you become the evil doer and now, all eyes are focused on your reaction and you, instead of the other person. Don't make yourself the victim.
Mistake #2: As a promoter, never forget you run a business: People may egg you on when you are mad. But, never forget you run a business. In simple terms, it means you gotta eat. Whether you promote for USA artists or African artists, your resume is now online, many times indefinitely, for the world to see how you react under pressure. It is not a good look and it undermines your business. No matter what anyone says, industry labels, artists etc. everyone now knows be careful with this guy. Not so much because he will put your business out there if things go wrong, but  because he loses control, cannot regulate his emotions and does not know when to stop. Reacting, I have learnt, comes from fear. When you do not fear, you do not react. You are in charge and your moves are definitive, calculated and sting bad, should you choose to attack.
Mistake #3: As a promoter, when shows are cancelled, do not be the one to create the drama.  In this case, the Promoter created the drama. Easily, if the facts were true as this Promoter alleged, there would have been a very strong case against EME for breach of contract, fraud, conversion, unjust enrichment, intentional infliction of emotional distress, among many claims. A cancelled 2011 event, another cancelled 2012 event, alleged un-refundable monies for sales of tickets from 2011, you get the idea. The promoter could have also asked for punitive damages and reasonable costs of attorney fees. Punitive damages are damages that you ask a court or jury for where it can be shown that the wronged act was intentional.
However, despite all that, THE LAW in California says you as a potential Plaintiff have a DUTY to mitigate your damages. This means, you cannot make matters worse. You can't get on twitter and go off the handle. First, your attorney would slap you up the side of your head, if they agree to take your case. You are a problem client and a red flag. If you did it to others, you will do it to your lawyers, although they would probably pull a Courtney Love move on you and sue you till you are penniless and restore their credibility.  It just isn't that kind of party. Second, you failed to mitigate your damages, in fact you probably created it, given in this case, there wasn't even any booking fee or deposit made to EME for its artists, per the release. Third, you open the door for claims of  defamation and libel against you.
The joint press release by EME and this promoter show that anytime this promoter has a change of heart and wants to sue, EME can countersue and hit him with defamation and libel claims. Indeed the joint press statement that he has now signed to, is evidence that he defamed (i.e. said untruthful things) about EME.
Mistake #4: Forgetting there is a court of law. Folks, there is a court of law. Whether you are in Nigeria or in California, there is a court of law. Throwing tantrums gets you no where. Martin Luther King Junior has this saying:
"The ultimate measure of a man is not where he stands in moments of comfort and convenience, but where he stands at times of challenge and controversy."
If you cannot afford a lawyer, yes we are expensive, then you can sue in small claims. The maximum amount you can recover in a small claims court in California is $5,000 (for a corporation. For individuals, it is now $10,000). You represent yourself there.  Suing would have been more powerful, more effective and most importantly, keep business going for you. Wizkid may leave EME today and sign on to Jay-Z's Roc Nation etc. Is he going to want to come down and perform if this promoter asks? No way. He will remember how this promoter acted, make no mistake about it, especially since the promoter reveals the reason why Wizkid cannot perform is because he is very ill. So basically, EME made him eat back his words . . .
Industry, we can do better. No one is perfect, we all keep learning, we make mistakes. Make that mistake the first time, but if you are smart,  make sure you  don't make it again. But, as y'all already know, if you did not make your mistakes, then you would put all of us lawyers out of business. So, as evil as (this may) sound, ignore me and carry on.  .  . 🙂
See press release below.
Cheers,
Uduak
Dear Fans,

As you all know, on August 17, 2012 Royal Entertainment scheduled a concert featuring WizKid, Skales & Rotimi. Royal Entertainment was responsible for the promotions of that show. We put all of our efforts behind promoting this, so whenEME had to cancel the show, we felt very disappointed. It was a knock against RoyalEntertainment, and it was a let-down for all of you, who were looking forward to it.

We have come to find out that WizKid would have been physically unable to perform. Because of his rigorous touring and recording schedule, he had taken ill, and EME saw it in his best interest to suspend the tour for a small amount of time in orderfor him to recuperate. EME and Royal Entertainment came to an agreement that both companies would jointly issue statements, apologizing to the fans, and makeup for the show in the nearest future. While we are extremely disappointed at the cancellation, Royal Entertainment has accepted the situation.

Furthermore, we would like to address the allegations that Banky W. had never planned to be in California. We have come to find out that this information was 100% false. As you can imagine, We felt betrayed and went on a public tirade against EME, and Banky W. Sparks flew, tempers raged, and certain statements were issued, on twitter and in the Nigerian Entertainment blogosphere, due to the intensity of the situation at hand.

Hindsight, they say, is 20/20. Further research has brought many things to light, and it's time to make the situation clear. It is in the interest of everyone to put all of this behind us. With that, we would like to close this chapter by issuing the following statements:

Royal Entertainment acknowledges that EME explained the reason for thecancellation of the California Show and apologized to us. While we areextremely disappointed, we accepted the apology.

The information presented to Royal Entertainment was 100% false. Allegations were made about Banky's character, and while we may have believed them at the time, those allegations have proven themselves to be completely untrue. To his credit,Mr Wellington and EME acted with dignity through the whole ordeal, and Royal Entertainment would like to publicly apologize for the way we handled the situation.Royal Entertainment would furthermore like to publicly retract what we, or any of ouraffiliates, have said negatively about Banky W and EME.

There was no booking fee or deposit of any sort paid to EME for theCalifornia show, however, monies were spent by Royal Entertainment for promotions. EME has agreed to refund Royal Entertainment in full for the requested amount.

All fans who bought advance tickets from any of the promotions agents, are eligible for a 100% refund. Those handled by Royal Entertainment will be refunded through our channels; Alore media, the company in charge of online logistics, has ensured that those handled online will be credited back throughthe source of payment.

It is our hope that henceforth, such situations will never repeat themselves. When things spiral out of control this way, every brand or company associated with the ordeal suffers a shot to its reputation. The overall intention was for us to do the best possible for the fans, and all of our actions were in their interest.

In conclusion, on behalf of Royal Entertainment, EME, Alore Media and all partiesinvolved, Royal Entertainment would like to apologize to the fans, and furthermorepromise that we will make every effort to ensure something like this will not happenagain. Thank you for your support, understanding and love.

Thank you,

Royal Entertainment
Subscribe to Our Podcast Show
Some of Our Achievements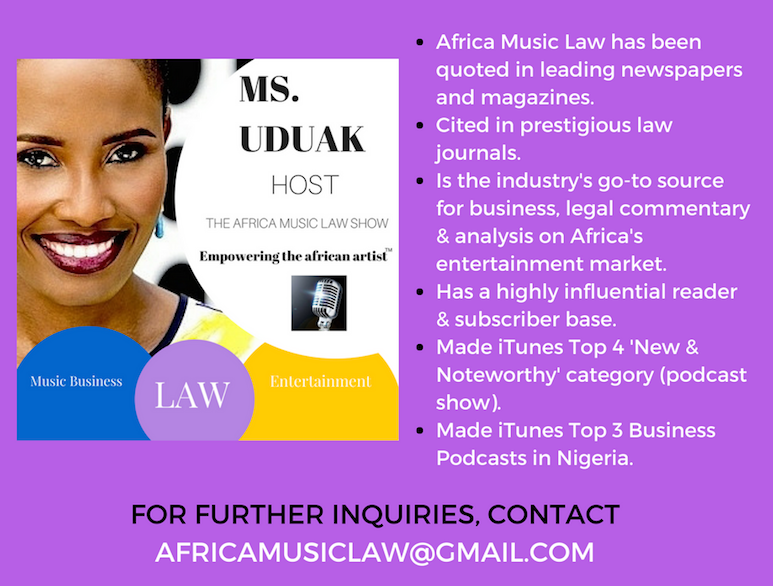 AFRICA MUSIC LAW™ (AML) is a pioneering music business and entertainment law blog and podcast show by Fashion and Entertainment Lawyer Ms. Uduak Oduok empowering the African artist and Africa's rapidly evolving entertainment industry through brilliant music business and entertainment law commentary and analysis, industry news, and exclusive interviews.
Credited for several firsts in the fashion and entertainment industry, Ms. Uduak is also a Partner and Co-Founder of Ebitu Law Group, P.C. where she handles her law firm's intellectual property law, media, business, fashion, and entertainment law practice areas. She has litigated a wide variety of cases in California courts and handled a variety of entertainment deals for clients in the USA, Africa, and Asia. Her work and contributions to the creative industry have been recognized by numerous organizations including the National Bar Association, The American University School of Law and featured in prestigious legal publications in the USA including ABA Journal and The California Lawyer Magazine. She is also an Adjunct Professor at the prestigious Academy of Arts University in San Francisco.
For legal representation inquiries, please email (uduak@ebitulawgrp.com). For blog related inquiries i.e. advertising, licensing, or guest interview requests, please email (africamusiclaw@gmail.com). Thank you for visiting Africa Music Law™.