Nigeria's music industry is growing in leaps and bounds. With the success of artists like D'Banj, M.I and P-Square, it's almost like the industry is churning out new artistes everyday! In the sea of all these artists even with great music, it is becoming very hard to attract "media buzz" to help take your music to the next level? So, how do you attract media attention for your music, especially if you can't afford to hire a marketing/public relations firm?
Today is your lucky day! Whether you are an up and coming artist trying to just get a break or you are a successful artist looking to "enlarge your territory" beyond the shores of Nigeria, here are true and tested tips to get media buzz within and outside the country for your music.
Tip #1, Lay your foundation: The media is in the business of giving their audience want they want. Show you are worth their time and can give them what their audience wants by first laying your foundation. This means you must take advantage of your social media tools to gain traction. Create your Myspace, twitter, YouTube, facebook fan page, blog or your own website. Your social media sites are FREE and will come in handy when dealing with media
Tip #2, Target and know your media "well well": Invest the time to research and compile a contact list of influential music journalists, publishers & bloggers (aka media). Research their style, genre, how they like things sent to them, read some of the articles they have written/published. You do not want to waste your time sending information to journalists or bloggers that do not focus on music, much less African/Nigerian music.
Tip #3, Get your press a.k.a. media kit together: A media kit immediately sets you apart from the competition. It says you are serious about the business of music and you will be taken seriously. What goes into a media kit? Traditionally for musicians your cover letter, bio and basic frequently asked questions, brochure, past media coverage, CD and photo. These days, especially if you will be e-mailing your press kit, make it not more than one page long. Include a short and straight to the point information about yourself, your company if you are a record label, your new music, upcoming album and a link to your website/social media site. Make sure to include your contact information so you can be reached.
Tip #4, Don't send MP3s: I know it seems counter intuitive but the level of spam the media gets means your MP3s will often end up in the spam/junk folder. To increase the probability your music will be heard, send a link to your MySpace. If they like what they see and hear, they will follow up.
Tip# 5, Send your release as an embedded text: Press releases are independent of your media kit. A press release is for the media not fans and it says, "I have newsworthy information that will benefit your audience." Do not send press releases as attachments because they will find their way, most often, in the junk pile. Journalists get tons of e-mail everyday. Make their life easy and increase your chance of getting buzz by sending an embedded text.
We will discuss more about press releases in future but for now avoid the all too common press release headlines that read as, "Artist Tunde Launches New Album." It might work for your fans but is absolutely boring for the media and will usually get a "So what?" followed with a deletion of your email. Instead, make sure your headline answers the "Who, What, When, Why and How" of your album launch. For Example, "Tunde's New Album a Skillful Return to Nigerian R &B Music." Also avoid the hype. Instead, be objective and clear on the benefit or entertainment value featuring you would add to your journalist/blogger's audience.
This is a tip but having only 5 numbered items just looked good. Don't forget to follow up! It is about building a long term relationship, so always follow up and keep your targeted media abreast of all that you are doing constantly.
Subscribe to Our Podcast Show
Some of Our Achievements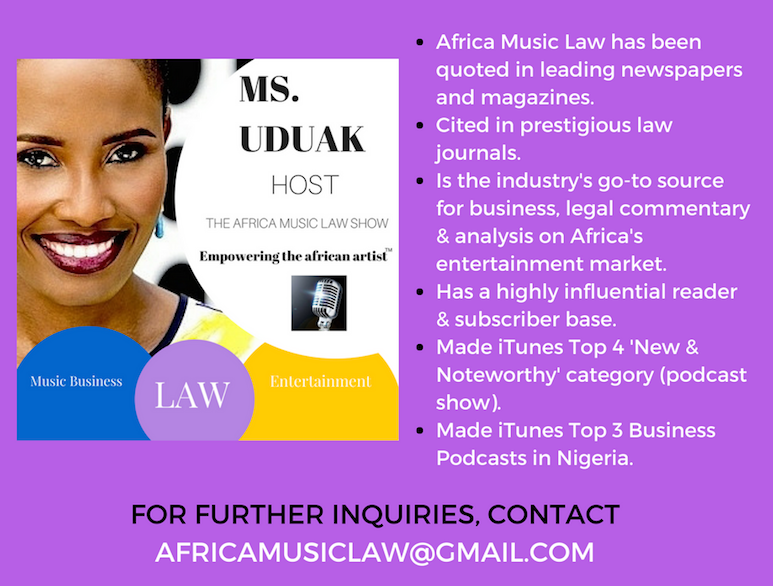 AFRICA MUSIC LAW™ (AML) is a pioneering music business and entertainment law blog and podcast show by Fashion and Entertainment Lawyer Ms. Uduak Oduok empowering the African artist and Africa's rapidly evolving entertainment industry through brilliant music business and entertainment law commentary and analysis, industry news, and exclusive interviews.
Credited for several firsts in the fashion and entertainment industry, Ms. Uduak is also a Partner and Co-Founder of Ebitu Law Group, P.C. where she handles her law firm's intellectual property law, media, business, fashion, and entertainment law practice areas. She has litigated a wide variety of cases in California courts and handled a variety of entertainment deals for clients in the USA, Africa, and Asia. Her work and contributions to the creative industry have been recognized by numerous organizations including the National Bar Association, The American University School of Law and featured in prestigious legal publications in the USA including ABA Journal and The California Lawyer Magazine. She is also an Adjunct Professor at the prestigious Academy of Arts University in San Francisco.
For legal representation inquiries, please email (uduak@ebitulawgrp.com). For blog related inquiries i.e. advertising, licensing, or guest interview requests, please email (africamusiclaw@gmail.com). Thank you for visiting Africa Music Law™.