Nigeria's Access Bank has announced the merger and acquisition of its competitor Diamond Bank. From the outside looking in, it appeared the latter was healthy, but it was not and there were many telltale signs including a decision to abandon its international operating license, a Central Bank of Nigeria Fine of 250 Million Naira, non-performing loans and plunging share prices, chairman and non-executive director resignations, and the S & P downgrading the bank's ratings, all within this year.
So, in simple English, what does the new deal mean?
In the statement from Diamond Bank republished below, it means that the board of directors for Access and Diamond have approved the merger of the two banks. What is left is to get the approval of their respective shareholders. Once they obtain the approval, Diamond Bank will no longer exist and as it becomes part of Access Bank.
As a reminder for those needing the primer, a corporation is an independent entity that lasts in perpetuity. Its shareholders are those who contribute capital to the corporation. Its directors and officers help manage it. The board of directors specifically wield significant power and manage and supervise the business of the corporation. When a mergers and acquisitions transaction occurs like the one here, there are many ways to negotiate the deal, in this case, the transaction type is a merger.
Read the press statement from Diamond Bank below:
The Board of Diamond Bank Plc ("Diamond Bank") today announces that following a strategic review leading to a competitive process, the Board has selected Access Bank Plc ("Access Bank") as the preferred bidder with respect to a potential merger of the two banks ("the merger") that will create Nigeria and Africa's largest retail bank by customers.
The Board of Diamond Bank believes that the merger is in the best interest of all stakeholders including, employees, customers, depositors and shareholders and has agreed to recommend the offer to Diamond Bank's shareholders. Completion of the merger is subject to certain shareholder and regulatory approvals.
The proposed merger would involve Access Bank acquiring the entire issued share capital of Diamond Bank in exchange for a combination of cash and shares in Access Bank via a Scheme of Merger. Based on the agreement reached by the Boards of the two financial institutions, Diamond Bank shareholders will receive a consideration of N3.13 per share, comprising of N1.00 per share in cash and the allotment of 2 New Access Bank ordinary shares for every 7 Diamond Bank ordinary shares held as at the Implementation Date. The offer represents a premium of 260% to the closing market price of N0.87 per share of Diamond Bank on the Nigerian Stock Exchange ("NSE") as of December 13, 2018, the date of the final binding offer.
Immediately following completion of the merger, Diamond Bank would be absorbed into Access Bank and it will cease to exist under Nigerian law. The current listing of Diamond Bank's shares on the NSE and the listing of Diamond Bank's global depositary receipts on the London Stock Exchange will be canceled, upon the merger becoming effective.
Diamond Bank expects the transaction to complete in the first half of 2019.
Uzoma Dozie, the Chief Executive Officer of Diamond Bank, said: "The proposed combination with Access Bank will create one of Africa's leading financial institutions. There is a clear strategic rationale for the proposed merger and strong complementarities between the two institutions. While Diamond Bank has pioneered Nigeria's largest technology-led retail banking platform, Access Bank is one of Nigeria's leading full-service commercial banks. Consolidation in the Nigerian banking industry is an inevitable, natural progression in a sector where the gap between Tier 1 and Tier 2 banks has been widening and scale has become critical; where technology will disrupt the traditional business model while enabling broader financial inclusion.
The board of Diamond Bank believes that the proposed combination of the two operations provides an exciting prospect for all stakeholders in both businesses and will create a financial institution with the scale, strength, and expertise to capitalise on the significant opportunities in Nigeria and sub-Saharan Africa more broadly."
Herbert Wigwe, CEO of Access Bank, said: "Access Bank has a strong track record of acquisition and integration and has a clear growth strategy. Access Bank and Diamond Bank have complementary operations and similar values, and a merger with Diamond Bank, with its leadership in digital and mobile-led retail banking, could accelerate our strategy as a significant corporate and retail bank in Nigeria and a Pan-African financial services champion. Access Bank has a strong financial profile with attractive returns and a robust capital position with 20.1% CAR as at 30 September 2018. We believe that this platform, together with the two banks' shared focus on innovation, financial inclusion, and sustainability, can bring benefits to Access Bank and Diamond Bank customers, staff and shareholders."
Exotix Capital acted as international financial advisor to Diamond Bank, and Templars acted as Nigerian legal counsel.
This announcement contains inside information for the purposes of Article 7 of the Market Abuse Regulation (EU 596/2014) ("MAR") and is disclosed in accordance with Diamond Bank's obligations under Article 17 of MAR.
Subscribe to Our Podcast Show
Some of Our Achievements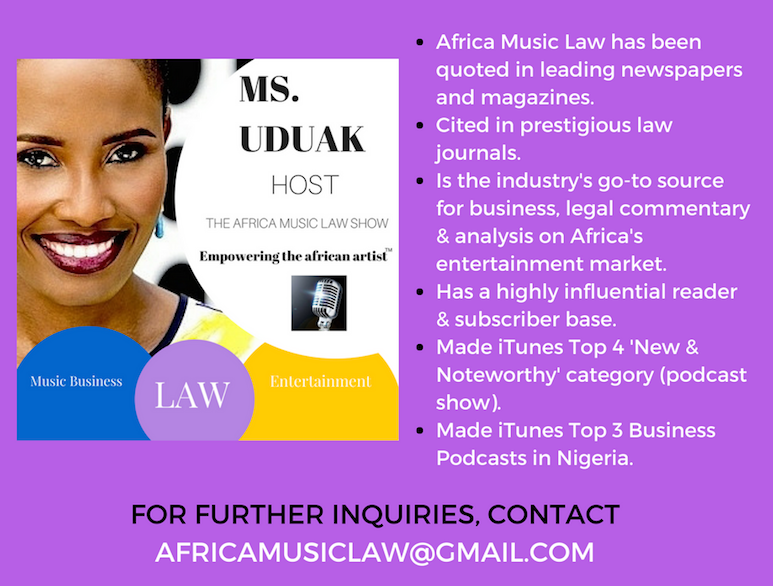 AFRICA MUSIC LAW™ (AML) is a pioneering music business and entertainment law blog and podcast show by Fashion and Entertainment Lawyer Ms. Uduak Oduok empowering the African artist and Africa's rapidly evolving entertainment industry through brilliant music business and entertainment law commentary and analysis, industry news, and exclusive interviews.
Credited for several firsts in the fashion and entertainment industry, Ms. Uduak is also a Partner and Co-Founder of Ebitu Law Group, P.C. where she handles her law firm's intellectual property law, media, business, fashion, and entertainment law practice areas. She has litigated a wide variety of cases in California courts and handled a variety of entertainment deals for clients in the USA, Africa, and Asia. Her work and contributions to the creative industry have been recognized by numerous organizations including the National Bar Association, The American University School of Law and featured in prestigious legal publications in the USA including ABA Journal and The California Lawyer Magazine. She is also an Adjunct Professor at the prestigious Academy of Arts University in San Francisco.
For legal representation inquiries, please email (uduak@ebitulawgrp.com). For blog related inquiries i.e. advertising, licensing, or guest interview requests, please email (africamusiclaw@gmail.com). Thank you for visiting Africa Music Law™.