Over a year ago, AML published an "Open letter to would be repatriates to Nigeria," by Dr. Oluyemi Olawaiye that gave great insights to would be returnees looking to move back to Nigeria. Fast forward eighteen months later and we have yet another brilliant mind providing candid advice to would be returnees but this time, to the technology and technology-related industries.
Ade Abayomi Olufeko,  a Nigerian-American technologist, and businessman who resides on the east coast in the United States (U.S.) and splits his time between the U.S. and Lagos in Nigeria, a city he spent his formative years, delves into his observations of Nigeria's technology ecosystem.
In an interview with one of the local prominent stations in Lagos, Smooth 98.1 FM's 'The Market Place', Olufeko shares his observations on the country's technology system or lack thereof. He also demystifies unaddressed African complexes in social interactions for the home grown Nigerian intellect and those who are considering moving back to the nation.
According to Olufeko, contrary to media coverage about the economic advantages of repatriation, many of Nigeria and Africa's returnees do not have the right kind of voice due to cultural barriers to entry.  Here are some other highlights from his interview with Smooth 98.1 FM:
There is no ecosystem in Nigeria. There are just societies and clubs.
There are a lot of things lacking in terms of infrastructure, a key thing being power which greatly affects the tech ecosystem.
Within the tech industry, everyone jumps on buzzwords. But Nigerian technologists must move beyond the buzzwords.
There is a disconnect between Africans in the diaspora and on the continent. For example, there are inferiority and superiority complexes, and returnees tend to ignore the pain points of the environments they return to.
Technologists should not hoard information. Share. There is a great benefit in sharing information.
Technologists should remove tribal and class divisions because they hinder growth in the sector.
There is a lot to do. For example, it is very important the industry and government collectively help power the tech sector because it can significantly help other industry sectors like agriculture and healthcare.
Listen to Olufeko's interview below.
Subscribe to Our Podcast Show
Some of Our Achievements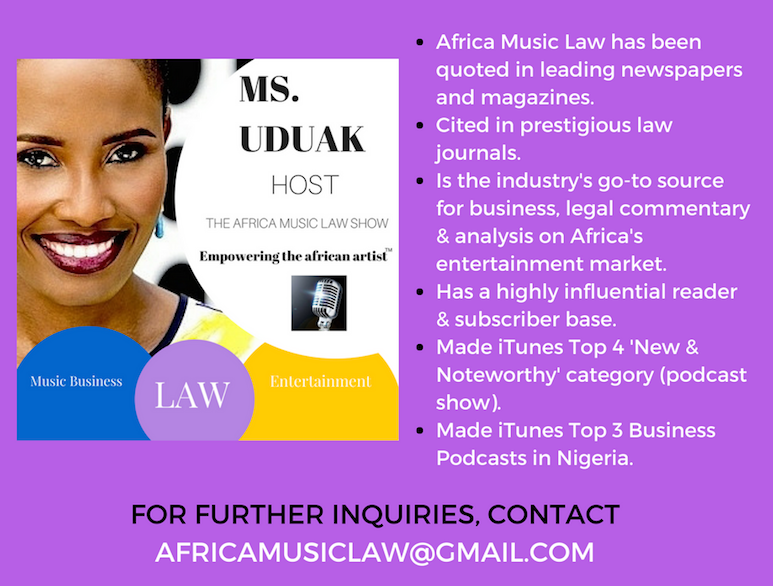 AFRICA MUSIC LAW™ (AML) is a pioneering music business and entertainment law blog and podcast show by Fashion and Entertainment Lawyer Ms. Uduak Oduok empowering the African artist and Africa's rapidly evolving entertainment industry through brilliant music business and entertainment law commentary and analysis, industry news, and exclusive interviews.
Credited for several firsts in the fashion and entertainment industry, Ms. Uduak is also a Partner and Co-Founder of Ebitu Law Group, P.C. where she handles her law firm's intellectual property law, media, business, fashion, and entertainment law practice areas. She has litigated a wide variety of cases in California courts and handled a variety of entertainment deals for clients in the USA, Africa, and Asia. Her work and contributions to the creative industry have been recognized by numerous organizations including the National Bar Association, The American University School of Law and featured in prestigious legal publications in the USA including ABA Journal and The California Lawyer Magazine. She is also an Adjunct Professor at the prestigious Academy of Arts University in San Francisco.
For legal representation inquiries, please email (uduak@ebitulawgrp.com). For blog related inquiries i.e. advertising, licensing, or guest interview requests, please email (africamusiclaw@gmail.com). Thank you for visiting Africa Music Law™.