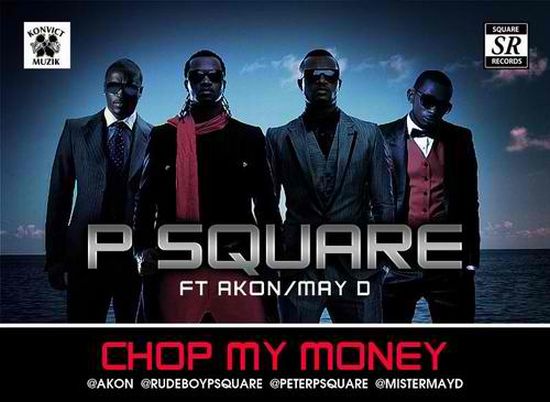 Just a few weeks ago, I discussed the lawsuit by Akon's contractors for his Georgia Mansion, just on the heels of a remix song and video he did with Nigeria's popular artist(s) P-Square. This is Part II, AML Legal Drama remix where yet another person is saying, "P-Square, Akon chop my money!" A few things before I address my AML American artists, labels etc. reading this. AML African artists, you all have to really tighten the (loose ends in the) legal relationships you enter into with artists overseas. There is a pattern and practice of collaborations with American artists (of African heritage or otherwise); and the promotions and marketing stays only within your fan base and the African media. What sense does it then make? Why pay thousands of dollars to do a collaboration and you have no real return on investments, in terms of real penetration into the US market?
Clauses have to be spelt out in contractual agreements that require a bit more lifting and push on the part of the American artists you collaborate with. Tighten that loose end and have confidence that you have enough value and bring something to the table that American artists want.
AML American artists, the same holds for you all. Don't just collaborate with African artists and pocket the cash/payments. It isn't just music. It is also about helping decades of stereotypes about African people. It is (about) expanding (your) fan base and creating a long lasting brand that will keep the residual income coming; because your name goes down in Africa's music history books for helping (to) open the door.
Enough of my speech. Back to this case.
TMZ reports:

"Akon's in the process of learning a very valuable lesson — don't piss off your lawyers… because they're experts in legal ass-beatings.

According to a new lawsuit, filed in Georgia, the "Smack That" singer hired a bunch oflawyers last year at a firm called Yoss — then refused to pay them $39, 363.74 for legal services. Now, they've responded by doing what they do best … suing his pants off for breach of contract.

It's not entirely clear what the legal work entailed — but sources tell TMZ, it involved civil/business matters.

Akon filed his own response in the suit — insisting their claims are BS … and vowing to fight back.

Akon is now asking a judge to dismiss the case. Stay tuned! . . ." – TMZ
I say often that trial lawyers like myself take to the courtroom the way fish takes to water. Our DNA is wired to fight. It is why we spend time in graduate school to obtain a doctorate in law (degree) so we can become licensed fighters. Accordingly, it makes sense to conclude you should try as much as possible not to fight with your lawyers.
When you pick up the phone to call a lawyer's office, expect to pay, and pay big bucks in many instances. If you cannot afford a lawyer, there are many non-profit legal aid organizations that can help you out. Go to them. (In addition) if you commit a crime, in the criminal law arena, and cannot afford a lawyer, a court can appoint one for you. While many artists think it is cool to give their music free, we lawyers do not think it cool to give our work free. For your own good health, artists, labels etc. please do not mess with the lawyers.
Indeed, Akon's lawyers are not pleased with him and they are ready to take him to the legal battlefield dry cleaning services. Newsflash, when your lawyer sues you, it becomes super difficult to get another lawyer to represent you because you are seen as a "problem client." Further, in Akon's case, it makes the contractors who recently sued him appear credible in their claim of unpaid fees.
How do Lawyers Work in Terms of Pay?
1. When you consult with an attorney (usually paid consultation although some attorneys do free consultation), an attorney if he/she agrees to  represent you, will draw up a retainer fee agreement that governs your relationship with that attorney and his/her law firm representing you.
2. Retainer fees can range from $5,000 to $40,000, or more, depending on the complexity of the matter and the high profile clients involved.
3. A retainer fee is not all you will pay. It is a depository fee to essentially guarantee the attorney's time to work on your case at the detriment of that attorney foregoing taking other matters etc.
4. The lawyer then charges you his/her hourly rate against that retainer fee. Depending on the experience, geographic region etc. The hourly fees can range from $250 to $1,000, or more, per hour.
The fees add up very quickly. A $5,000 case can easily generate attorney fees that exceed $70,000 where trial is involved. So, you really have to do the math and determine whether you have the budget to hire a lawyer.
Sometimes, fee disputes with lawyers can be legitimate. Over inflated bills and unaccountable time have been known to happen. From big law to small law firms, attorneys are now more conscientious than ever to make sure they can account and bill clients meaningfully for legal services they render.
Either way, avoid as much as possible legal battles with your lawyer(s).
Subscribe to Our Podcast Show
Some of Our Achievements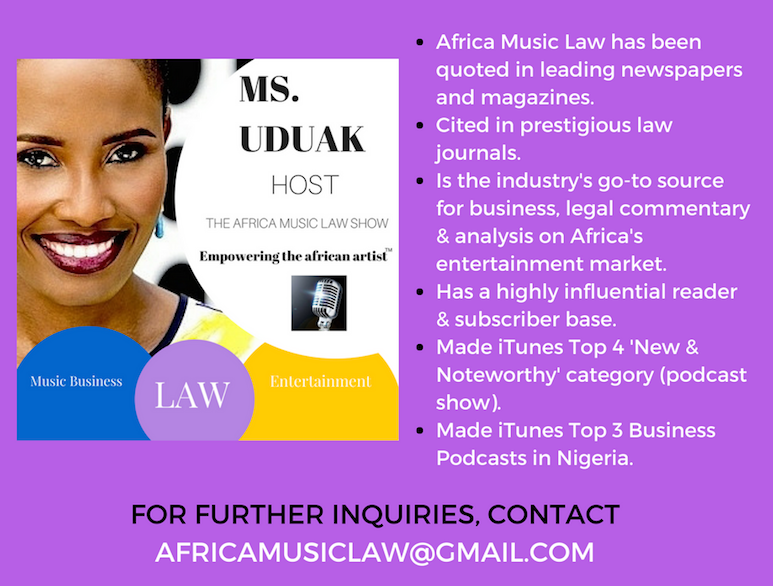 AFRICA MUSIC LAW™ (AML) is a pioneering music business and entertainment law blog and podcast show by Fashion and Entertainment Lawyer Ms. Uduak Oduok empowering the African artist and Africa's rapidly evolving entertainment industry through brilliant music business and entertainment law commentary and analysis, industry news, and exclusive interviews.
Credited for several firsts in the fashion and entertainment industry, Ms. Uduak is also a Partner and Co-Founder of Ebitu Law Group, P.C. where she handles her law firm's intellectual property law, media, business, fashion, and entertainment law practice areas. She has litigated a wide variety of cases in California courts and handled a variety of entertainment deals for clients in the USA, Africa, and Asia. Her work and contributions to the creative industry have been recognized by numerous organizations including the National Bar Association, The American University School of Law and featured in prestigious legal publications in the USA including ABA Journal and The California Lawyer Magazine.
For legal representation inquiries, please email (uduak@ebitulawgrp.com). For blog related inquiries i.e. advertising, licensing, or guest interview requests, please email (africamusiclaw@gmail.com). Thank you for visiting Africa Music Law™.