Our local Nigerian/African/American communities across the USA get involved with a march on May 3rd, 2014. Watch the New York & LA rallies below.

Our local (USA) political leaders and media get even more involved

Our local (USA) Celebs get involved too.

Nigerians in Nigeria Rally Too Watch the Lagos and Abuja Rallies

Our Nigerian Artists Community (in Nigeria) Get Even More Involved: Waje, Banky W, Yemi Alade, Sasha P, Lami Phillips and Many more.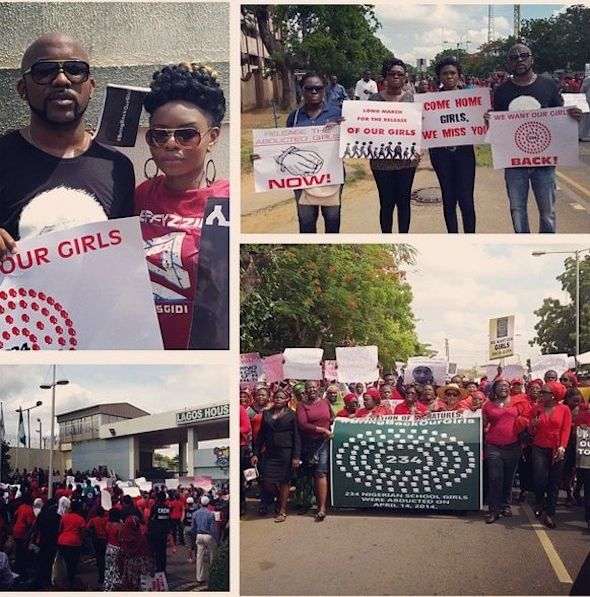 And the Entertainment Industry Too . . . Listen to Stella Damasus

Nigeria's First Lady Weeps

Chimamanda Adichie writes a piece for the New Yorker titled, 'Hiding From Our Past'
On the margins of my happy childhood, there was a shadow: the Biafran war. I was born seven years after it ended, and did not experience any material deprivations—I had a bicycle, dolls, books—but my family was scarred by it. In 1967, after massacres in northern Nigeria that targeted southeastern Igbo people, the southeast seceded and formed an independent nation called Biafra. Nigeria went to war to prevent the secession. By the time that Biafra was defeated, in 1970, at least a million people were dead, including my grandfathers—proud, titled Igbo men who were buried in the unmarked graves of refugee camps. My parents lost other relatives, and everything they owned. A generation was robbed of its innocence. The war was the seminal event in Nigeria's modern history, but I learned little about it in school. "Biafra" was wrapped in mystery. At home, my parents spoke of it rarely and obliquely; I heard many stories about my grandfathers' wisdom and humor, but few stories about how they had died. . . – The New Yorker has the full story.
Presidential Live Media Chat

Christian Association of Nigeria releases the names of 180 girls abducted:
Christian Students
1 Deborah ​Abge
2. Awa ​Abge
3. Hauwa ​Yirma
4. Asabe ​Manu
5. Mwa ​Malam pogu
6. Patiant ​Dzakwa
7. Saraya ​Mal. Stover
8. Mary ​Dauda
9. Gloria ​Mainta
10. Hanatu ​Ishaku
11. Gloria ​Dama
12. Tabitha ​Pogu
13. Maifa ​Dama
14. Ruth ​Kollo
15. Esther ​Usman
16 Awa ​James
17 Anthonia Yahonna
18 Kume ​Mutah
19 Aisha ​Ezekial
20 Nguba ​Buba
21 Kwanta ​Simon
22 Kummai ​Aboku
23 Esther ​Markus
24 Hana ​Stephen
25. Rifkatu ​Amos
26 Rebecca ​Mallum
27.Blessing ​Abana
28. Ladi ​Wadai
29. Tabitha ​Hyelampa
30 Ruth ​Ngladar
31 Safiya ​Abdu
32 Na'omi ​Yahonna
33 Solomi ​Titus
34 Rhoda ​John
35 Rebecca ​Kabu
36. Christy ​Yahi
37. Rebecca ​Luka
38. Laraba ​John
39 Saratu ​Markus
40. Mary ​Usman
41 Debora ​Yahonna
42.Naomi ​Zakaria
43 Hanatu ​Musa
44. Hauwa ​Tella
45.Juliana ​Yakubu
46. Suzana ​Yakubu
47.Saraya ​Paul
48. Jummai ​Paul
49. Mary ​Sule
50. Jummai ​John
51.Yanke ​Shittima
52. Muli ​Waligam
53. Fatima ​Tabji
54. Eli ​Joseph
55.Saratu ​Emmanuel.
56. Deborah Peter
57.Rahila ​Bitrus
58. Luggwa ​Sanda
59. Kauna ​Lalai
60. Lydia ​Emmar
61.Laraba ​Maman
62.Hauwa ​Isuwa
63. Confort ​Habila
64. Hauwa ​Abdu
65. Hauwa ​Balti
66.Yana ​Joshua
67.Laraba ​Paul
68.Saraya ​Amos.
69. Glory ​Yaga.
70. Na'omi ​Bitrus.
71. Godiya ​Bitrus.
72. Awa ​Bitrus.
73. Na'omi ​Luka.
74. Maryamu Lawan.
75. Tabitha ​Silas.
76. Mary ​Yahona.
77. Ladi ​Joel.
78. Rejoice ​Sanki.
79. Luggwa ​Samuel.
80.Comfort ​Amos.
81. Saraya ​Samuel.
82. Sicker ​Abdul.
83.Talata ​Daniel.
84. Rejoice ​Musa.
85Deborah ​Abari.
86. Salomi ​Pogu.
87.Mary ​Amor.
88. Ruth ​Joshua.
89Esther ​John.
90. Esther ​Ayuba.
91. Maryamu Yakubu.
91. Zara ​Ishaku.
93. Maryamu Wavi
94. Lydia ​Habila.
95. Laraba ​Yahonna.
96. Na'omi ​Bitrus.
97.Rahila ​Yahanna.
98. Ruth ​Lawan.
99. Ladi ​Paul.
100 Mary ​Paul.
101. Esther ​Joshua.
102. Helen ​Musa.
103. Margret Watsai.
104. Deborah Jafaru.
105. Filo ​Dauda.
106. Febi ​Haruna.
107.Ruth ​Ishaku.
108.Racheal Nkeki.
109. Rifkatu Soloman.
110.Mairama yahaya.
111.Saratu ​Dauda.
112.Jinkai ​Yama.
113.Margret Shettima.
114.Yana ​yidau.
115. Grace ​Paul.
116. Amina ​Ali.
117. Palmata Musa
118. Awagana Musa
119. Pindar ​Nuhu
120.Yana ​Pogu.
121. Saraya ​Musa
122. Hauwa ​Joseph.
123. Hauwa ​kwakwi.
125. Hauwa ​Musa.
126. Maryamu Musa.
127. Maimuna Usman.
128. Rebeca Joseph.
129.Liyatu ​Habitu.
130. Rifkatu Yakubu.
131. Naomi ​Philimon.
132.Deborah Abbas.
133. Ladi ​Ibrahim.
134. Asabe ​Ali
135. Maryamu Bulama.
136.Ruth ​Amos.
137.Mary ​Ali
138. Abigail Bukar
139 Deborah Amos
140. Saraya ​Yanga
141. Kauna ​Luka
142. Christiana Bitrus
143.Yana ​Bukar
144. Hauwa ​peter
145.Hadiza ​Yakubu.
146.Lydia ​Simon
147. Ruth ​Bitrus .
148.Mary ​Yakubu
149.Lugwa ​Mutah.
150 Muwa ​Daniel.
151 Hanatu ​Nuhu
152. Monica Enoch
153. Margret Yama
154. Docas ​Yakubu
155. Rhoda ​Peter
156. Rifkatu Galang
157. Saratu ​Ayuba
158. Naomi ​Adamu
159. Hauwa ​Ishaya
160. Rahap ​Ibrahim
162. Deborah Soloman
163 Hauwa ​Mutah
164. Hauwa ​Takai
165. Serah ​Samuel
Muslim Girls
166. Aishatu Musa
167. Aishatu Grema
168. Hauwa ​Nkeki
169. Hamsatu Abubakar
170.Mairama Abubakar
171 Hauwa ​Wule
172. Ihyi ​Abdu
173. Hasana Adamu
174. Rakiya ​Kwamtah
175 Halima ​Gamba
176. Aisha ​Lawan
177. Kabu ​Malla
178. Yayi ​Abana
179. Falta ​Lawan
180. Kwadugu Manu