Did Katy Perry Infringe on Christian Rapper Lecrae's Song 'Joyful Noise' with 'Dark Horse' ?
California Fashion & Entertainment Lawyer and Founder of Africa Music Law, Ms. Uduak Oduok, takes on the copyright infringement lawsuit filed by Christian rappers Lecrae, Flame et al. against Katy Perry, Capitol Records, Juicy J and other Doe Defendants. Lecrae alleges that Perry infringed on his song 'Joyful Noise' released five years before 'Dark Horse.' Is it infringement? How do you figure out, as an artist, when someone has infringed on your work? Listen to learn and share.
NOTE: Consult an attorney for your specific situation. The information contained in the Podcast is for educational and informational use only.
In This Episode, You Will Learn:
What is Copyright Law?
What is a License & Assignment of a Copyright?
What Constitutes Copyright Infringement?
What is Fair Use?
What is De Minimis in Copyright Law?
What are the Damages Under the US Federal Copyright Act for Artists who Claim Copyright Infringement.
Show Notes & Credits
Credit: Written, Produced & Edited by Uduak Oduok, Esq.
AML Theme Song 1 'Delight': Nigerian-American Producer Kid Konnect
AML Theme Song 2 'Africans Modern Mix': American Producer John Keller
AML Contact & Links
Subscribe links: iTunes, RSS, Stitcher, Sound Cloud, Hulkshare, Email newsletter.
Follow links: Twitter, Facebook, Google+,You Tube.
Feedback options: (africamusiclaw@gmail.com)
Sponsorship and/or Guest Appearances: (africamusiclaw@gmail.com)
Thanks for Listening!
If you enjoyed the show, please share on your social media pages and with friends and family. Also if you have any questions, please feel free to send an email to (africamusiclaw@gmail.com).
Subscribe to Our Podcast Show
Some of Our Achievements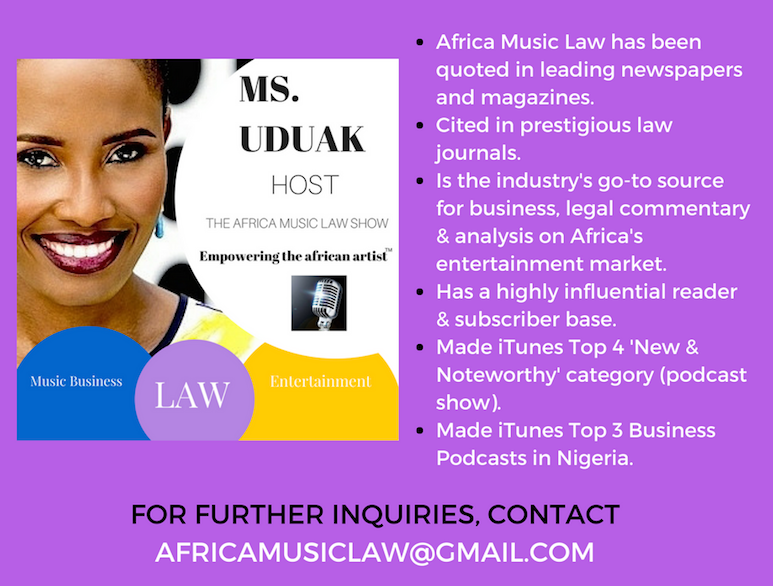 AFRICA MUSIC LAW™ (AML) is a pioneering music business and entertainment law blog and podcast show by Fashion and Entertainment Lawyer Ms. Uduak Oduok empowering the African artist and Africa's rapidly evolving entertainment industry through brilliant music business and entertainment law commentary and analysis, industry news, and exclusive interviews.
Credited for several firsts in the fashion and entertainment industry, Ms. Uduak is also a Partner and Co-Founder of Ebitu Law Group, P.C. where she handles her law firm's intellectual property law, media, business, fashion, and entertainment law practice areas. She has litigated a wide variety of cases in California courts and handled a variety of entertainment deals for clients in the USA, Africa, and Asia. Her work and contributions to the creative industry have been recognized by numerous organizations including the National Bar Association, The American University School of Law and featured in prestigious legal publications in the USA including ABA Journal and The California Lawyer Magazine. She is also an Adjunct Professor at the prestigious Academy of Arts University in San Francisco.
For legal representation inquiries, please email (uduak@ebitulawgrp.com). For blog related inquiries i.e. advertising, licensing, or guest interview requests, please email (africamusiclaw@gmail.com). Thank you for visiting Africa Music Law™.