Behind The Scenes: Tiwa Savage & Banky W Host New Talk ShowThis week, Ms. Uduak made note of the fact that Tiwa Savage is slated to be the co-host of a new talk show with Banky W which will be on Mo Abudu's new TV network, EbonyLife TV. A few days ago, Tiwa Savage shared some exclusive clips with her fans on Keek (a social network that features quick video updates) after she finished filming the first episodes. The latest news is that the brand new show starring the artists is tentatively titled, "The Banky & Tiwa Show." Guests that have been confirmed to make appearances on the show thus far are: media personality Fade Ogunro, comedian Gandoki, music stars Darey & Yinka Davies, and reality star/OAP Karen Igho. Check out the exclusive video clips below:
http://www.keek.com/!pexMbab
http://www.keek.com/!lphNbab
(Source: Bella Naija)
Yesterday, one of my colleagues tweeted a link about Beyoncé doing the Etighi and I just had to check out the video. The Etighi has been around for as long as I can remember, but it has definitely garnered way more popularity as of late with the help of Nigerian artists Iyanya and Diff. For those of you that don't know, the Etighi originated in the Akwa Ibom State area of Nigeria. Akwa Ibom Isongo! J  Now, I must say that Beyoncé gave the Etighi a good faith effort and she looked great. I do have some relatives that can break it down better though. Ha! Nevertheless, it's definitely great to see elements of our culture infiltrate the masses worldwide. Follow the Beyoncé- Grown Woman Live link to watch her do the Etighi.
Jaywon's Days With Kennis Music May Be Ending
Lately, there has been much speculation about whether Kennis Music and one of its artists, Jaywon, will be parting ways. Rumor has it that although Kennis Music brought Jaywon into the limelight back in 2009, he may not be happy with the label. Contrast this with his major breakout with the help of Kennis Music back in his first year on the scene when he won the 'Best Music Video' at the Nigeria Music Video Awards (NMVA) in 2009. Jaywon's lips have been sealed over the matter, but he did express that he cannot decide what happens now until his present contract expires:
"Why not let my contract expire first before we talk about whether I will extend my contract [with Kennis Music] or not."
Back in 2009, Jaywon signed a two-year contract with the Kennis Music which expired in 2011. In 2011, another two year contract was signed that expires in May 2013. Honestly, I respect the fact that Jaywon isn't turning this into some media hoopla and that he seems to be taking his career moves seriously. It is definitely wise to assess where you stand as an artist versus where you wish to be. Perhaps Jaywon is considering tactical moves that could catapult him into superstardom like his former label mate 2Face Idibia. Regardless, as his current single is titled, looks like "This Year" could be it for Kennis Music and Jaywon.
 That Awkward Moment When— Exes Reunite!
It's a small world and you never know when you will run into an ex-boyfriend or ex-girlfriend. When your ex happens to be in the industry (like yourself), the chances of having an "ex-encounter" is probably doubled. This past week, there were two "ex-encounters" – Ashanti & Nelly and Bow Wow & Ciara. Ashanti & Nelly were together for NINE years, while Bow Wow & Ciara were together for just about a year. These days, Ashanti and Bow Wow have correspondence gigs and they interview some of the biggest names out there. So these run-ins were bound to happen. All and all, these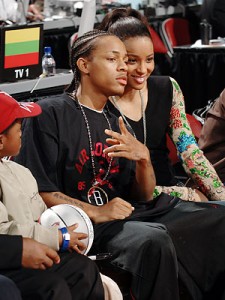 former couples kept it classy and professional.  And the awkward level was low…except when Ashanti had to ask Nelly about what type of women he likes! Eek. She did a great job though. Take note artists! Before you think of slandering an ex via social media or something of the like, never forget that you may have a run in, especially when you're both in the industry. Don't burn bridges and stay professional. You have an image to maintain. See how it's done below:
Ashanti & Nelly Reunion on F– USE

Bow Wow Ciara Reunion on BET's 106th & Park

A Great Juno Weekend for The Weeknd
Canada's 2013 Juno Awards (which are akin to the Grammy's in the States) were this past weekend and Ethiopian/Canadian producer, The Weeknd (Abel Tesfaye), was one of the night's big winners. He snagged both R&B/Soul Recording of the year as well as Breakthrough Artist of the Year on the strength of "Trilogy," a compilation of his three independent mix-tapes (House of Balloons, Thursday, and Echoes of Silence). Many fans are grateful for these wins because many felt that his 2011 debut (House of Balloons) was robbed since it wasn't even allowed consideration by the Junos that year since it was a free mix-tape. Cheers to the Weeknd!
Go DJ!: African Global DJ Awards
The first annual African Global DJ Awards will be held at the Sandton Convention Centre in Johannesburg on May 4, 2013. These awards are to recognize and celebrate DJs in Africa and their contribution to the music industry. The organizers of the event, Stronghold Entertainment, Stats Media and Kollertunz, say they partnered to create the awards because despite making more money and having bigger profiles than many singers, DJs don't have a night where their contribution to music is celebrated. The DJs are nominated in 16 categories and the winners will be decided based on public vote. The event will be hosted by SABC's The Link presenter Lerato Kganyago and Ugandan rapper Navio, who will also perform on the night. Other performers include AKA, Teargas, Camp Mulla, DJ Oskido and Ghana's Yvonne Nelson. To see the full nominee list and to vote for your favorite, go to www.agda.co.za.
-UBU
Twitter:@UBUwan