Folks, I am excited to share the great news that The Africa Music Law Show is one of the top business podcasts shows in Nigeria! The show is actually listed as number three (3) on iTunes and shares the space with top podcasters such as Gary Vaynerchuk, and Peter Schiff. Thanks to AML listener and fellow podcaster Chi Odogwu for alerting and sharing the news with me.
Gary Vaynerchuk and Peter Schiff, among top business podcasts, listed, are globally recognized names and brands, and it is definitely an awesome thing to be in such good company.
Thank you to every listener who has helped The Africa Music Law achieve such a milestone.
For those unfamiliar with the podcast show, the Africa Music Law show is a show empowering the African artist through brilliant music business and entertainment law commentary and analysis, industry news, and exclusive interviews. The show has been:
downloaded over 200,000 times;
is distributed on all major podcast platforms: Spotify, iTunes, Google Play, Stitcher Radio etc.;
2014 made iTunes top 4 'New & Noteworthy';
2018 made iTunes top (3) business podcast shows in Nigeria;
Subscribers include Africa & Hollywood's power executives, investors, lawyers, artists and other industry stakeholders;
The blog and show itself have been cited in top-ranked law journals including Emory International Law Review, and in the International Association of Entertainment Lawyers Law Book distributed at the prestigious annual MIDEM conference in Cannes.
Country demographic: Nigeria (26%), USA (23%), UK (15%), UAE (7%), and Other (29%).
This 2018, in April, The American University Washington College of Law honored me with an "Impact Award" in recognition for my "legal impact in the field of intellectual property in Africa."
I am grateful and grateful to all for being a part of my journey. Keep listening and sharing and if you have not subscribed yet, subscribe!
Cheers,
~Ms. Uduak
Subscribe to Our Podcast Show
Some of Our Achievements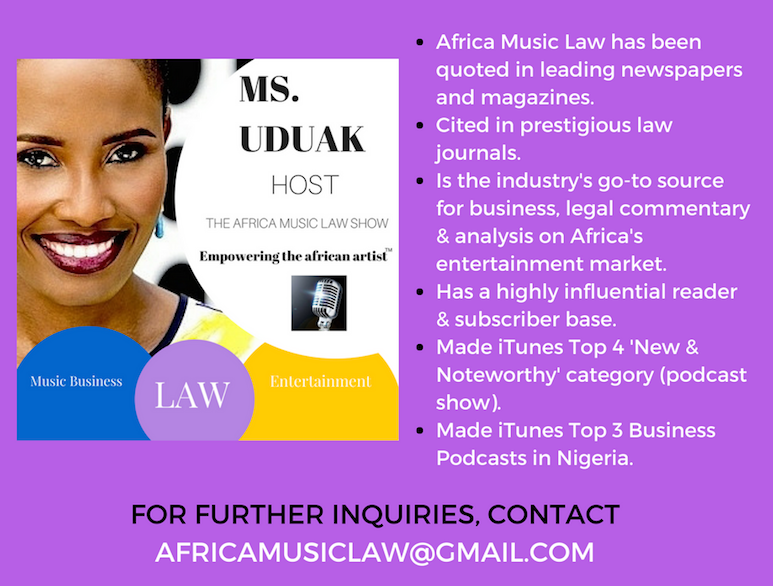 AFRICA MUSIC LAW™ (AML) is a pioneering music business and entertainment law blog and podcast show by Fashion and Entertainment Lawyer Ms. Uduak Oduok empowering the African artist and Africa's rapidly evolving entertainment industry through brilliant music business and entertainment law commentary and analysis, industry news, and exclusive interviews.
Credited for several firsts in the fashion and entertainment industry, Ms. Uduak is also a Partner and Co-Founder of Ebitu Law Group, P.C. where she handles her law firm's intellectual property law, media, business, fashion, and entertainment law practice areas. She has litigated a wide variety of cases in California courts and handled a variety of entertainment deals for clients in the USA, Africa, and Asia. Her work and contributions to the creative industry have been recognized by numerous organizations including the National Bar Association, The American University School of Law and featured in prestigious legal publications in the USA including ABA Journal and The California Lawyer Magazine. She is also an Adjunct Professor at the prestigious Academy of Arts University in San Francisco.
For legal representation inquiries, please email (uduak@ebitulawgrp.com). For blog related inquiries i.e. advertising, licensing, or guest interview requests, please email (africamusiclaw@gmail.com). Thank you for visiting Africa Music Law™.