Today, March 9th, 2013, the Africa Magic Viewer's Choice Awards (AMVCA) made its official entrance into the awards event production space. Based on AMVCA's presentation, publicity, accessibility and online/offline distribution, it looks like they may have or will give the Africa Academy Movie Awards (AMAA) a bit of consternation.
For eight (going on nine) years now, AMAA has held its awards ceremony on the continent and projected a Pan-African image to the world as it rewards excellence in African film making and its film industries. As a sole occupier of this space, it enjoyed the title of "African Oscars," until recently. Last year, AMAA held its Awards event at the Eko Hotel in Lagos, the same venue that AMVCA has just held its inaugural Pan-African Movie Awards event.
AMVCA targets the same audience across the continent. Further, it solicits the same Pan-African filmmakers and actors to submit their films for nomination and to also attend the event.
In addition, AMVCA's entrance comes on the heels of the 3billion Naira pledge made by President Goodluck Jonathan to Nollywood, and a film industry that continues to see new entrants in the digital distribution space. Indeed, the competition is fierce. Everybody wants a piece of that pie and really we have seen this in the music (think IROKO, IBAKA, Spinlet, PANA TV, among others) and fashion (think Arise Magazine fashion Week, Africa Fashion International) space and film/tv is certainly no different.
Nevertheless, I have a few questions in watching AMVCA make its debut:
1. Does AMAA have the sustaining power, in the long run, to remain relevant? Can AMAA, given the AMVCA name brand, financial backing and strong distribution network, remain a viable Pan-African Awards show for the continent?
2. Why does AMAA keep insisting on having the Awards show in Bayelsa? I understand the uniqueness of the region, its socio-political history et al. Nevertheless, if attendees have to deal with many logistical issues in getting to the event, as I so frequently see and hear complaints about, when the event has been held in Bayelsa, why have the event in Bayelsa? Wouldn't that undermine the point of an awards show in the first place? Why concede the Lagos film hub to AMVCA?
3. The continent is very large, I believe, to have more than one "African Oscars." Nevertheless, is there room for yet another "African Oscars," especially where they seem to target the same demographic etc. It seems a bit redundant or is just me? I know Nigerians and Africans in general would rather go create many derivatives of an event, rather than join forces to make a stronger event. If AMVCA had thrown all its financial weight, marketing et al. behind AMAA, I think AMAA would have been a very strong force to be reckoned with both on the continent and certainly here in the USA.
I find all of these fascinating and I anticipate and see the legal dramas in advance. Copyright and contract law, for all stakeholders, has never become so important as it is about to be on the continent.
Watch this space. In the meantime, I'd be interested in your thoughts. AML Film heads chime in.
-Uduak
Photo for illustration purposes only.
Subscribe to Our Podcast Show
Some of Our Achievements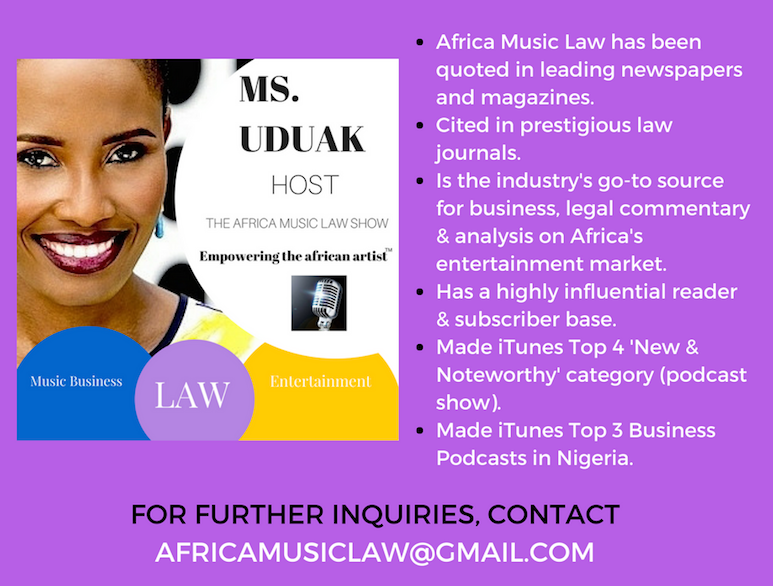 AFRICA MUSIC LAW™ (AML) is a pioneering music business and entertainment law blog and podcast show by Fashion and Entertainment Lawyer Ms. Uduak Oduok empowering the African artist and Africa's rapidly evolving entertainment industry through brilliant music business and entertainment law commentary and analysis, industry news, and exclusive interviews.
Credited for several firsts in the fashion and entertainment industry, Ms. Uduak is also a Partner and Co-Founder of Ebitu Law Group, P.C. where she handles her law firm's intellectual property law, media, business, fashion, and entertainment law practice areas. She has litigated a wide variety of cases in California courts and handled a variety of entertainment deals for clients in the USA, Africa, and Asia. Her work and contributions to the creative industry have been recognized by numerous organizations including the National Bar Association, The American University School of Law and featured in prestigious legal publications in the USA including ABA Journal and The California Lawyer Magazine.
For legal representation inquiries, please email (uduak@ebitulawgrp.com). For blog related inquiries i.e. advertising, licensing, or guest interview requests, please email (africamusiclaw@gmail.com). Thank you for visiting Africa Music Law™.