NOTE: Bloggers and news media sites, you may feel free to share this specific article, only, on your platforms, BUT DO NOT change the title of this article and also please use the author information above.Thanks!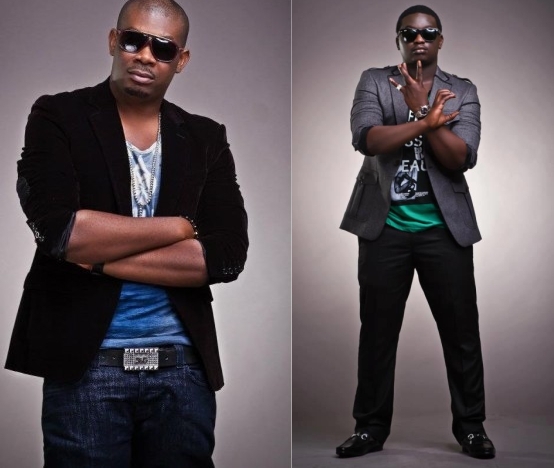 I addressed, in a prior post, the branding and public relations aspect of this case, specifically focusing on my disagreement with Don Jazzy's choice of trying to resolve his alleged intellectual property infringement matter on twitter. If you missed my discussion on this, please click here. This is a purely legal issue that I strongly believe should be decided in a court of law, not on twitter.
We have seen the potency of the use of Nigeria's legal justice system in the recent case of Chocolate City v. Brymo matter, so we know that Nigerian courts are available for use and that the industry can move forward with trying to resolve their issues through such a powerful medium. Don Jazzy, just like Chocolate City, can easily get an injunction to prevent Wande Coal from using his alleged song 'Baby Face,' among other really potent remedies available through the courts.
Now, I get to the merits of this case based on the facts reported, publicly, by the parties and also highly reliable facts provided to me by industry insiders who are directly privy and involved in the dispute between the two.
Before I move any farther, as Nigerians, many of us have to stop condemning Nigeria all the time, starting with the statement, "there is no law in Nigeria." The law exists, and many times, is rather comprehensively written. The question is, are you the Nigerian citizen who is harmed resorting to the public, whether on twitter or in your local neighborhood; to have your grievances addressed, or are you taking it to a court of law in your local community? That's really the question. If you are not doing this, you really need to and encourage others to do so as well.
We need to show up, first, where it actually matters, in order for us to begin to change the status quo. Now on to the alleged facts in this case.
Facts as Reported and Alleged
After the shocking breakup of one of Nigeria's most dynamic music duo Don Jazzy and D'Banj, confirmed officially in March of 2012, Don Jazzy immediately moved to restructure and re-launch a new record label called Mavin Records.
Wande Coal was an artist under Mo'Hits Records, the label previously co-owned by the aforementioned duo. Wande Coal chose to continue with Mavin Records. However, there was absolutely no written agreement of any kind with Mavin Records. According to my insider sources, while Don Jazzy is fully aware he needs a written agreement in place and that the lack of these agreements have created fallouts that have been highly detrimental to his reputation and financial health, he nevertheless continues to choose to go without. Why?
Don Jazzy believes that: 1) an artist who leaves his label should not be precluded from performing his or her own songs because that is their primary means of earning a living. To be more concise, he believes it is "wicked not to allow artists leaving their record labels to perform their songs when that is the only way monies are made in Nigeria at the moment;" and 2) it is a lot harder to get an already popular artist to sign any written agreement in Nigeria. Don Jazzy, it is alleged, could not get Wande Coal to sign a new record label agreement or any written agreement as a Mavin artist, and "did not want to force" the issue.

The parties, however, did agree orally that: a) Wande Coal would have exclusive ownership of all intellectual property rights in songs released under the Mavin Records label with Wande Coal as a featured artist. See for example the 'Rotate' video http://www.youtube.com/watch?v=NXoK0wB9Uas ; b) however, all unreleased songs, belonged to Mavin Records and Don Jazzy.
This oral agreement, as you all will soon see, is void as a matter of law. To transfer copyright ownership, in an exclusive capacity to another under Nigeria's copyright law, it must be in writing. That's the law.
Anyway, Don Jazzy, according to my source, had given D'Banj all intellectual property rights to D'Banj's work, including the rights co-owned by Don Jazzy during the Mo'Hits dissolution. We know Don Jazzy and D'Banj had lawyers involved at the end of their fallout; and reached some sort of settlement agreement, in writing. Therefore, the arrangement giving D'banj exclusive ownership rights to both lyrics, composition and sound recordings of Don Jazzy is valid.
Wande Coal it is said, was hoping for the same kind of deal in splitting with Don Jazzy but Don Jazzy was unwilling to give such a deal to Coal.
Fast forward to the present dispute i.e. ownership of the song 'Baby Face.'
According to my sources, Don Jazzy produced the sound recording of 'Baby Face' and was also the original songwriter i.e. he wrote the lyrics and composition. He also performed the first demo that we have all now listened to.

Further, he subsequently had Wande Coal perform a version of the same original song. Wande Coal did not want the song, and it was a drag to allegedly make Wande Coal even show up to sing the song;  so much so Don Jazzy's crew had to visit Wande Coal's home to pick him up so he could show up at the studio to sing the song.

The song was in fact recorded last year. The song, however, was one that Don Jazzy wanted to give to a third party and was unreleased. Wande Coal knew this song was very special to Don Jazzy as Don Jazzy believed it was a hit song.
In the meantime, Wande Coal and Don Jazzy had reached the climax of their relationship and both decided to go their separate ways. Prior to their separation, Don Jazzy attempted, again, to have Wande Coal sign a written agreement as to intellectual property ownership in songs created for purposes of use after termination, Wande Coal refused.
It had been almost three months since Don Jazzy communicated with Wande Coal and vice versa, mostly due to Coal's alleged reluctance to communicate. Coal was aware that Tiwa Savage's 'Eminado' video was to be released or was released on the day that it was released. On the appointed day and deliberately knowing it would hurt Don Jazzy, Wande Coal released the unreleased 'Baby Face' work that he allegedly knew was off limits.
Don Jazzy was extremely hurt with Wande Coal's actions and while he knew it was a bad idea to air out his feelings on twitter; and was explicitly advised by his trusted team of advisors not to do so, his emotions got the best of him. He tweeted about Wande Coal's theft of his song and here we are with the current matter before us, the AML audience and the public in general.
Those are the alleged facts and the ones I am choosing to work with for purposes of our analysis.
What Law Applies?
Nigerian Company Law, Nigerian Labour Law, Nigerian Federal Copyright Law, Cap 28, Laws of the Federation of Nigeria, 2004.
How Does Nigerian Company (Business) Law Apply?
Mavin Records is an independent business entity, which is essentially treated as a person under Nigeria's Company Law. It has its own legal rights independent of its owners as an incorporated business. I discussed this during the D'Banj v. Don Jazzy Mo'Hits break up,  revisit the link above. Therefore, our discussion of intellectual property ownership of 'BabyFace' extends to Mavin Records, not just Coal and Don Jazzy.
We know for a fact that Wande Coal was presented and agreed to be represented as a Mavin Records artist. All his branding and songs reflect this reality. So, for songs he created or co-created with Don Jazzy under the umbrella of Mavin, the question is, did Mavin Records own the intellectual property rights to Coal's songs?
How Does Nigerian Labour Law Apply?
The issue here is, what was the legal status of Wande Coal while with Don Jazzy? Was he an employee working for Mavin Records or was he an independent contractor?
If Wande Coal was an employee of Mavin Records, and there was a written agreement transferring his ownership rights to Mavin, then the work belongs to Mavin Records not Don Jazzy.
If on the other hand, Wande Coal was an independent contractor for Mavin Records, and there was no written agreement transferring copyright ownership, then Wande Coal retains all of his copyrights in the works he created.
If he was neither an employee nor an independent contractor and their business dealings could be categorized as a venture, then we still deal with the legal shenanigans of ownership that more closely resembles the independent contractor scenario.
Let's Look at Nigeria's Federal Copyright Law.
Are Music Works and Sound Recordings by Nigerian Artists Eligible for Copyright Protection under Nigeria's Law?
Yes. The act is explicit in affording protection to musical works and sound recordings.
What are the Exact Legal Rights the Author of Musical Works Enjoy?
The law is clear. It says the author of a musical work (in our instance the song writer) has the EXCLUSIVE right to do the following:
(a) in the case of . . . musical work, (you have the right ) to do and authorise the doing of any of the following acts-
(i) reproduce the work in any material form;
(ii) publish the work;
(iii) perform the work in public;
(iv) produce, reproduce, perform or publish any translation of the work;
(v) make any cinematograph film or a record in respect of the work;
(vi) distribute to the public, for commercial purposes, copies of the work, by way of rental, lease, hire, loan or similar arrangement;
(vii) broadcast or communicate the work to the public by a loud speaker or any other similar device;
(viii) make an adaptation of the work;
(ix) do in relation to a translation or an adaptation of the work, any of the acts specified in relation to the work in sub-paragraphs (I) to (vii) of this paragraph;
The law also says the aforementioned rights as exercised "shall be in respect of the whole or a substantial part of the work either in its original form or in any form recognisably derived from the original." So the law covers derivative works from the original owned by the author.
How About Sound Recordings? What are the Exact Rights Authors Enjoy?
In relevant part, the law gives the author i.e. the person creating the sound recording (the beat for our purposes) an exclusive right to control in Nigeria,

" (a) the direct or indirect reproduction, broadcasting or communication to the public of the whole or a substantial part of the recording either in its original form or in any form recognisably derived from the original (derivative work);

(b) the distribution to the public for commercial purposes of copies of the work by way of rental, lease, hire, loan or similar arrangement. . . ."
What if You Work with a Label or Producer, as an Independent Contractor?
You own the works you create as an independent contractor, unless there is a contract to the contrary.
"Where a work

(a) is commissioned by a person who is not the author's employer under a contract of service of apprenticeship; or

(b) not having been so commissioned, is made in the course of the author's employment,

the copyright shall belong in the first instance to the author, unless otherwise stipulated in writing under contract."
What About if You are an Employee? Who Owns the Copyright to Your Musical Works?
If you the employee create musical work for your employer under an employment contract or internship/apprenticeship, your employer owns it if it is made for the purpose of publication in a newspaper, magazine or similar periodical. However, outside the scope of that, you the author are the first owner of the copyright in the work. Accordingly, if an employer wants to own the copyright you own, outside of the context of publishing, they need to have you transfer that copyright, in writing, to them.
What About Sound Recordings? Who Owns the Work if You Are Employed?
You the author own it. However, if you want to transfer that right to anyone else to be used in a film or your fellow artist and you are the producer, Nigerian law says IT MUST be in writing prior to you making that sound recording.
What Does the Law Say if You Want an Exclusive License to a Copyright?
IT MUST BE IN WRITING. "Feelings" do not matter. The Law says, get it in writing! "No assignment of copyright and no exclusive licence to do an act the doing of which is controlled by copyright shall have effect unless it is in writing."
What About Non-Exclusive Licenses i.e. a License You Can Give to as Many People as You Want?
It can be oral, written or inferred from the conduct of the individual. "A non-exclusive licence to do an act the doing of which is controlled by copyright may be written or oral, or may be inferred from conduct."
If Two People Create a Joint Work and One Person Assigns or Licenses That Work, Can it Be said that Both Have Given Permission for Use of the Work?
Yes. Under Nigerian Copyright Law. " . . . An assignment or licence granted by one copyright owner shall have effect as if granted by his co-owner also, and, subject to any contract between them, fees received by the grantors shall be divided equitably between all the co-owners." This means, for a song like Coal's Rotate, if Coal gives it to MTN for use, then Don Jazzy is said to have also consented to such use.
What Does "Equitably" Mean?
It is whatever you and your co-owner decide is right.
Who are Co-Owners of a Musical Work or Sound Recording?
. . . For the purpose of this section, persons shall be deemed to be co-owners-
(a) if they share a joint interest in the whole or any part of a copyright; or
(b) if they have interests in the various copyrights in a composite production, that is to say, a production consisting of two or more works."
The Application of the Law to Our Reported Facts.
Who Owns Baby Face?
Between Wande Coal and Don Jazzy, based on the alleged facts, Don Jazzy owns the exclusive right to the original 'Baby Face' he created i.e. both the lyrics, composition and the sound recordings. He also owns the exclusive right to the directly mimicked/copied version by Wande Coal, even if Coal's version can be said to be a derivative work.
To use Don Jazzy's work, Wande Coal would need to have secured the necessary copyright transfer of ownership or contractual license agreement in 'Baby Face' from Don Jazzy.
Not doing so, is an infringement on Don Jazzy's intellectual property right in 'Baby Face.'
Wait a Minute, Can it Be Inferred from Conduct, According to the Copyright Statute, that Wande Coal has a Non-Exclusive License to Use the Song?
I think so. I think for the side representing Coal, should these two get to court on this issue, you would be arguing that Don Jazzy granted a non-exclusive license to Coal otherwise he would not have agreed to Coal recording the song and even deliberately driving/having others drive to Coal's house to get Coal to show up and sing the song. Also, given there is nothing in writing as to the alleged split arrangement on who owns what i.e. release vs. unreleased works, there is nothing to show to the contrary that Don Jazzy did not grant a non-exclusive license to Coal.
This is where it becomes messy and nasty with the he said/she said; and the witnesses that will show up and say they heard Don Jazzy make this promise to Coal or Vice versa on use of the 'Baby Face' song and other unreleased works.
Who Owns All the Released Wande Coal Songs?
Don Jazzy and Wande Coal co-own these songs. There is no legal agreement conferring ownership to Mavin Records. Further, even though Don Jazzy "orally" agreed to an exclusive copyright ownership in all released songs, such agreement is void as it directly contradicts the explicit language of the law. There must be a writing for such exclusive licensing or transfer of copyright ownership.
How do Nigerian Artists and Others Avoid this Issue in the Future?
1) If you are a label owner, you should have your artists sign a written contract i.e. your record contract before you engage in business with them.
2) If you are an artist working with a producer in Nigeria, you need a written agreement to claim exclusive copyright ownership in the sound recording (the beat) the producer makes for you. Otherwise, your use is non-exclusive and that producer can license the same beat to as many artists as he or she chooses to; and there is not much you can do about it, after the version of other artists hit the market.
3) If you are an artist and you jump in the studio to co-produce a song with your fellow artists, you need to sort our division of your intellectual rights and you can do that with a simple agreement, nothing fanciful, stating who owns what. The industry here in the USA typically uses what is called a split sheet. It is a fancy way of saying the same thing I just discussed with a formula on division of royalties etc.
4) If you are an artist and you jump in the studio, make sure the only people there are those you are actually co-producing the musical works with. Family, girlfriend, boyfriend, husband, wife or fellow artists hanging around need to be kicked out of the studio because if they contribute to your music, they become co-owners.
When in doubt, start first with your lawyer. Your entertainment lawyer is your starting point. If you are curious about entertainment lawyers in Nigeria, click my link here. I am in no way vouching for the work of these lawyers. I don't know them like that and have not seen their works. However, they appear to have the respect of their peers and the industry. That is your job to do your due diligence to figure out if they are a fit for you.
In conclusion, fighting over copyright ownership of creative works, especially where such situation could have been avoided, is expensive and damaging to reputation, your financial, mental, physical, spiritual and emotional health. You also have many who do not know diddly squat about your situation, without a license to practice law, who will try to chime in without a clue about legal concepts or principles. It is the more reason why you ought to keep your business outside of the public courts of social media.
If you want to live long, do away with such unnecessary stress by documenting basic understanding in writing; and if stuff hits the fan, finding the appropriate platform to resolve your issue, short of confidential mediation or arbitration.
Also, if a party refuses to sign a contract with you, please take it from me that it is not worth the headache doing business with them. If you insist on working with such person, you can get around their refusal by reducing your understanding of your arrangement with them in writing, sending them a copy of that writing and give them a timeline to respond refuting the terms of your understanding. In that writing you should be explicit that the failure to object to the terms of your understanding of the agreement, during the stated deadline, means all parties agree to the terms written. That document will be useful evidence in the event of a dispute.
Have a good Friday, catch up with you some time next week.
Cheers,
Uduak