Nigerian men can be quite sexy and arguably romantic. I mean check out our music videos. But don't stop at the videos after all that is all illusion. Actually check on real life. "Brodas" be spittin' game like it ain't nuthin' but a thang. No one has swag like Nigerian men do, and I don't say that lightly. It's like every other group does their thing then a Nigerian man walks into the room and it's like woooooooooosah! We really "finna" get the party started. Intelligence? Put a deep deep check mark on it. Style? Are you kidding me? That's their middle name. Hard work ethics? Common now? Really, I could go on. Having said all of that, the games these "bruhs" talk is incredible! Ridiculously incredible. I mean, they can pop "sham pain" for you all day. Where do you want to go? They'll take you "Over the Moon" like Dr. Sid or whisper "Haba" to you like "Chykay" and while you are still recuperating, they drop a 'Carolina' on you like Sauce Kid ft. Davido and depending on the day, they might croon a 'J Martins' "Ereke" on you.
The smart women know to just look up after all that "tantalizing" and "sham pain" to ask, "is that all you got?" Like are you fo' real? The not so smart ones, well… 🙂
Anyway, all that "swagga, swagga" Kas beat stuff works fine on video and maybe even real life until you attempt to do business with a female, especially a Nigerican or Nigerijand female. The buck stops when we are doing business. I don't play with my business or money and don't like when people attempt to do that to me. It makes me want to move to Nigeria to take advantage of the laxidaisy laws and slap somebody. Don't laugh. Really.
I was shocked when a Nigerian music artist recently sent me a message on Facebook with the following opening,
"My Love! I want to send you . . . (my work) Any chances that they'll go on your site?"
This artist has been around for a minute and to some extent is in the limelight although still emerging.
I don't know the guy from Adam, except in a business context, and even if I did, my true friends know I don't mix business with pleasure like that. We can separate the two. I could do a Chykay "Haba!" complete with Chykay's voice but clearly Naeto C's 'You Should Know My P' is more fitting for this occasion. So allow me to interrupt the normal course of business and hit y'all up with a Naeto C throwback.
Demola Ogundele and Ovie O run NotjustOk.com, Ike Orizu runs Truspot.com, Noble Igwe runs 360nobs.com and Ari Jaguda, Jaguda.com. Can you all imagine this male artist sending them an email with "My Love?" They would look at him like he was mad. It would be inappropriate. Why is this appropriate to send to a female publisher or blogger? Is this sexist or what? Even if you go send this type of email, choose your target wisely. As D'Banj asked, "Why me?"
Okay another throw back necessary here . . . 'Why Me'

Artists seriously, if you want to tow the informal line, then take a page from Publicist Dro Ameh and use the word "Boss" categorically to all media. Clearly it strokes egos but it is better than saying "My Love" as in what's love got to do with it? Shey na love we go chop? When was the last time love paid the bills? We 'bout the business of music. You make money, I make my money, we all make money and we keep it moving. Below is my response to the artist. He apologized after that.
"Are you smoking weed? You lost your mind? When did Ms. Uduak, Uduak or Ma'am, turn into "My Love?" Abeg we are not (on) that kind of P, please. Also, whether it's you or even . . . my favorite artists . . . if you have music, follow the protocol and send where you are supposed to. I dey run business not charity organization. . . Unbelievable email after all this time you have been in the industry? . . . don't dig the "love" thing at all at all."
Okay am done.
Cheers,
Uduak
Photocredit: High heels and high tops.
Subscribe to Our Podcast Show
Some of Our Achievements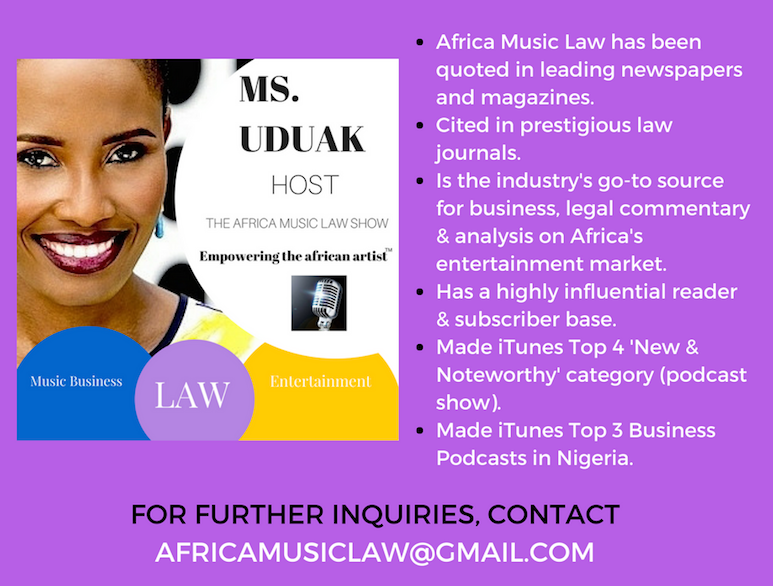 AFRICA MUSIC LAW™ (AML) is a pioneering music business and entertainment law blog and podcast show by Fashion and Entertainment Lawyer Ms. Uduak Oduok empowering the African artist and Africa's rapidly evolving entertainment industry through brilliant music business and entertainment law commentary and analysis, industry news, and exclusive interviews.
Credited for several firsts in the fashion and entertainment industry, Ms. Uduak is also a Partner and Co-Founder of Ebitu Law Group, P.C. where she handles her law firm's intellectual property law, media, business, fashion, and entertainment law practice areas. She has litigated a wide variety of cases in California courts and handled a variety of entertainment deals for clients in the USA, Africa, and Asia. Her work and contributions to the creative industry have been recognized by numerous organizations including the National Bar Association, The American University School of Law and featured in prestigious legal publications in the USA including ABA Journal and The California Lawyer Magazine.
For legal representation inquiries, please email (uduak@ebitulawgrp.com). For blog related inquiries i.e. advertising, licensing, or guest interview requests, please email (africamusiclaw@gmail.com). Thank you for visiting Africa Music Law™.