One Africa Music Festival London has had to face a  brand reputation management issue immediately following their event yesterday where organizers ran out of time and one of their biggest performers for the night Jidenna, didn't even get to perform. Jidenna took to Instagram a few hours after to urge the organizers to do better. Since then, the news of Paul Okoye and Upfront & Personal's disorganization for the London event has gone viral with many fans sharing their experiences. One such fan is blogger Rosanwo whose tweets have gone viral.
He claims Banky W, R&B singer, and host for the evening came on stage, almost an hour and a half behind schedule, and told the audience of 12,500 people they should be used to "African time" by now. Really? I am surprised with such a statement considering the New York event was on time, was a smashing success and set the bar for what to expect from the OneAfricaMusicFest brand. In addition, they had a Houston event with no pronounced issues.
I think the problem here was Paul Okoye got unnecessarily ambitious and did not cut his coat according to his size. He was successful in replicating a music event. He veered into fashion production the eve of the music event, had 20 designers he was showcasing and had some musicians performing. He had never produced in the UK before, at least not an event of this scale. He needed to first test and perfect the art of production before expanding, in future years, into fashion etc.
Read the rest of Rosanwo's tweets about the show.
-Ms. Uduak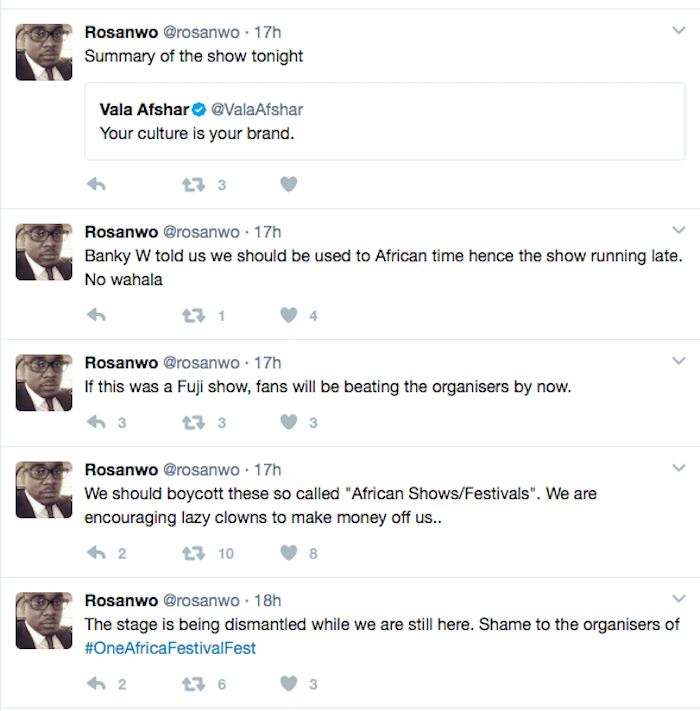 Photo description: OneAfricaMusicFest performers L-R: Falz, Victoria Kimani, Banky W