Celebrities Behaving Badly (CBB) is a category on AML that I launched in April 2012 after Seun Kuti went bananas on Obi Asika on social media. The rants and attacks were so intense, I decided to launch the category to gather the foolishness on social media and to use it as a way of discussing, primarily, public relations and branding for artists. On to today' s post…
For years now, gay rumors have trailed Nigerian-American R&B singer Banky W's career in Nigeria. Nevertheless, he has consistently and categorically denied all allegations. Banky is an alleged self-proclaimed ladies man, and I am unsure if today's Nigerian society now equates such title with signs of being gay, especially since Banky is a 37-year-old single man who lives in a society where people are expected to be married in their twenties.
Given this backdrop, I would think Banky would be particularly sensitive to labels and avoid making conclusions especially as to other people's sexual identities, but nooooo…
A few days ago, a Nigerian woman took to social media to advise women on how to choose the right men. She suggested that they choose men that were willing to accompany them inside a cosmetics store to choose a lip color that best suited them, rather than stand outside.
"Find a man who's gonna go inside Sephora with you & help you find a lip color that looks good on you,rather than a man who stands outside," she tweeted.
Banky W saw the tweet and responded saying "there is a slight chance that man you're looking for is gay."
His response, of course, caused an uproar and has continued to with many fans disagreeing with him and wondering why he even commented on such topic. Interestingly enough, just yesterday, yet another video emerged of Banky W discussing masculinity and sexual identity i.e. gayness again.
MY TAKE
First, from a public relations standpoint, if you have a history of people questioning your sexual identity and you denying it, it, to me, makes no sense to offer an unsolicited opinion on the very same issue you have continued to deny and have to defend yourself on.
Second, the woman was advising fellow women, she didn't invite men into the conversation. So, why did you, as a man, invite yourself into the conversation?
Third, if you do offer an opinion, be particularly sensitive to your influence and the society you live in which imprisons people for being gay (14years imprisonment), on how you define masculinity and sexual identity. That Banky W, a so-called enlightened man, believes that a man who enters a cosmetic store with his girlfriend and helps her pick a suitable lipstick color is probably gay shows, to me, how very narrow-minded Banky is. The tweet didn't say this is a daily occurrence or this man is always eager to run into the cosmetic store with his woman. So why the hasty conclusion without more facts?
Finally, I'll tell you a story that also makes me agree with the fans who have blasted Banky W on his myopic view.
When I was in college, I worked in a fashion retail store to fund my way through school, among other jobs I held. The retail store I worked at was a clothing store which sold women's clothing including lingerie. 99.9% of our patrons were women with the few occasional men who strolled in to ask that we assist them in purchasing an item for their girlfriends/wives.
For our primary customers, the 99.9% women who visited the store often did so with their husbands or boyfriends. Our store was located in the mall. Usually, these men would stand outside waiting for their women to finish shopping. The problem is that it affected the ability of our customers to really shop. They were conscious of time and did not want to keep the men waiting. Further, when our customers tried on outfits they liked, they either wanted us to go to the entrance of the store to ask their men to come give their opinions or they would walk to the entrance of the store and solicit input. Of course, when they walked to the entrance, the sensors would go off alerting us that someone had a store item and was probably trying to steal it, which was untrue and created too much chaos.
As the store, which was a nationwide high-end retail chain, evolved with its marketing and promotions, it became imperative that they find a solution to the men problem. They did. They created a swanky area with magazines and a little snack near the fitting rooms, and it became our job, as salespersons, to get the men in the store, and to keep the men there until our customers were done shopping. 99.9% of those men, after we created our waiting area, came in, sat in the waiting area, picked up a magazine suited for them, snacked, got engaged with their women, purchased items and of course our store sales went up. Under Banky W's theory, these men, by virtue of walking into the store to help choose a clothing they would like to see their women wear, are gay. Common!
The man walking into a retail woman's clothing store with his woman is, to me, no different than the one walking into a retail cosmetic store. If he is confident enough to walk in and help his girl choose a color that he would like to see her wear, why does that make him "probably gay," per Banky's standard? Banky's statement is, to me, silly at best, dangerous in a society like Nigeria, and feeds on negative stereotypes of masculine identity that affects how women and men related.
Banky, focus on the music and the business of music, and even your new interest in filmmaking. Leave rendering unsolicited advice on how to spot a gay man out. You are bad at it and no one asked you.
-Ms. Uduak
New video on Banky W speaking yet on gayness

Subscribe to Our Podcast Show
Some of Our Achievements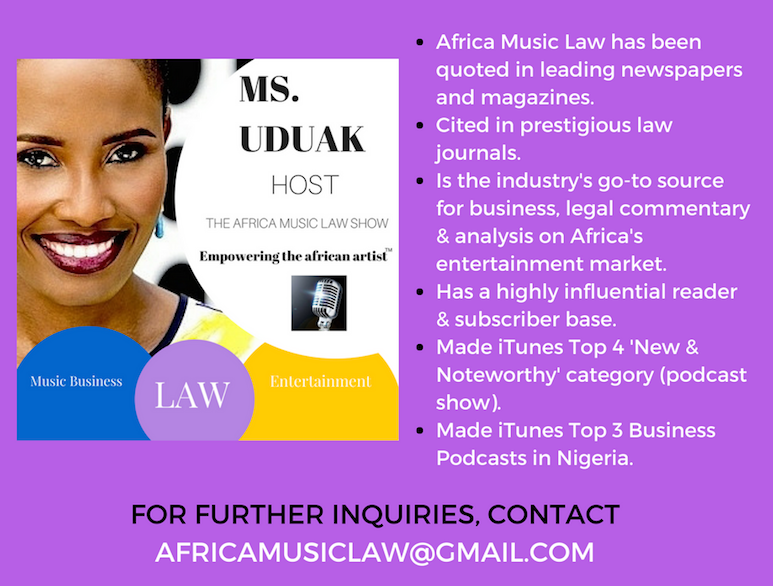 AFRICA MUSIC LAW™ (AML) is a pioneering music business and entertainment law blog and podcast show by Fashion and Entertainment Lawyer Ms. Uduak Oduok empowering the African artist and Africa's rapidly evolving entertainment industry through brilliant music business and entertainment law commentary and analysis, industry news, and exclusive interviews.
Credited for several firsts in the fashion and entertainment industry, Ms. Uduak is also a Partner and Co-Founder of Ebitu Law Group, P.C. where she handles her law firm's intellectual property law, media, business, fashion, and entertainment law practice areas. She has litigated a wide variety of cases in California courts and handled a variety of entertainment deals for clients in the USA, Africa, and Asia. Her work and contributions to the creative industry have been recognized by numerous organizations including the National Bar Association, The American University School of Law and featured in prestigious legal publications in the USA including ABA Journal and The California Lawyer Magazine.
For legal representation inquiries, please email (uduak@ebitulawgrp.com). For blog related inquiries i.e. advertising, licensing, or guest interview requests, please email (africamusiclaw@gmail.com). Thank you for visiting Africa Music Law™.