"Never forget what you are, for surely the world will not. Make it your strength. Then it can never be your weakness. Armour yourself in it, and it will never be used to hurt you." ~ George RR Martin, A Game of Thrones.
Jeta Amata is a Nigerian man and there is nothing in the world anyone can do about that fact, take it or leave it. However, in what I believe was a relentless pursuit to discard the garments of Nollywood to take on the "holy" and sensational title as a Hollywood filmmaker, Jeta Amata forgot his identity, destroyed the strong promise the movie 'Black November' held and "rubbished" his name in Hollywood.
Wait. I'm coming. I'll explain. Yesterday, after reading Variety's review, a respected industry trade publication, about Jeta's new film, I responded with "highly disappointing" to a tweet that was sent to me to alert me of the film review. Almost immediately after (say three minutes max.), Jeta Amata, who I have never had any contact with, contacted me and asked why I wrote such a statement on twitter. Here is why:
'Black November' is a movie Jeta Amata claims and characterizes as 'the struggle of the Niger Delta people,' but in reality, all he succeeded in doing is to showcase an unnecessary and highly disappointing identity struggle from a seasoned filmmaker that even the very "oyinbo" (white) people he was trying to appease have now rejected.
In review after review, some of the world's top and most respected industry trade publications and newspapers including Variety, Hollywood Reporter, NY Times, LA Times, NY Daily News, LA Weekly have given him some of the most scathing reviews that should have any legitimate distributor concerned.
Here are just some few examples and excerpts:
"…There's little going on in the final product other than good intentions, as Jeta Amata always seems overreaching for the right buttons to push. The filmmaker has trouble developing scenes, characters and plots. Never have Rourke and Basinger seemed so in need of direction." ~ LA Times

"…Don't be fooled by the names of Mickey Rourke and Kim Basinger on the marquee. Despite the tantalizing prospect of a reunion of the stars of a certain '80s-era hit erotic drama, their minor presence is largely extraneous to the proceedings of Jeta Amata's overwrought and preachy thriller concerning the rampant corruption and political dysfunction plaguing oil-rich Nigeria. Despite its laudable intentions and important social message, Black November is far too ineffective to have the desired impact." ~Hollywood Reporter

"Hollywood and Nollywood — the prolific, still export-resistant Nigerian film industry — don't so much meet as exchange business cards in "Black November," an impassioned but inert social tract disguised only notionally as a high-octane terrorism thriller. While the presence upfront of Kim Basinger and Mickey Rourke lends the initial impression of cheerfully cheesy exploitation fare, their contributions turn out to be marginal: Auds chasing cheap thrills will be caught off guard by this earnestly angry study of Nigeria's corruption-riddled oil industry, superficially bracketed by a standard-issue, Los Angeles-set hostage drama. Sadly, Jeta Amata's film proves plodding and sanctimonious in either register. Finally getting a multiplatform release after languishing on the shelf since 2012 — following a premiere at the United Nations, no less — "Black November" (titled "Rise Up" on the copy viewed by this critic) won't draw much international attention to its home country's plight. ..~Variety

"…As well-intentioned as it is thoroughly inept, Black November would be a serious contender for year-end worst lists if it weren't so painfully noble and sincere. It also benefits from timing: It's is unlikely anyone is liable to remember the film in a week, let alone keep its hammy awfulness in mind 11 months from now." ~The Dissolve

"…Oddly, that extra star power makes Black November look cheap. It's threadbare for an action flick — we've seen Rourke glare at guns in a dozen other less important thrillers. The story Amata wants to tell is much simpler, and he might have been more successful sticking to his own guns and staying with his sturdy, empathetic heroine. We don't need pop songs and campfire sex scenes and battered late-model sedans to make us care about his country. But, in fairness, given how little attention the West continues to pay Nigeria, it's understandable that Amata thought we did." ~The Village Voice Movies

(…On the other hand, you can safely say Black November is no Battleship Potemkin. Frankly, it is simply not professional grade. Amata may have come out of the Nollywood scene, but the handful of Nollywood films covered here all feature sharper character development and more polished scripts than November, and there is little difference in the quality of performances.

Embarrassingly, that includes a number of formerly big-name Hollywood actors turning up in small marginal roles, presumably so they could participate in a few press conferences to show they care.

November is counting on viewers cutting it a lot of slack, because of its supposedly good intentions, but when you are sitting through it, there is no getting around its low level of competency. It even fails on the fundamental level of propaganda.") – Libertas Film Magazine
The above sample reviews to me are very sad and highly disappointing to read because I believe these film critics; and had the same reaction from the film trailer, even though I am yet to watch the film.
This, to me, is very sad because Jeta Amata as a filmmaker held such promise and still does but instead of making a strong entrance in the international market he has managed to be introduced to a key film market as a director who doesn't understand the basic fundamentals of filmmaking.
How did we get here and how did this story begin?
In 2011, Jeta Amata announced a release of his movie 'Black Gold.' I should know. I published an exclusive interview with Mbong Amata (his wife at the time) who was the lead female character in his movie.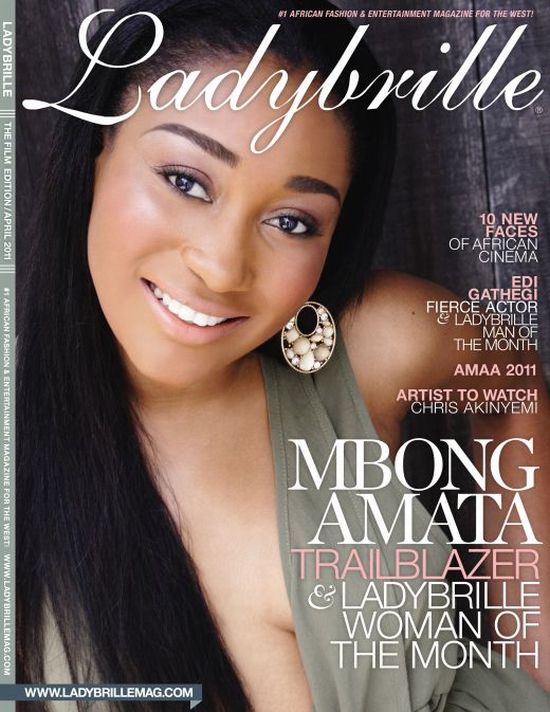 You can read my interview on Ladybrille and also see the Black Gold movie trailer below:
By 2012, the film had a new title 'Black November' and a new trailer was released. See below. However, what insiders heard, myself included, was that Jeta Amata hired a bunch of Hollywood professionals, and was reshooting some scenes to make it appealing to the American masses. Honestly I didn't give it much thought after that.
By the end of 2014, Jeta Amata released a new trailer. This time the lead characters were completely changed, to be more specific they were Hollywood names Kate Basinger and Mickey Rourke instead of Mbong Amata and Hakeem Kae Kazim that seemed to play more of a prominent role in the initial trailer. Worse, reports said 60% of the film was reportedly reshot and millions of dollars was spent in an effort to appease an American audience. Stop. Think about it. Jeta Amata had to reshoot over half of his movie?
Think of the cost as a filmmaker; especially from foreign soil i.e. Naira to dollar value. Is it worth that kind of investment when even major films by big studios can barely fill theaters with films they put millions into? Isn't it about the story? Even thinking about the intensity of dealing with pre-production (budgeting, scheduling, insurance, locations, auditioning actors, crew, dealing with unions and guilds, equipment, production design) before we even touch production and post-production should have any independent filmmaker's head spinning.
Anyway, when I saw the trailer almost two weeks ago, I noted my disappointment both on Facebook and twitter, addressing the new cast, the enormous financial cost of having to reshoot 60% of an already completed movie and the marketing and promotions that clearly alienated the African press and African movie goers on the continent and in the diaspora.
A few days ago, Jeta Amata's distributor concluded its press invitations to America's top press members. The critics have now spoken and even they can smell foul play and set forth to share their views in their reviews. What is amazing is that Jeta Amata now seeks the support of the African press and audience to support his revamped and alienating film. How long will creative talents and Africans continue with this kind of behavior? You isolate, and alienate your people to get the approval of the West but when you are rejected, then you crawl back and want everyone else to come "support" you as African and black people.
I feel like we are going through the release of the 'Half of a Yellow Sun' movie all over again, only this time, worse. What happened to that movie? How much did it rake in? How committed was its distributor in pushing the film in North America? For all-the big budget spent on the movie, the movie didn't even come close to seeing a theatrical release in North America, and when it thought it could just run up on Nigerians to enjoy a theatrical release in Nigeria, the government put some real stumbling blocks before it. Later, its investors/filmmakers sold an exclusive license for a digital distribution to PANA TV and what happened?
I have said this over and over again. African musicians, designers, filmmakers, how you make your people feel REALLY matters. You can't lose your main and primary target audience who has fed you and keeps feeding you all because you want to go global. That's like turning your back on your family all because you now live in America or the UK; and consider yourself too extra cool with the American or British accent to even identify with your own. Take a chill pill creative people and stop destroying all of your hard work you put into your brand all in the name of becoming "BIG in Amerika."
I simply have no empathy for Jeta Amata or anyone in his shoes. It is a choice he made and if the results swung the other way, he probably would still keep the status of continued alienation of his community all in the name of trying to become this big sensational Hollywood name. For those interested in the few tips I have to give, here is my 50 kobo for all its worth:
1. Know Who You Are. Don't lose your story. It starts and ends with a great story. Tell your story and you will be rewarded handsomely in this industry called showbiz. Think about it. Nigeria is a so-called third world country. Its political upheavals, security issues and crumbling infrastructure should be enough consternation for all, YET, it has managed to build a formidable film industry so much so the corporate guys in suits and ties from all over the world, including its own Westernized children, are all clamoring to figure out how it has done it and to make a living off it. How? Why? It's because it began and will always end with good story telling. Don't loose your story. Jeta Amata is a great storyteller and we have seen him tell some great stories including 'The Amazing Grace.'

In this instance, he told a story of the Niger Delta people, completed the story but second and tripled guessed himself, revised the story so many times, based on listening to people who did not know his authentic voice; and at the end of the day, the same people don't even like what he created to their specifications to fit in. Be proud of YOU and own your identity.

2. Understand a good picture is only half the job. Distribution and the distributor matters, a lot. As a fashion designer, you can design a dress but you still have to make sure the end user gets your dress. The same holds for musicians who create music. Your music fans have to get your music. How do you do that? The trick is to begin thinking through distribution prior to producing your garment, music, film; and fully understand what you will need to do to bring as much leverage as possible to the bargaining table when it is time to sit with that distributor.

Also, you must understand the distributor you get in bed with. When Jeta Amata contacted me, he kept emphasizing how "lucky" he was to have inked a deal with eOne Distributors. It was something I could not get my mind wrapped around. Folks, please don't be so overwhelmed that Oprah or the President said "hello" to you and wants to do business with you, you forget your value. You bring a lot of value to the table and they see that value or else they would not work with you. YOU ARE NOT A CHARITY CASE.Do not ever forget that. It is called BUSINESS for a reason.

The focal point should be you asking a lot of questions and getting as much leverage as you can in your distribution deal. Ask: a) Distributor what is your track record of success? b) Distributor, great, you have worked well in the American space. What is your track record in marketing, promoting and distributing films by African filmmakers with African stories? c) How exactly do you intend to execute on this vision? d) What about your performance milestone? What will happen after a year or two if my film does not really do well? Will you continue to market and promote my film? Will the film stay on the shelf indefinitely? Can I take my film and make it work if you can't do it for me?

Yes distributors carry a lot of weight in contracts that are heavily skewed towards them but you should have a good entertainment lawyer with an eye towards your market, Africa; that can help you.

3. Word of Mouth Matters, a Lot: When you are an independent artist, word of mouth matters. When Jeta Amata's 'Black Gold' trailer came out in 2011, the word of mouth was fierce everywhere and people wanted to see that movie. That same word of mouth can also have an adverse effect when you have reviews such as the one you are receiving from the big names in Hollywood; especially since you seem to have alienated your people in the process.

4. Know Your Audience: Statistics show that two-thirds of revenue from the film industry comes from the international market. In a bid to be popular in America, DO NOT loose your audience, especially the backing of an entire continent! It's terrible and unacceptable. Also, don't take your audience for granted. Don't think you can always perambulate the same 'Black November' in Nigeria. You may get the Half -of- a Yellow Sun treatment there because let's face it: at the end of day, nobody, not even your fellow countryman or woman likes to be or feel used.
Let me stop here. Let me know your thoughts on Jeta Amata's move and the Hollywood critics' review.
-Uduak