Yesterday a single titled 'Acting Bad' by Burna Boy surfaced on the internet. Burna Boy indicated on his twitter profile page that the song was illegally released and made it clear who created the song. Today, the producer lashes out at Burna Boy accusing him of illegally releasing the song. Unless the producer has more information than he shared on social media, his anger seems misplaced. Most of the blogs that published the song said it was leaked. The recording artist Burna boy says it was leaked and they are investigating who leaked it. If the song is illegally released, it is what it is. Why lash out at Burna? Yeah, we know some artists intentionally leak songs too but where is the evidence that Burna leaked this song? Even if there was, how does the rant on social media resolve the dispute?
Check out the tweets and then check out my interview with one of Wizkid's producers Maleek Berry who explains the realities of the average producer in Nigeria; and the business of music producing in general.
Read from bottom up
Burna's tweet

Producer's tweet

Burna's response

The Maleek Berry Interview with Ms. Uduak on Africa Music Law
[audio_clammr mp3="http://traffic.libsyn.com/africamusiclaw/AML040MaleekBerry.mp3″]
Ms.Uduak
Subscribe to Our Podcast Show
Some of Our Achievements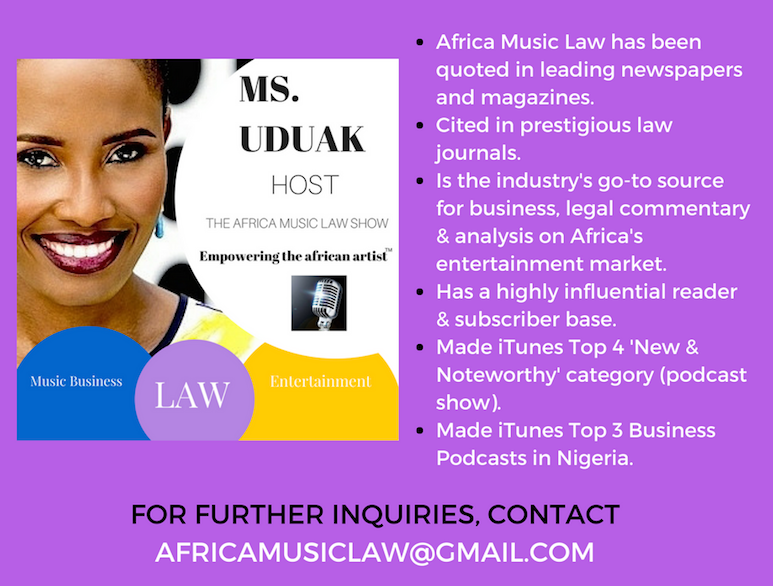 AFRICA MUSIC LAW™ (AML) is a pioneering music business and entertainment law blog and podcast show by Fashion and Entertainment Lawyer Ms. Uduak Oduok empowering the African artist and Africa's rapidly evolving entertainment industry through brilliant music business and entertainment law commentary and analysis, industry news, and exclusive interviews.
Credited for several firsts in the fashion and entertainment industry, Ms. Uduak is also a Partner and Co-Founder of Ebitu Law Group, P.C. where she handles her law firm's intellectual property law, media, business, fashion, and entertainment law practice areas. She has litigated a wide variety of cases in California courts and handled a variety of entertainment deals for clients in the USA, Africa, and Asia. Her work and contributions to the creative industry have been recognized by numerous organizations including the National Bar Association, The American University School of Law and featured in prestigious legal publications in the USA including ABA Journal and The California Lawyer Magazine.
For legal representation inquiries, please email (uduak@ebitulawgrp.com). For blog related inquiries i.e. advertising, licensing, or guest interview requests, please email (africamusiclaw@gmail.com). Thank you for visiting Africa Music Law™.