Nigerian recording artist Burna Boy has a brand reputation problem and he, at this point, really needs to fix it. There is the saying that there is no such thing as "bad press," so long as everyone is talking about you. That saying holds somewhat true if it doesn't affect your pocketbook. But, if your pocketbook is affected, then you need to nip the bad press and the issues creating it in the butt, or else expect that in time, you will have a hole drilled in your pocketbook.
How do you know if your pocketbook is affected? Some things to look out for are:
Lawsuits
Allegations of song theft
Arrests/criminal trouble etc.
Canceled shows/concerts
Canceled endorsement deals
AML Artists, the above is just an illustrative list.
Back to our story. Burna Boy is constantly in the news for the wrong reasons and if he has a good team, they ought to be concerned about his brand reputation, at this point, because it is no longer "cute" to keep hearing and reading these troubles that trail him.  Before I get to his latest brand reputation problem, here is a running list of the bad reputation he has earned (I have chosen stories within the past 1-2years, but the list is quite long if you count prior years):
1.Bad and disrespectful attitude towards fellow colleagues
Celebrities Behaving Badly: Burna Boy blasts Chocolate City's DJ Lambo over minor technical problems during live performance
2. Temper tantrums towards media personalities and fans
F*ck you and your fans – Burnaboy slams Kenyan OAP for not playing his songs on air
BURNA BOY UNFOLLOWS KENYANS EN MASSE AND TWITTER IS UNCONTROLLABLE
3.Alleged breach of contract with promoters
Burna Boy U.S. concert legal drama: There is NO New York Supreme Court injunction against artist (AML Exclusive)
4.Alleged song and graphic design theft i.e. Copyright Infringement
Singer's 'Soke' producer calls him out for money owed
Twitter Drama – Burna Boy gets dragged on Twitter – Read His Response (See tweets)
Video: Nigerian graphic designers call out Burna Boy & Aristokrat Records for alleged copyright theft
5. Alleged criminal troubles
NET Exclusive: Burna Boy banned from UK, to leave record label soon
Burna Boy is a rapist – Baby mama reveals 
The latest story? Burna Boy allegedly uses the works of a Ghanaian artist DJ Visions which featured another artist A.I without permission and with the belief that crediting the DJ was enough. The artist, clearly bothered by his action, took to Twitter to rant. In response, Burna Boy blocked the DJ.
We need not address whether all of the allegations, so far, against Burna Boy are true. There is a forum for that, a court of law by the alleged injured parties. What I do address, however, is the fact that this particular artist has a reputation management problem and keeps getting attention for the wrong reasons. I also believe the bad reputation is one, in the nearest future, that will make it very difficult for most people to want to work with him. If potential partners and investors read that they have to be concerned about not getting paid, or having to sue you to get paid, or that they have to be on the edge if they hire your services because they don't know if you can or will get along with fans or their customers, that is a problem.
Burna Boy's team needs to get help for this artist in three key areas: a) Health – they need to ensure he is mentally intact. This is because Burna is notorious for and actively displays his love for and use of marijuana. But, the question is, how is his use affecting his mental health? Not everyone reacts the same way. There have been several studies that show a link between marijuana use and psychiatric disorders based on the amount of drug used, the age at first use, and genetic vulnerability, among other things. Also, is that the only substance he uses? When you combine his prior and present use of marijuana with the realities of his artistry, his sleeping patterns that tend to be affected with the rigors of his artistry (touring), his volatile actions and outbursts, it would seem to me his team should, at a minimum, scrutinize him closely and ensure he gets a mental health check up;  b) Reputation management – they need a good publicity team to help change the narrative; and c) Legal – they need a good legal team within and outside Nigeria for his music business dealings.
The current status quo is a problem and I believe will worsen in the nearest future if there is no intervention in the key areas I identified above.
-Ms.Uduak
Burna Boy's recent drama with the Ghanaian artists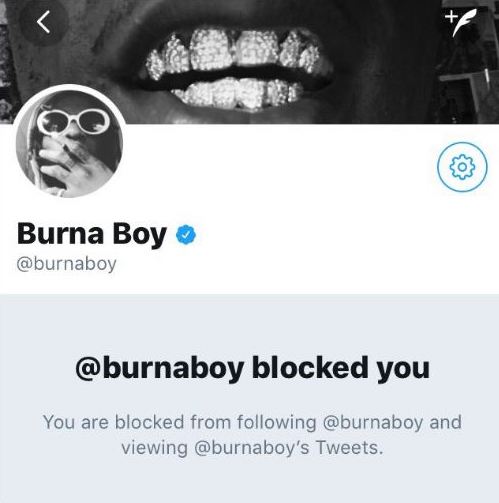 Subscribe to Our Podcast Show
Some of Our Achievements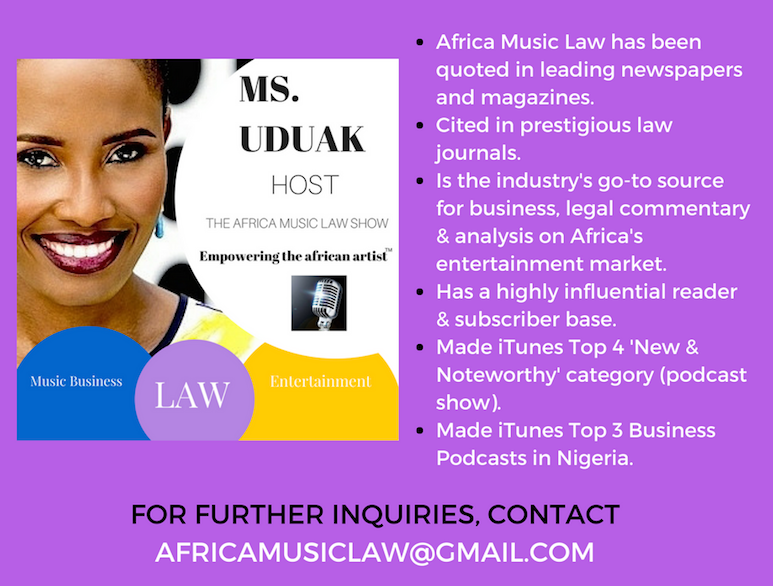 AFRICA MUSIC LAW™ (AML) is a pioneering music business and entertainment law blog and podcast show by Fashion and Entertainment Lawyer Ms. Uduak Oduok empowering the African artist and Africa's rapidly evolving entertainment industry through brilliant music business and entertainment law commentary and analysis, industry news, and exclusive interviews.
Credited for several firsts in the fashion and entertainment industry, Ms. Uduak is also a Partner and Co-Founder of Ebitu Law Group, P.C. where she handles her law firm's intellectual property law, media, business, fashion, and entertainment law practice areas. She has litigated a wide variety of cases in California courts and handled a variety of entertainment deals for clients in the USA, Africa, and Asia. Her work and contributions to the creative industry have been recognized by numerous organizations including the National Bar Association, The American University School of Law and featured in prestigious legal publications in the USA including ABA Journal and The California Lawyer Magazine. She is also an Adjunct Professor at the prestigious Academy of Arts University in San Francisco.
For legal representation inquiries, please email (uduak@ebitulawgrp.com). For blog related inquiries i.e. advertising, licensing, or guest interview requests, please email (africamusiclaw@gmail.com). Thank you for visiting Africa Music Law™.