Burna Boy is not exactly known for being polite to others. Nevertheless, you would think he draws a line when it comes to insulting his fellow artists, working collaboratively with him, on stage.Unfortunately, that is not the case.
In a video clip published over the weekend that has since gone viral, Burna Boy was performing at an event of which Chocolate City's DJ Lambo was the DJ. There was a minor technical problem with her equipment causing an issue with one of Burna Boy's records that she was playing. How did Burna respond? He became irritated and in the video clip can be heard  telling the audience, "I don't know what the F**k the DJ is doing." He did not stop there. Speaking directly to DJ Lambo, he said, "Hey DJ, if you say you no sabi play, just off am. We will do Church here," and then proceeded to do an acappella version of his song.
DJ Lambo in response walked away, but later returned.
About a few months ago, we saw Terry G act very disrespectful to DJ Jimmy Jatt's mentee at an event the mentee was DJing. In Terry's case, Nigeria's DJ associations all came together to ban Terry G's music from being played until he publicly apologized. In this instance, Burna Boy was very disrespectful to DJ Lambo, and at a minimum should have shown some respect given they are colleagues.
AML artists, do not act like Burna Boy. You portray a bad brand image and you unnecessarily destroy relationships.
-Ms. Uduak
Watch the clip

Subscribe to Our Podcast Show
Some of Our Achievements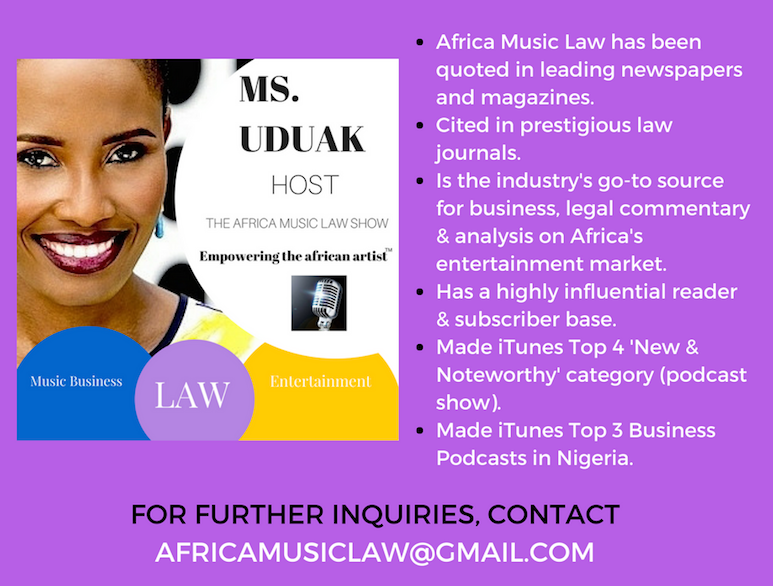 AFRICA MUSIC LAW™ (AML) is a pioneering music business and entertainment law blog and podcast show by Fashion and Entertainment Lawyer Ms. Uduak Oduok empowering the African artist and Africa's rapidly evolving entertainment industry through brilliant music business and entertainment law commentary and analysis, industry news, and exclusive interviews.
Credited for several firsts in the fashion and entertainment industry, Ms. Uduak is also a Partner and Co-Founder of Ebitu Law Group, P.C. where she handles her law firm's intellectual property law, media, business, fashion, and entertainment law practice areas. She has litigated a wide variety of cases in California courts and handled a variety of entertainment deals for clients in the USA, Africa, and Asia. Her work and contributions to the creative industry have been recognized by numerous organizations including the National Bar Association, The American University School of Law and featured in prestigious legal publications in the USA including ABA Journal and The California Lawyer Magazine. She is also an Adjunct Professor at the prestigious Academy of Arts University in San Francisco.
For legal representation inquiries, please email (uduak@ebitulawgrp.com). For blog related inquiries i.e. advertising, licensing, or guest interview requests, please email (africamusiclaw@gmail.com). Thank you for visiting Africa Music Law™.