I have no clue why Vibesland Entertainment released this tape as a "leaked" tape to the media. It is the same way I have no clue why they released a press statement two weeks ago claiming Burna Boy had an injunction when he didn't.
Why would this Plaintiff release a tape that does not help in any shape or form to the media? This makes no sense and I don't get it. Also, from an attorney standpoint, this is the kind of client that is a problem. If you have a client that continues to release inaccurate or negative information to the press that undermines the client's case, then that client is a problem.
I don't get it. If there is a "leak" of this nature, it should come from Burna Boy's team, not Vibesland. In any event, Burna Boy's team now have a potential witness for the defense, Azubuike.
Good luck to Niyi Fatogun and his company.
-Ms. Uduak
Listen to my podcast on 4 mistakes promoters should avoid in dealings with artists in the U.S.

Subscribe to Our Podcast Show
Some of Our Achievements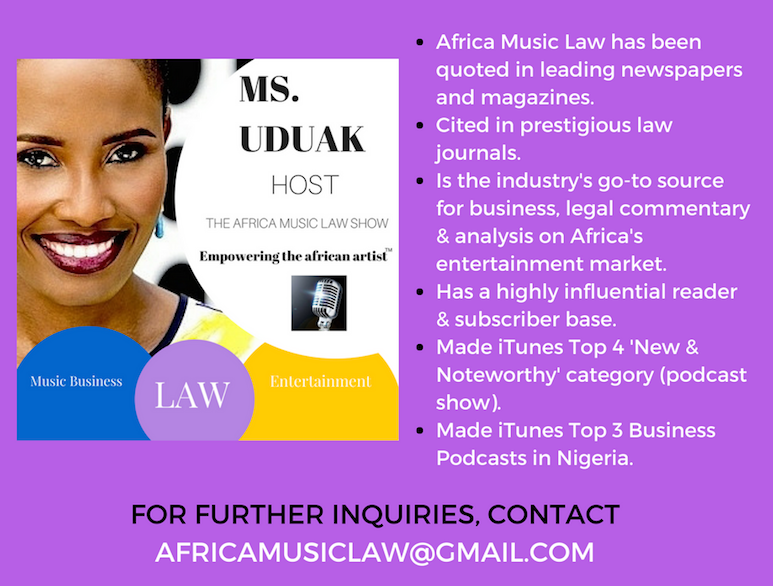 AFRICA MUSIC LAW™ (AML) is a pioneering music business and entertainment law blog and podcast show by Fashion and Entertainment Lawyer Ms. Uduak Oduok empowering the African artist and Africa's rapidly evolving entertainment industry through brilliant music business and entertainment law commentary and analysis, industry news, and exclusive interviews.
Credited for several firsts in the fashion and entertainment industry, Ms. Uduak is also a Partner and Co-Founder of Ebitu Law Group, P.C. where she handles her law firm's intellectual property law, media, business, fashion, and entertainment law practice areas. She has litigated a wide variety of cases in California courts and handled a variety of entertainment deals for clients in the USA, Africa, and Asia. Her work and contributions to the creative industry have been recognized by numerous organizations including the National Bar Association, The American University School of Law and featured in prestigious legal publications in the USA including ABA Journal and The California Lawyer Magazine. She is also an Adjunct Professor at the prestigious Academy of Arts University in San Francisco.
For legal representation inquiries, please email (uduak@ebitulawgrp.com). For blog related inquiries i.e. advertising, licensing, or guest interview requests, please email (africamusiclaw@gmail.com). Thank you for visiting Africa Music Law™.