Relationships are never easy but they are particularly difficult where celebrities are involved. This is because there are many forces that pull against these types of relationships that make it incredibly difficult to succeed. For music celebrities, factors such as the work environment, touring, groupies, unrelenting media, professional and public scrutiny, personal background, and age make an attempt at a successful marriage a major uphill battle. It is no wonder that these celebrities are known to divorce at a rate twice as fast as the average population. This brings us to the case of Cardi B and Offset. The hip-hop artists met in early 2017, and by September of that year, got married. By December of 2017, however, they began having issues with infidelity, on Offset's part. Nevertheless, they stayed together and in July 2018, welcomed their first child, but the issues with infidelity continued. This December 2018, amidst pressure from the public about her relationship with her husband, Cardi B revealed that she and Offset are separated. Since her revelation, the woman allegedly involved in an affair with Offset took to social media to apologize for ruining Cardi B's marriage. Offset, himself, has now publicly apologized, and in a recent Cardi B live performance attempted yet again an apology. As I began saying, it is an uphill battle for any creative, especially superstars, to make a marriage work. While I have never been married, I believe it takes maturity, counseling, a strong spiritual constitution, self-discipline, and the ability to draw boundary lines, among many factors, to make it work. I believe Cardi and Offset have to work on their marriage with the same drive, determination, focus and all-out mentality that they do with their music careers if they intend for it to be successful. Finally, I don't know about Offset going to Cardi B's work place i.e. interrupting her during her live performance, to apologize. I wish these two well. ~Ms. Uduak Photo source: BET.com Warning: Explicit language used in some of the videos below. Click at your own discretion.
Subscribe to Our Podcast Show
Some of Our Achievements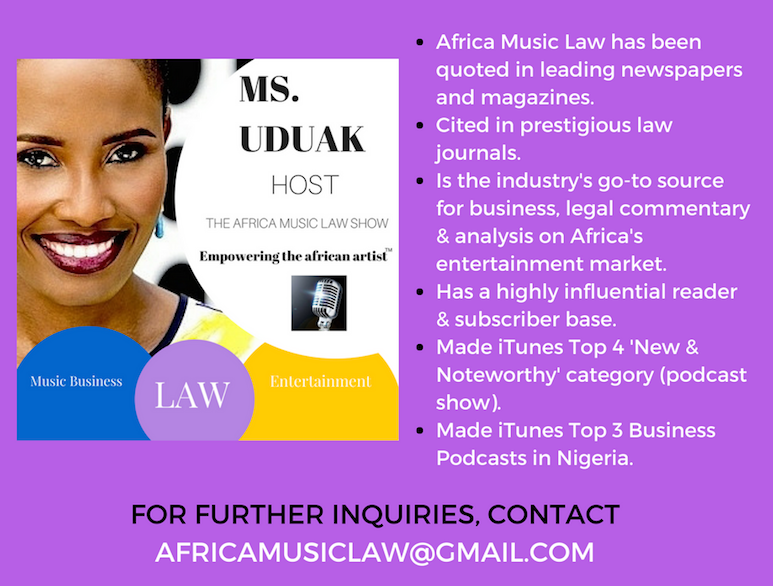 AFRICA MUSIC LAW™ (AML) is a pioneering music business and entertainment law blog and podcast show by Fashion and Entertainment Lawyer Ms. Uduak Oduok empowering the African artist and Africa's rapidly evolving entertainment industry through brilliant music business and entertainment law commentary and analysis, industry news, and exclusive interviews.
Credited for several firsts in the fashion and entertainment industry, Ms. Uduak is also a Partner and Co-Founder of Ebitu Law Group, P.C. where she handles her law firm's intellectual property law, media, business, fashion, and entertainment law practice areas. She has litigated a wide variety of cases in California courts and handled a variety of entertainment deals for clients in the USA, Africa, and Asia. Her work and contributions to the creative industry have been recognized by numerous organizations including the National Bar Association, The American University School of Law and featured in prestigious legal publications in the USA including ABA Journal and The California Lawyer Magazine. She is also an Adjunct Professor at the prestigious Academy of Arts University in San Francisco.
For legal representation inquiries, please email (uduak@ebitulawgrp.com). For blog related inquiries i.e. advertising, licensing, or guest interview requests, please email (africamusiclaw@gmail.com). Thank you for visiting Africa Music Law™.