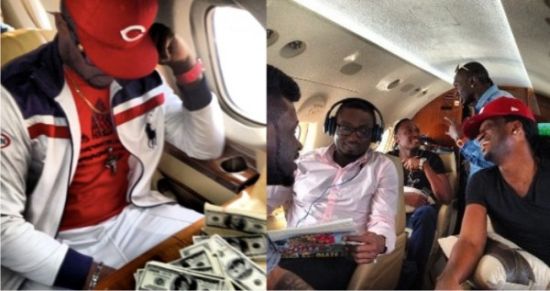 This 'Celebrities Behaving Badly' feature could yield an even split with some saying "yes" and some saying "no" P-Square should/should not flaunt their wealth in this manner. You make your call. I'll make mine at the end of this post.
In April of 2012, the recently turned 20year old Davido, a popular music executive, artist and the son of a filthy rich Nigerian business man, flaunted a 10Million Naira ($72,000 at the time) check he received on his twitter page. He also called it "change." His actions caused an uproar on the social media platform that spilled onto print news paper distributed across Nigeria.
The response to his tweet was anything but nice. Many reminded him that he was in a country where majority barely survived on less than $2.00 a day. Ultimately, if memory serves me right, Davido apologized for the perceived insensitivity of his tweet and deleted that tweet.
P-Square (some of the hardest working musicians in the game who I believe deserve every blessing they get), were recently on their way to Kigali, Rwanda where they performed on 12/14/2012 to a huge audience. During their flight on a private jet to Rwanda, P-Square's manager Jude Okoye had stacks of cash on his table. The money could have been for payment for their services, or what have you. Either way, an image of Jude was taken while on the private jet, with the wads of cash, and tweeted by Peter Okoye, ultimately, to the world.
Now, in fairness, P-Square have done many charitable works across Africa, albeit they are not as loud about it. In addition, just this year, Jude Okoye was kind enough to respond to a woman who was in dire need of medical aid but lacked the money to procure treatment. He donated a couple of millions(Naira), if memory serves me well, to help save the life of that young lady. So, these fellas make money but they also give back.
Nevertheless, I am wondering why Peter or whomever tweeted the picture with Jude with wads of US cash felt it was a good idea to share that particular image. From many angles, I fail to understand what the point was.
Question I have, is that ostentatiousness, especially the display of large wads of cash akeen to the insensitivity Davido showed with his display of 10Million Naira check?
Beyond it being very distracting from the trip to Rwanda, which is a big deal and the response and affection of the Rwanda people towards Nigeria and Nigerian music, I make the following observations:
1. Rwanda is bouncing back and waxing strong but we all know the history of that country;
2. Further, P-Square just came off a performance in Ghana were Ghanaian artists were allegedly upset that they were getting paid 3-4 times the amount offered to local artists such as Sarkodie to play in Ghana. In fact R2Bees pulled out of that Ghanaian concert. We've also seen artists in Cameroon have issues with the pay given to P-square at their own detriment. Should the Okoye camp show a bit more sensitivity to these existing facts?
3. P-Square, back in 2009, said they flaunt their wealth so young people can see they too can achieve it. However, is it a bit much at this point?
Peter, Paul, Jude, fellas, did we really need to see the perambulation of wads of US dollars on your private jet? What exactly is your point? What is there to prove? We know you are wealthy. Hello, you are on a private jet? Doesn't that say it all? What exactly was the point of this Peter?
In my book, this tweeted image by Peter amounts to celebrities behaving badly and was impulsive. I find that truly wealthy people, in spirit and in number terms, hardly feel the need to do all that kind of "new wealth" display. The twins have been at it for a while. I'd think they are now used to this kind of lifestyle and money.
Some of you may disagree with my take. I'd be interested to hear your thoughts.
-Uduak
Tweeted image via Linda Ikeji