One of my very loyal AML readers brought this story to my attention. Thank you.
It is the recent news concerning one of Africa's most popular singer, Koffi Olomide, who, in the past, has been accused of raping three of his dancers in Europe, among others sexual assaults. This time, Olomide has been found guilty and convicted of assault and battery against his producer. The story says his three month prison sentence is suspended. I presume it must be based on some negotiated deal where he meets certain requirements by the court, otherwise, they would whisk him right off to prison to serve out his sentencing.
I have talked about assault and battery charges  specific to both USA and Nigerian criminal laws, numerous times on AML. You may revisit one of many discussions here. In the meantime, can we all agree whether in Africa or in the USA, Europe etc. it is a great idea to keep your hands to yourself? If you can't, make sure you have the phone number to a pretty good criminal defense lawyer because you are going to need it, especially if you are deemed a "celebrity."
"Koffi Olomide, one of Africa's most popular singers, has been given a three-month suspended prison sentence for assaulting his producer.

The rumba star, 56, was arrested after a fracas on Wednesday at a hotel in Kinshasa, the capital of the Democratic Republic of Congo.

Correspondents say the courtroom was packed to see the star, who leads the Quartier Latin band.

Olomide this year denied charges of raping three of his dancers in France.

The altercation with his producer, Diego Lubaki, was over a debt of 3,000 euros ($3,680, £2,345), the court heard.

'Door damaged'

Mr Lubaki said he wanted to drop the charges, but the judge continued the trial.

"He wanted to withdraw charges in favour of social peace and peace between him and the one he calls his 'big brother'," one of his lawyers is quoted by the AFP news agency as saying.

The court convicted Olomide of assault and battery but acquitted him of malicious destruction to property, after the hotel room door was damaged in the fight.

The music he plays is known as "soukous", which comes from the French word secouer, meaning to shake, and its dancers are renowned for their erotic moves.

Like other Congolese musicians, he is known for his extravagant lifestyle and flashy outfits. . ."
BBC has the full story.
Subscribe to Our Podcast Show
Some of Our Achievements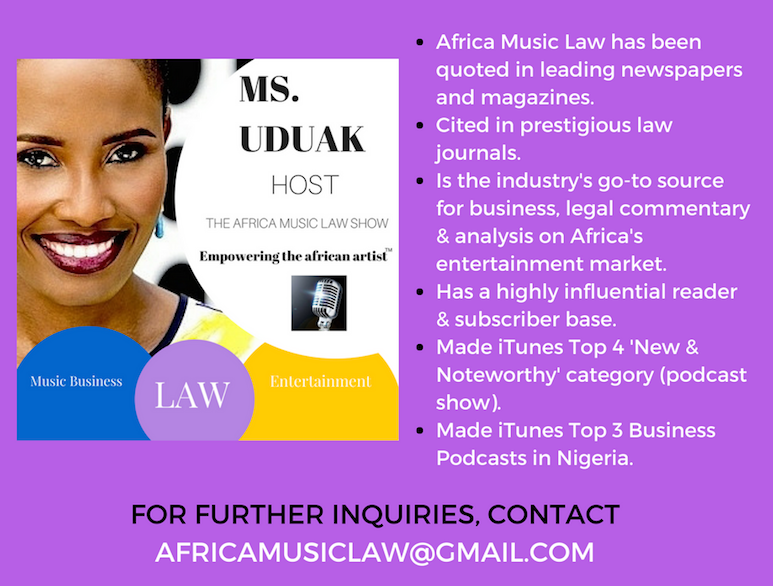 AFRICA MUSIC LAW™ (AML) is a pioneering music business and entertainment law blog and podcast show by Fashion and Entertainment Lawyer Ms. Uduak Oduok empowering the African artist and Africa's rapidly evolving entertainment industry through brilliant music business and entertainment law commentary and analysis, industry news, and exclusive interviews.
Credited for several firsts in the fashion and entertainment industry, Ms. Uduak is also a Partner and Co-Founder of Ebitu Law Group, P.C. where she handles her law firm's intellectual property law, media, business, fashion, and entertainment law practice areas. She has litigated a wide variety of cases in California courts and handled a variety of entertainment deals for clients in the USA, Africa, and Asia. Her work and contributions to the creative industry have been recognized by numerous organizations including the National Bar Association, The American University School of Law and featured in prestigious legal publications in the USA including ABA Journal and The California Lawyer Magazine. She is also an Adjunct Professor at the prestigious Academy of Arts University in San Francisco.
For legal representation inquiries, please email (uduak@ebitulawgrp.com). For blog related inquiries i.e. advertising, licensing, or guest interview requests, please email (africamusiclaw@gmail.com). Thank you for visiting Africa Music Law™.