Nollywood actor Charles Okocha posted a video on his instagram page yesterday that has since gone viral. In the video, he begins with repeatedly saying, "I'm gonna shine when I'm gonna shine" and taking what seems like anxiety induced heavy breaths. At the later part of the video clip, he breaks down in tears.
Okocha's profile on his Instagram page reads as follows, " Igwe 2pac – Your favourite actor. #Jigga #PrinceUbaka #Igwe2pac bookings – 08176824910 africannafca.com/peopleschoice.aspx"
It is unclear what the cause of his breakdown is i.e. acting, substance abuse, or other mental health distress. Nevertheless, it is interesting to note that in December 2015, Okocha was allegedly shot in the head by a stray bullet from the gun of a Policeman in Anambra state in Nigeria. Whatever the case, there is clearly a mental health issue here i.e. he is distressed. Therefore, I hope his family and friends see this video so they can ensure he gets the help and support he may need at this time, if any.
~Ms. Uduak
Watch Charles Okoya act in 'Igwe 2Pac' movie

Subscribe to Our Podcast Show
Some of Our Achievements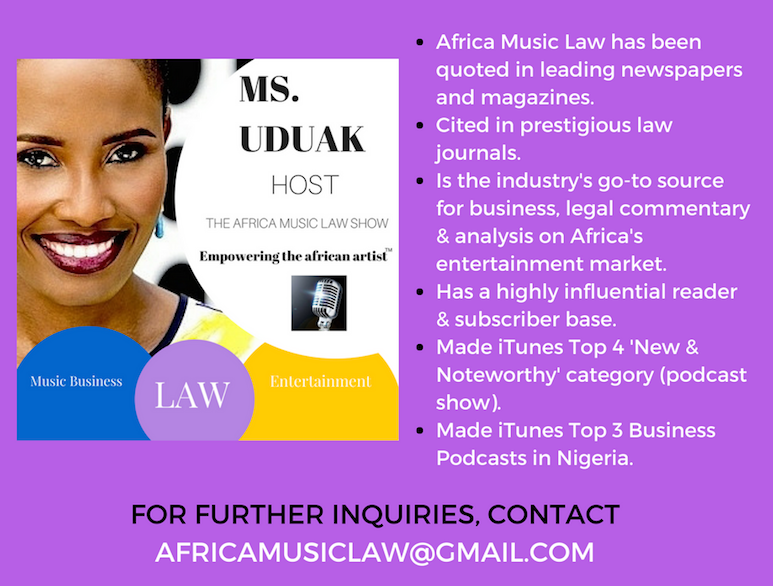 AFRICA MUSIC LAW™ (AML) is a pioneering music business and entertainment law blog and podcast show by Fashion and Entertainment Lawyer Ms. Uduak Oduok empowering the African artist and Africa's rapidly evolving entertainment industry through brilliant music business and entertainment law commentary and analysis, industry news, and exclusive interviews.
Credited for several firsts in the fashion and entertainment industry, Ms. Uduak is also a Partner and Co-Founder of Ebitu Law Group, P.C. where she handles her law firm's intellectual property law, media, business, fashion, and entertainment law practice areas. She has litigated a wide variety of cases in California courts and handled a variety of entertainment deals for clients in the USA, Africa, and Asia. Her work and contributions to the creative industry have been recognized by numerous organizations including the National Bar Association, The American University School of Law and featured in prestigious legal publications in the USA including ABA Journal and The California Lawyer Magazine.
For legal representation inquiries, please email (uduak@ebitulawgrp.com). For blog related inquiries i.e. advertising, licensing, or guest interview requests, please email (africamusiclaw@gmail.com). Thank you for visiting Africa Music Law™.