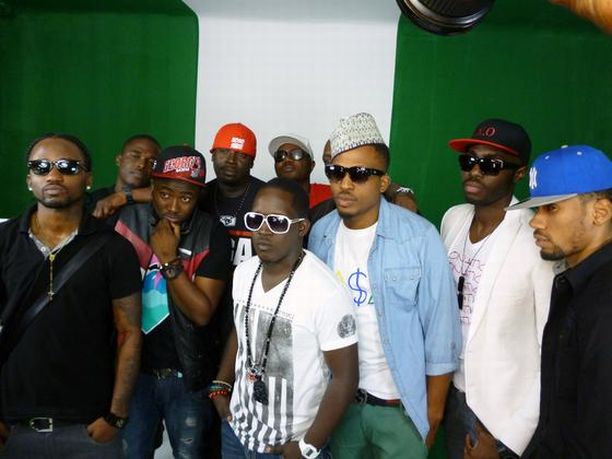 Audu Maikori, Executive at Chocolate City and recent winner of  Executive of the Year at the 2011 Nigeria Entertainment Awards, is such a hustler! He really pushes for his artists doesn't he? It's sorta hard to miss all the work he has been doing. So, Mr. Maikori, I am giving you a shout out. I expect to be fully compensated for this free publicity. 🙂 For the BET Nigerian Cypher, not one but two of his artists are represented on the BET Nigerian Cypher which as of today, BET's subsidiary, BET International, has announced will be broadcasted in Africa and the UK markets tomorrow October 15th, 2011. Good for Maikori.
On a different note, I about died when I saw, today, announcements that BET Nigerian Cypher would debut its "USA premiere on BET.com." Loooooooool! *Okay done laughing.* Kai! We African people suffer o. We really do. This people think Africans are really stupid o. Common folks, don't insult our intelligence. BET.com = USA Premiere? Geez what happened to the television network premiere? *Sigh.*  Read my article regarding BET Networks African Hip-hop Awards and BET Awards continued diss here.
Moving on . . . I am happy for all the Nigerian artists and the Nigerian/Ghanaian artist (X.O Senavoe) that will feature on the BET Nigerian Cypher. I believe industry insider and owner of 'We Plug G.O.O.D Music' questioned, on twitter, why there were separate categories for women and men. It would be interesting to see what Lilian Blankson and the BET International arm explain as their rationale for separate categories. I don't necessarily have an issue with it although I believe a Femcee like Blaise can and has gone toe to toe with the fellas. For the women, while all solid femcees, I must confess I've been a huge fan of Blaise and she remains a favorite. I expect all the ladies to bring it but Blaise better knock it out of the ball park. No pressure Blaise. No pressure. On the male side, same thing. I enjoy and respect all of the works of the various artists featured but I expect to see X.O Senavoe  knock it out of the ball park. No pressure Mr. Senavoe, no pressure. It's the word play people. It gets me, every time.


Speaking of X.O Senavoe, I must say I was very pleasantly surprised to see him as part of BET Nigerian Cypher. This is an artist who barely got into the game last year and couldn't really get many to pay attention to him and he is already on BET Cypher?! Good stuff. What's quite interesting also is that Senavoe went to school with M.I Abaga and he is now rubbing shoulders with his school mate who is one of the best in the industry. It speaks volumes to following your dream and hard work.


This is where I stop and give major, major, major shout out and props to Kid Konnect and the many music producers who invest and have invested their talents, time, energy and resources to budding musicians when no one else cared to. He along with Gafacci from Ghana, among others, invested in X.O Senavoe when others would not even look twice. I don't think our music producers get enough praises for all the work they do. Our music producers and music video directors, in particular, should be put on a throne and celebrated for their significant contributions in propelling our entertainment industry to such (great) heights both within and outside Nigeria.
Speaking of that, please feel free to hit me up with suggestions y'all have for Ladybrille Magazine's Man of the Month November issue which will be the Magazine's Music Edition. We are looking at several names from Kanye West to Rocky Dawuni and all the great African men in between. You can send your suggestions to (editor@ladybrille.com).
Alright! Done with this writeup. I look forward to sharing the cypher video clip on my other platforms once released. In the meantime, who are you guys rooting for? Who do you expect to bring it?
I received many PR pitches on this but I think I liked Obi Asika of Storm 360's the best. By the way, where is Lilian Blankson in the release below? Only Ava Hall and Michael Armstrong? Homegurl has been pushing us Africans like no tomorrow. But for her, primarily pushing, and her bosses Ava Hall and Michael Armstrong approving,  all of what we see here would not be possible. Y'all give homegurl her props in 'dem releases. Read below and tell me who you all are rooting for.
"Tomorrow the entire world will be witnessing Yet another History

Last year, the world experienced history with the first ever All African Cypher, which was created by BET International to demonstrate how the hip-hop movement and culture spanned way beyond the shores of the US and extended its impact to the continent of Africa. The cypher, which featured some of the hottest rappers in Ghana, was performed in four languages. Heavy weight artists such as 2011 BET Awards nominee, D-Black, founder of the Ghanaian Hiplife movement, Reggie Rockstone, Kwaku T, Tinny, BabyG, Ayigbe Edem and Ghana's fastest rapper, Sarkodie, all caught worldwide attention with their amazing delivery when they appeared on the 2010 International broadcast of the BET Hip-Hop Awards.

This historical event created a sensational viral frenzy and an unprecedented buzz in the entertainment industry. With such incredibly positive feedback from the press and the public, it seemed only natural that BET International executives, Michael Armstrong and Ava Hall would decide to incorporate an African Cypher into the International broadcast of the BET Hip-Hop Awards once again.

Which African country gets put to the test this year?

NIGERIA!" – Storm 360