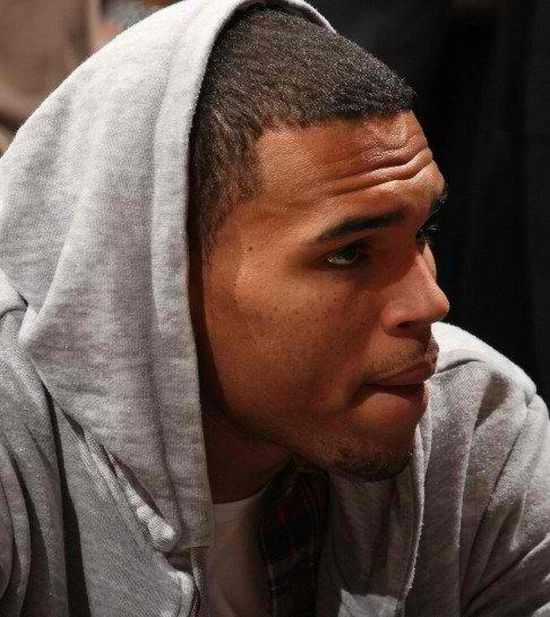 Chris Brown is going about his business singing 'We Found Love' post his Rihanna beatings and recent music collabos with Rihanna. Who cares what Jay-Z thinks about the situation? Can y'all keep it moving? Thank you. Bye.
Oh, before he "found love" with Rihanna, just a little over five days ago, TMZ and other news outlets reported about a cell phone robbery snatching in Miami, Florida from a woman who was taking pictures of Brown. An arrest warrant is yet to be issued in Florida.
"Chris Brown is being watched … watched closely by the D.A. who prosecuted him for beating Rihanna … because the latest incident in Miami could trigger a full court press in L.A. to send Brown to prison.

Sources tell us … the L.A. District Attorney's Office is well aware of the robbery-by-snatching investigation of Brown in Florida … and they're waiting for the L.A. County Probation Dept. to recommend what action, if any, should be taken.

In case you forgot … and how could you forget? … Brown was sentenced to 5 years probation for beating Rihanna in 2009 … and one of the terms is that he obey all laws.

If officials determine the allegations against Brown are true — that he "snatched" a cell phone from a woman in Florida — his probation could be revoked and he could be thrown in prison for 4 years. . ."- TMZ
AML USA readers, my focus is on probation violations. We saw this with T.I., Paris Hilton and Lindsay Lohan when they violated probation terms. Read up below on how probation violation works and then be about the business of keeping your love that you find drama free, especially criminal drama free. Although, I'd be honest, if most people did, they would the legal profession and lawyers out of work. Human nature being what it is, lawyers will be around till the end of time, Amen. 🙂
What is Probation?
Probation is essentially a suspension of the sentence that the judge was going to execute or impose on you. In a super simple lingo, the court essentially says, "Hey XYZ, we've gone through trial or you pled. You have been found guilty and convicted. For your sentence, I can put you in jail now. However, I have the choice to let you go home, IF you agree to follow certain rules. You follow it, we are so good and in 3yrs, your case is over with. You mess up on any of the rules, I will most likely have you sitting  in jail. How you wanna do this?"  In most jurisdictions (states), in misdemeanor cases (crimes with confinement time of 1yr maximum), courts have the power to do this.
Why?
The court believes, through arguments shown by your attorney, that letting you back into the community poses minimal risk to the public and also promotes your rehabilitation.
What is the Difference Between Formal vs. Informal Probation?
Many states by law provide for formal and informal probation. Formal means you are supervised by a Probation Office (PO); you have to check in with your PO, typically once a month. Informal means you stay out of trouble, you complete the terms of your sentencing (community service, counseling, drug testing, jail time) and you need not check in with a PO.
How Long Does Probation Last?
Misdemeanor cases: 1-3years. It can last up to 5years, depending on the facts of the case.
What Does it Take to Violate Probation?
Totally ignore the terms of condition for your release
What Happens When You Violate Probation?
Two things. 1) Your PO can issue a notice i.e. warning to you; OR 2) your PO can file a petition for your violation of probation, forcing you to appear in court for a probation hearing.
What Happens in Court at the Probation Hearing?
Heard of "Beyond a reasonable doubt?"  Well, toss that out of the window because the standard in Probation hearings is way less than that. The court weighs the arguments and evidence provided by all parties and makes a ruling. Usually they believe what the P.O has in the probation report. Which gets us to sentencing.
What is Sentencing all About?
It means the court found you indeed violated probation and sentences you accordingly.
What are the Sentencing Options?
Jail, extension of probation, probation revocation (which means you serve out the rest of your time), among many options. The court has the discretion to look at the gravity of the probation violation, prior crimes, new crimes you have committed in deciding what your sentence will be.
Cheers,
Uduak
We Found Love 'Chris Brown' Version

We Found Love by Rihanna