On the back of the release of his critically acclaimed debut album For You, last month's sold-out album launch concert, and the recent launch of his first ever nationwide tour, award-winning Nigerian producer and musician Cobhams Asuquo has just unveiled a brand new live performance video of fan-favourite track 'Angels All Around' from his For You album.
Filmed during the first concert of his nationwide tour at the The Pistis Conference Centre in Lagos, on March 26, the 'Angels All Around' live performance sees Cobhams Asuquo sing beautifully about 'Angels', who he describes as "good people who just help you move forward. They've been placed around you to just be a blessing in your life", backed by lush ballad-esque piano arrangements and soaring vocal harmonies.
Shot and directed by documentary filmmaker Joel 'Kachi Benson, the 'Angels All Around' live video is the first of many visual collaborations between Benson and Cobhams Asuquo, which will be released through the period of Asuquo's 'For You' nationwide tour. Alongside his work with Cobhams Asuquo, Joel Benson has also collaborated with the likes of Kelechi Amadi Obi, TY Bello, George Osodi, ID Cabasa, and Kenny Ogungbe, among others.
Revered as one of the best musical minds to come out of Africa, veteran producer and musician Cobhams Asuquo has worked with Asa, Bono (U2), Tuface, Angelique Kidjo, Waje and Bez among others, in a decorated career that has spanned over a decade. His accolades include three Headies Awards, two Future Awards, and a prestigious 'Producer of the Decade' award at the Nigerian Music Awards, just to mention a few.
The on-going 'For You' nationwide tour has already seen Cobhams Asuquo headline several venues across Lagos in the past Easter weekend, with the tour confirmed for scheduled concerts across Benin, Uyo, Calabar, Port Harcourt, and the nation's capital Abuja, as well as international tour stops in United Kingdom and the United States, over the next seven months.
The 'For You' nationwide tour will then conclude its 9-month jaunt, with a finale concert in Lagos in December, that is not to be missed. Fans can follow Cobhams on Instagram for live updates on tour dates, venues, and more information about Cobhams Asuquo's 'For You' tour.
Watch Cobhams Asuquo's 'Angels All Around'"
For more information, visit his iTunes page.
Subscribe to Our Podcast Show
Some of Our Achievements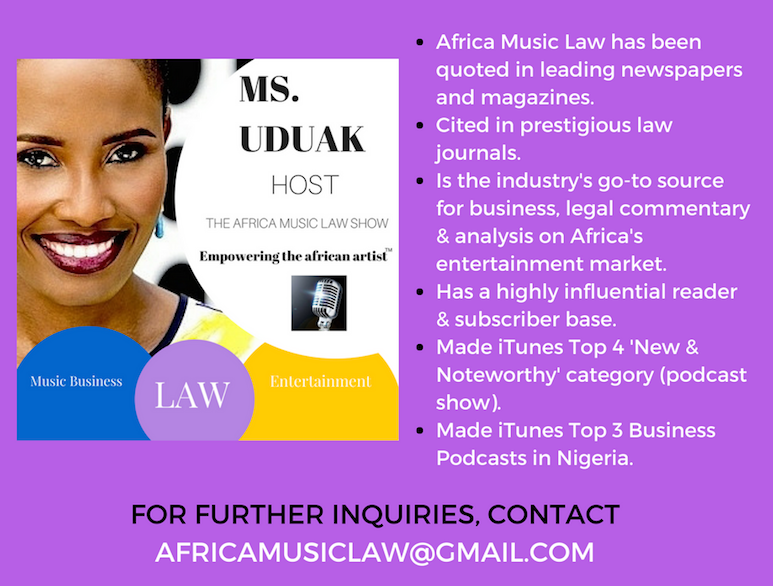 AFRICA MUSIC LAW™ (AML) is a pioneering music business and entertainment law blog and podcast show by Fashion and Entertainment Lawyer Ms. Uduak Oduok empowering the African artist and Africa's rapidly evolving entertainment industry through brilliant music business and entertainment law commentary and analysis, industry news, and exclusive interviews.
Credited for several firsts in the fashion and entertainment industry, Ms. Uduak is also a Partner and Co-Founder of Ebitu Law Group, P.C. where she handles her law firm's intellectual property law, media, business, fashion, and entertainment law practice areas. She has litigated a wide variety of cases in California courts and handled a variety of entertainment deals for clients in the USA, Africa, and Asia. Her work and contributions to the creative industry have been recognized by numerous organizations including the National Bar Association, The American University School of Law and featured in prestigious legal publications in the USA including ABA Journal and The California Lawyer Magazine.
For legal representation inquiries, please email (uduak@ebitulawgrp.com). For blog related inquiries i.e. advertising, licensing, or guest interview requests, please email (africamusiclaw@gmail.com). Thank you for visiting Africa Music Law™.