Last week I told you about the arrest and arraignment of 2 Face Idibia's manager, Efe Omoregbe, who claims he is the new Chairman of COSON. Below is COSON and Tony Okoroji's explanation, via way of a press statement, of what Omoregbe's arrest was all about.
-Ms. Uduak
PUBLIC STATEMENT: THE TRUTH OF THE EFE OMOROGBE ARREST & ARRAIGNMENT
"The attention of Copyright Society of Nigeria (COSON) has been drawn to a recent write up on the widely reported arrest and arraignment by the police of Mr. Efe Omorogbe and Mr. Joel Ajayi on charges of forgery, impersonation and conduct likely to cause a breach of the peace. The article is being clandestinely circulated on WhatsApp and other digital platforms.
It is very revealing that the author of the fake article did not have the courage to place his name on his write-up so that the world can know who he is. Instead, he hid his name and fraudulently attributed his fake article, full of falsehood, innuendo and terrible day dreaming, to the COSON Board.
Why is the author afraid to publicly own his own article? He knows that there is no iota of truth in his badly written propaganda piece. He is aware that if he reveals himself, he will be dragged to a court of law and required to bring evidence to justify his bogus claims or pay a huge amount for defamation of character.
COSON states clearly that no one on the COSON Board has anything whatsoever to do with the roguish write-up. For the avoidance of doubt, there are no factions in COSON. The Chairman of COSON, Chief Tony Okoroji enjoys the respect and trust of the thousands of members of COSON nationwide, the entire Board and Management of COSON, the full complement of COSON consultants all over Nigeria and the COSON reciprocal representation partners in over 150 collective management organizations in every corner of the globe. Chief Okoroji's unequaled sacrifice and dedication to the copyright cause and the promotion and protection of the rights of creative people across Africa, transcend decades. The attempt to deploy ghost writers to impugn on the character of this exceptional Nigerian and the COSON brand is dead on arrival.
The truth is that the handful of individuals who watched Chief Okoroji as he toiled to build COSON into a major national institution and then one day, decided to hijack the organization for their private purpose hugely miscalculated. They underestimated the love that the members of COSON have for their chairman and overestimated their ability to drive a wedge between the members of COSON and Chief Okoroji. Their massive attempt to discredit Okoroji has not moved the needle. Rather than reverse their course when it became obvious that their conspiracy and coup plot has failed, they decided to completely destroy COSON, the most successful organization in the history of the Nigerian creative industry. As they became more and more desperate, they immersed themselves in criminal conduct which has resulted in the developing consequences.
What are the allegations against Efe Omorogbe, Joel Ajayi and others at large for which Omorogbe and Ajayi were arraigned by the police? One of the allegations is that Omorogbe & Co sent letters on forged COSON letter headed paper to all the banks in which COSON maintains accounts asking the banks to freeze the accounts of COSON. The letter headed paper contains names of persons who never authorized the printing of the letter-heads or the purpose for which they have been put. Omorogbe & Co never consulted any of the officials at COSON who manage the bank accounts. If Omorogbe and his cohorts had succeeded, COSON would have been forced to close down as the organization would have been unable to pay staff salaries nor pay royalties to its members nor meet any of its obligations to the different entities required by a going concern to operate.
It is well known that Omorogbe has been repeatedly cautioned by the COSON General Assembly, by COSON lawyers, music industry icons like Prof (Sir) Victor Uwaifo, Pa Chris Ajilo, Sir Shina Peters and major industry organizations like MORAN and MUPMAN. Efe Omorogbe has even been warned by senior COSON members from his home state, Edo State, who threatened to drag him to His Royal Majesty, the Oba of Benin. In every case, Mr. Omorogbe has acted as if he is above the law. It would have been grossly irresponsible to allow Efe Omorogbe and his handful of cohorts destroy a national organization from which thousands of people derive their livelihood.
Subscribe to Our Podcast Show
Some of Our Achievements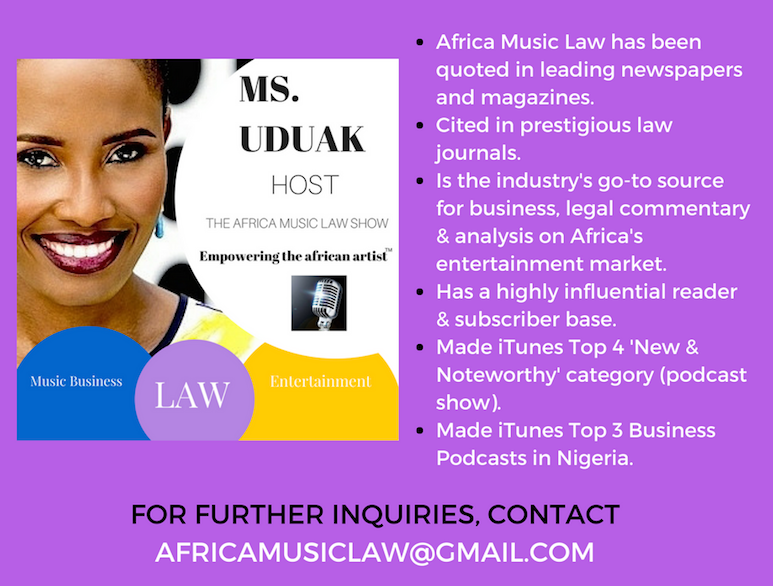 AFRICA MUSIC LAW™ (AML) is a pioneering music business and entertainment law blog and podcast show by Fashion and Entertainment Lawyer Ms. Uduak Oduok empowering the African artist and Africa's rapidly evolving entertainment industry through brilliant music business and entertainment law commentary and analysis, industry news, and exclusive interviews.
Credited for several firsts in the fashion and entertainment industry, Ms. Uduak is also a Partner and Co-Founder of Ebitu Law Group, P.C. where she handles her law firm's intellectual property law, media, business, fashion, and entertainment law practice areas. She has litigated a wide variety of cases in California courts and handled a variety of entertainment deals for clients in the USA, Africa, and Asia. Her work and contributions to the creative industry have been recognized by numerous organizations including the National Bar Association, The American University School of Law and featured in prestigious legal publications in the USA including ABA Journal and The California Lawyer Magazine.
For legal representation inquiries, please email (uduak@ebitulawgrp.com). For blog related inquiries i.e. advertising, licensing, or guest interview requests, please email (africamusiclaw@gmail.com). Thank you for visiting Africa Music Law™.