Nigerian pop star Oyindamola Emmanuel Johnson-Hunga aka Dammy Krane, formerly signed with music icon 2Face Idibia's record company Hypertek Digital, has been arrested in Miami, Florida for grand theft, credit card, and identity fraud charges and is being held at the Turner Guilford Knight Correctional Center. The breaking news went viral a few hours ago.
Dammy Krane really gained notoriety after collaborating with Sony signed Nigerian artist Davido for Krane's hit single Izzue, (Krane subsequently signed with Davido's DMW record company).
When I saw the story, I thought, initially, it was fake news until I confirmed directly with the county's database and in fact saw he has been arrested and is in custody. See the information below.
AML people, this story is still developing but I will definitely touch on it in our next podcast episode on Monday.
In the meantime, if you are a Nigerian, African or other international artist visiting the U.S. and unfortunately get arrested, here are the basics you should know.
1.Understand what it means to be arrested
When you are arrested, it simply means you are not free to leave the scene. It is not uncommon for criminal defense lawyers to advise their clients to inquire from the arresting officer a simple question, "Am I free to go." If the answer is "yes" then there is no arrest. If it is "no" then you are under arrest.
2. Know that you can be detained without being arrested
Can the police detain you i.e. hold you for questioning if they believe you might have been involved in a crime? They certainly can. Such detention should only be for a short period. It does not amount to an arrest.
3. Know that you do not have to answer questions the police ask you
In fact, it is prudent to speak to an attorney, first, before answering the questions police officers might pose to you. This is also where you have probably heard about the "Miranda" warnings . . . common in many legal television dramas and movies. When you ask for an attorney, it automatically invokes your privilege to remain silent.
Officers will read the following rights to you and then ask if you understand the rights and if you waive them. If you waive them, then you can be questioned without an attorney present. If the police begins questioning you and you decide you do not want to answer any further questions, they must immediately stop asking further questions. If they ignore this and continue to ask questions and you continue to answer, understand that the statements you make can and are usually used against you in a court of law to prosecute you.
4. Know the Miranda Warnings. The Miranda Warnings typically take the form below:
1. You have the right to remain silent

2. If you give up the right to remain silent, anything you do and say can and will be used in a court of law against you

3. You have the right to speak with an attorney of your choice before questioning, and to have the attorney present during questioning.

4. If you cannot afford an attorney, one will be appointed for you by the court before any questioning, if you so desire. The attorney will not cost you anything; the services are free.

The police will also typically ask:

5. Do you understand each of these rights as explained to you

6. Having in mind and understanding your rights as explained to you, are you willing to talk to me (the police)*
5. Get a Lawyer
If you are arrested, get a criminal defense lawyer ASAP!!
I anticipate Dammy Krane will be arraigned i.e. be in court in front of a judge to plead guilty, not guilty, or no contest, no later than Monday morning, if he doesn't post bail. Hopefully, he gets a lawyer before then.
***Story still developing
-Ms. Uduak
UPDATE #1
An American private jet company has taken to Twitter claiming they turned Dammy Krane over to the police because he allegedly used stolen credit cards to try to book a jet flight with them. They add that their "policy is to prosecute to the fullest extent." That later part and the publicizing of this arrest is totally tacky and unnecessary. The prosecutor makes the decision to prosecute. Dammy Krane is a pop artist visiting the U.S. It is alleged that he was hanging out with a Maryland-based big boy. If in fact, this is true, then it would be interesting to see if Krane knew that the credit cards were indeed stolen at the time he used the cards.Krane definitely needs an aggressive and smart criminal defense lawyer because this is a case with many layers to it and it appears he may be caught in the middle of it all.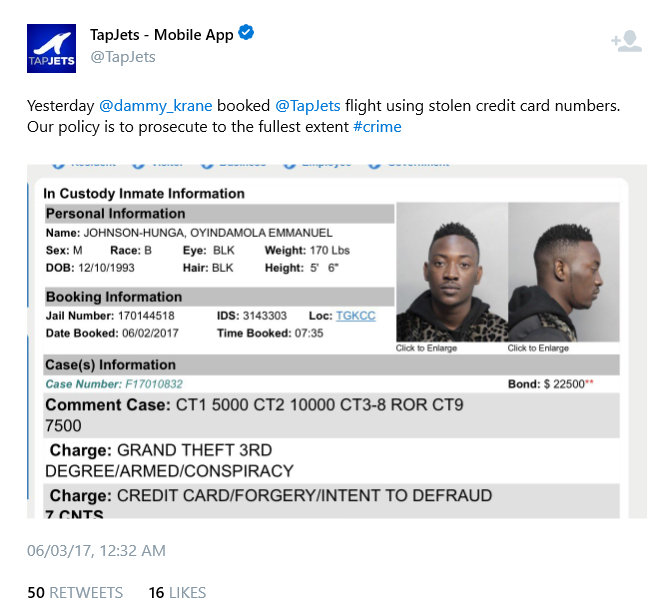 UPDATE #2
Dammy Krane was allegedly arrested alongside DMV Maryland based allegedly wealthy guy Ebuka who was allegedly perambulating wads of cash, in the jet Krane rented, prior to the arrest of the two.
UPDATE #3
Photos of Dammy Krane and Ebuka before the fall. (Photos via Raro Lae & Bella Naija)
A few Dammy Krane hit songs

Amin