Last week, when Davido gave his girlfriend a Porsche and threw her two parties as birthday presents, and claimed that was "assurance and a lifetime insurance," I said that was not enough. I explained that the only one benefitting for a lifetime was Davido because all he had done was given himself and his family a lifetime assurance and insurance by the use of Chioma's image and likeness, for free, in his music and music video titled 'Assurance.' I also explained the lifetime royalties that would flow from music publishing, recorded sales, and even live entertainment income as a result of his exploitation of Chioma's image and likeness, again all for free. If you add the fact that his professed love for Chioma is because, according to him, she willingly takes care of his children fathered with two other women, then she really gets the short end of the stake and no true real assurance much less, "lifetime insurance."
In addition, I said he had indefinitely invaded her right to privacy, in the event that they break up. I said an entertainment deal that paid long-term royalties and licensing fees to Chioma for the use of her image and likeness would be more equitable, a true assurance and lifetime insurance for her.
The combined views for ' Assurance' on YouTube, from video and music, is over 5million views in barely one week!
You can read my article Assurance: Why Davido's Porsche gift to Chioma is a bad deal for the millions he will make off her.
Davido and members of his team are readers of AML. And while I am unsure if the article had any impact on them, I am happy to see that he has helped negotiate a cooking show with Abuja's leading mall, Dunes Center, for Chioma, using his star power. According to Davido, the deal is a partnership and sponsorship deal that clearly still involves giving Davido a cut for the use of his image and likeness, but better positions Chioma and her Chef brand for long-term financial success independent of Davido. Davido has a prior relationship with Dunes Center.
At this stage, Chioma needs her own entertainment lawyer who can handle all her Chef Chi affairs. This lawyer should not be Davido's lawyer. A separate lawyer that caters to Chioma is needed, even if Davido is footing the legal bill.
Davido promises a restaurant as well. But, I would say one thing at a time. Not every good cook/chef is a good restaurant business owner. Let Chioma get the hang of operating her cooking show, invest in her education, perhaps at the Lagos Business School to learn the fundamentals of being a successful entrepreneur while she operates her cooking show. Then in future, she can own her own restaurant.
See some of Davido's tweets below.
-Ms. Uduak
"Who's ready for @thechefchi cooking show???!!! #NewdealAlert powered by Dunes … coming to a screen near you !!! I don turn manager oo 😂
A post shared by Davido Adeleke (@davidoofficial) on May 8, 2018 at 4:20am PDT
Today we signed a strategic Partnership and sponsorship contract with Dunes Center Abuja @dunesAbuja for "The Chef Chi Show" First endorsement and cooking show Congratulations to Chef Chi (Chioma) @thechefchi For Sponsorship Thechefchishow@gmail.com #Millionairechefchi #FutureAssured #thechefchishow Cc:@ubifranklintriplemg
A post shared by Davido Adeleke (@davidoofficial) on May 8, 2018 at 5:09am PDT
Davido performing for Dunes'Annual Party last year

Davido's Assurance Music Video

Subscribe to Our Podcast Show
Some of Our Achievements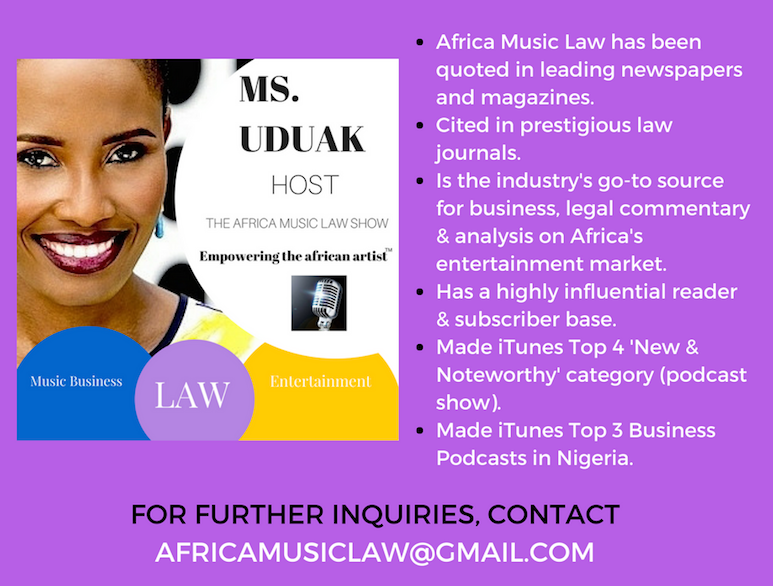 AFRICA MUSIC LAW™ (AML) is a pioneering music business and entertainment law blog and podcast show by Fashion and Entertainment Lawyer Ms. Uduak Oduok empowering the African artist and Africa's rapidly evolving entertainment industry through brilliant music business and entertainment law commentary and analysis, industry news, and exclusive interviews.
Credited for several firsts in the fashion and entertainment industry, Ms. Uduak is also a Partner and Co-Founder of Ebitu Law Group, P.C. where she handles her law firm's intellectual property law, media, business, fashion, and entertainment law practice areas. She has litigated a wide variety of cases in California courts and handled a variety of entertainment deals for clients in the USA, Africa, and Asia. Her work and contributions to the creative industry have been recognized by numerous organizations including the National Bar Association, The American University School of Law and featured in prestigious legal publications in the USA including ABA Journal and The California Lawyer Magazine.
For legal representation inquiries, please email (uduak@ebitulawgrp.com). For blog related inquiries i.e. advertising, licensing, or guest interview requests, please email (africamusiclaw@gmail.com). Thank you for visiting Africa Music Law™.