Nigerian/African pop star Davido made a recent appearance on New York's popular morning show, The Breakfast Club, and he definitely had some interesting things to share about his journey into the music business. Particularly interesting was an in-depth discussion about his Father's efforts to thwart his goal to pursue music. It is one thing to tell a Nigerian parent that you want to pursue a "music career." It is another thing when that Nigerian parent happens to be a billionaire who fully expects you to obtain a traditional professional degree (business, law, medicine, engineering etc.) in America, and return to manage and operate his empire.
For Davido, that wasn't his cup of tea. He wanted to do his own thing (music), be his own man, and make his own money under his terms.
Watch and listen to the lengths his father was willing to take to stop him.
Davido is the second Nigerian artist, since Ice Prince, to appear on the popular show.
Subscribe to Our Podcast Show
Some of Our Achievements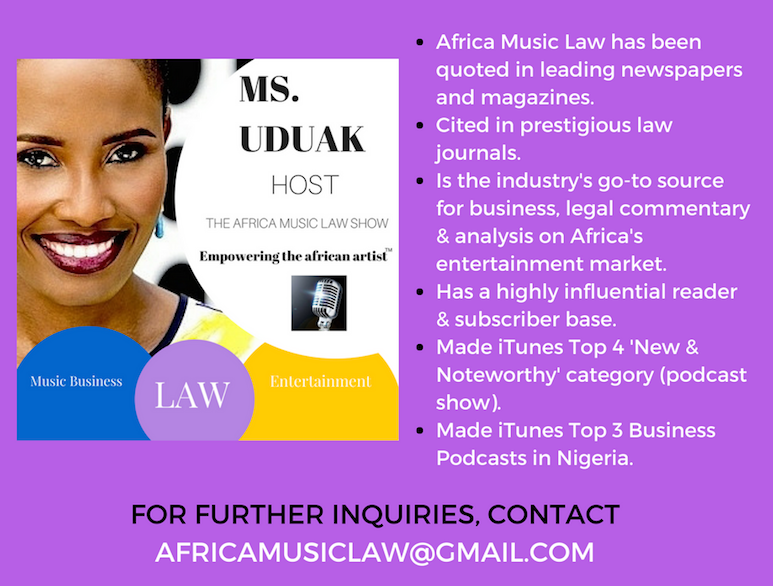 AFRICA MUSIC LAW™ (AML) is a pioneering music business and entertainment law blog and podcast show by Fashion and Entertainment Lawyer Ms. Uduak Oduok empowering the African artist and Africa's rapidly evolving entertainment industry through brilliant music business and entertainment law commentary and analysis, industry news, and exclusive interviews.
Credited for several firsts in the fashion and entertainment industry, Ms. Uduak is also a Partner and Co-Founder of Ebitu Law Group, P.C. where she handles her law firm's intellectual property law, media, business, fashion, and entertainment law practice areas. She has litigated a wide variety of cases in California courts and handled a variety of entertainment deals for clients in the USA, Africa, and Asia. Her work and contributions to the creative industry have been recognized by numerous organizations including the National Bar Association, The American University School of Law and featured in prestigious legal publications in the USA including ABA Journal and The California Lawyer Magazine.
For legal representation inquiries, please email (uduak@ebitulawgrp.com). For blog related inquiries i.e. advertising, licensing, or guest interview requests, please email (africamusiclaw@gmail.com). Thank you for visiting Africa Music Law™.