OloriSupergal.com, among other blogger/media platforms, is alleging that Davido has been hospitalized after suffering a yet to be disclosed medical emergency. If you all recall just a few days ago, I was saying Davido's family, especially his father, needs to double down and really help his son seek counseling and proper grieving of the loss of his mother because his actions, particularly the reckless endangerment of his own health and that of others, might be indicative of a deeper issue going on. I also pointed out his prior history of buckling under the pressure/stress involving "baby mama drama" to the point where he was hospitalized.
Davido is at the center of new allegations that he has fathered yet another child, his third, all of which he denies.
While we wait for more information, I again hope, especially for his family and his many agents who are readers/or subscribers to this blog, that they take my admonition and help this young man get the necessary psychological counseling he needs.
I note also that Davido's lifestyle cannot and does not allow him to handle these kinds of stressful situations well. He is always on the road (traveling across the globe, literally), and is probably one of the most hardworking artists in the history of contemporary Nigerian music industry. He has a lousy diet, based on what he shares on social media, operates on very little sleep, high alcohol consumption and from what he has shown in the past, controlled substances (marijuana).
He needs help.
This story is still developing.
Read my prior articles:
Mental health: Is Davido's promiscuity and reckless endangerment of his life a cry for help?
Davido in another paternity mess: Can Dr. Adeleke work on teaching …
-Ms. Uduak
UPDATE: Davido apparently shared the photos below announcing he was sick from his hospital bed. Hope he gets well soon, and also gets help for his mental health.
UPDATE 3/31/2017: Davido has since been discharged. Let's hope he gets the rest he needs and works on his mental health.
Watch this recent piece on mental health in Nigeria:
"Is Nigeria's mental health in a crisis?
According to the World Health Organisation about forty million to sixty million Nigerians are mentally ill. The global health organisation estimates that fewer than 10 per cent of the afflicted have access to psychiatrists…"
Subscribe to Our Podcast Show
Some of Our Achievements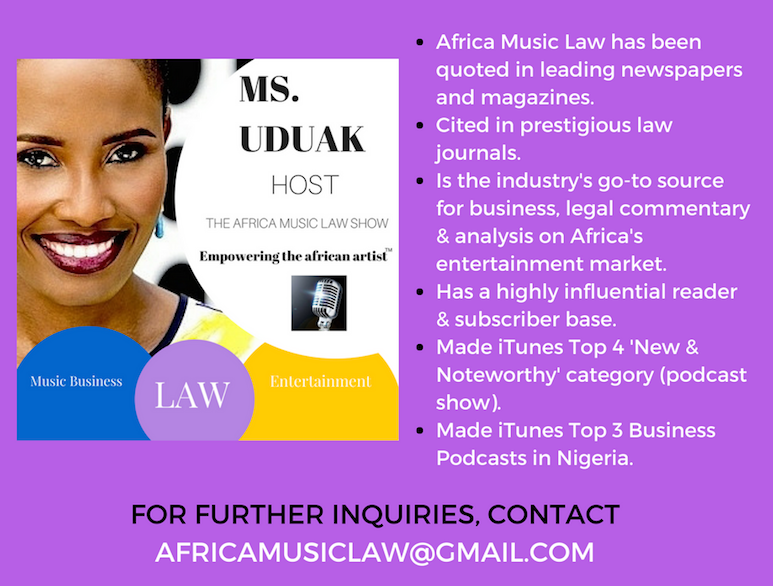 AFRICA MUSIC LAW™ (AML) is a pioneering music business and entertainment law blog and podcast show by Fashion and Entertainment Lawyer Ms. Uduak Oduok empowering the African artist and Africa's rapidly evolving entertainment industry through brilliant music business and entertainment law commentary and analysis, industry news, and exclusive interviews.
Credited for several firsts in the fashion and entertainment industry, Ms. Uduak is also a Partner and Co-Founder of Ebitu Law Group, P.C. where she handles her law firm's intellectual property law, media, business, fashion, and entertainment law practice areas. She has litigated a wide variety of cases in California courts and handled a variety of entertainment deals for clients in the USA, Africa, and Asia. Her work and contributions to the creative industry have been recognized by numerous organizations including the National Bar Association, The American University School of Law and featured in prestigious legal publications in the USA including ABA Journal and The California Lawyer Magazine.
For legal representation inquiries, please email (uduak@ebitulawgrp.com). For blog related inquiries i.e. advertising, licensing, or guest interview requests, please email (africamusiclaw@gmail.com). Thank you for visiting Africa Music Law™.