Once upon a time, it didn't matter whether you were an American or British celebrity (even of African heritage). During your wedding, if you decided to hire a performer to serenade your bride, you most likely were not looking to hire an African artist. You often and most likely opted for an American musician. In 2019, we have seen the tide change, and frankly, it has been changing for the last few years. Now, if you are the aforementioned celebrity, and especially one whose bride is a fan of an African musician, you will ensure that an African celebrity musician performs on you and your bride's special day.
Such is the case of British Hollywood Actor Idris Elba who ensured Davido was at his wedding to perform for his beautiful bride, Sabrina Dhowre. Dhowre is apparently a huge Davido fan. Davido's performance marks yet another important moment in pop culture that moves the needle forward in taking Nigerian and Afrobeats music worldwide.
Speaking of Afrobeats global domination, Davido, himself, has been enjoying a gradual yet steady climb up the Billboard charts with his 2017 hit single "Fall." In February 2019, Fall became the longest charting Nigerian pop song on the Billboard chart.
Davido is currently working on two albums for two continents (U.S. and Africa) and the future looks very bright for him, Nigerian music and the Afrobeats genre. Now, whether that translates to huge monetary gains/benefits for African music industry stakeholders, as a whole, is a different discussion.
Anyway, congratulations to Idris Elba and his bride, and Davido for the opportunity.
-Ms. Uduak

Photo credit: BellaNaija.com
Subscribe to Our Podcast Show
Some of Our Achievements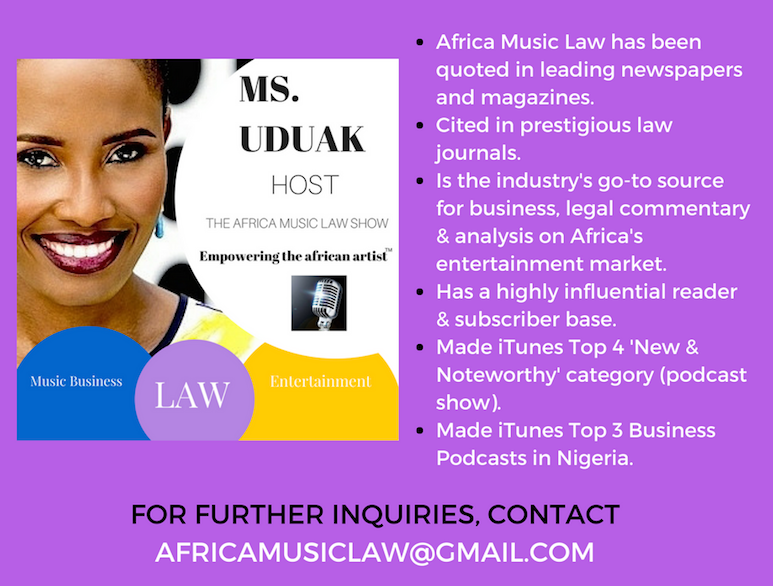 AFRICA MUSIC LAW™ (AML) is a pioneering music business and entertainment law blog and podcast show by Fashion and Entertainment Lawyer Ms. Uduak Oduok empowering the African artist and Africa's rapidly evolving entertainment industry through brilliant music business and entertainment law commentary and analysis, industry news, and exclusive interviews.
Credited for several firsts in the fashion and entertainment industry, Ms. Uduak is also a Partner and Co-Founder of Ebitu Law Group, P.C. where she handles her law firm's intellectual property law, media, business, fashion, and entertainment law practice areas. She has litigated a wide variety of cases in California courts and handled a variety of entertainment deals for clients in the USA, Africa, and Asia. Her work and contributions to the creative industry have been recognized by numerous organizations including the National Bar Association, The American University School of Law and featured in prestigious legal publications in the USA including ABA Journal and The California Lawyer Magazine. She is also an Adjunct Professor at the prestigious Academy of Arts University in San Francisco.
For legal representation inquiries, please email (uduak@ebitulawgrp.com). For blog related inquiries i.e. advertising, licensing, or guest interview requests, please email (africamusiclaw@gmail.com). Thank you for visiting Africa Music Law™.