A story emerged over the weekend that Nigerian/African pop star David Adeleke popularly known as Davido is the father of yet another child, his third.  Davido has a child by a Nigerian woman in Nigeria, is expecting another child from his Atlanta, U.S. based girlfriend, and now another woman claims he is the child of her three-year-old. Davido and his family have vehemently denied this new allegation. Nevertheless, what struck me most about this third situation and his family's response was to see the pattern and practice of Davido's father, Dr. Deji Adeleke, always coming to his rescue by getting involved with arranging for DNA testing etc. While I think it is laudable and consistent with cultural practices of a responsible family to conduct the necessary investigations so that they can claim a child that is theirs, I wonder at what point does daddy stop rescuing this grown young man from his indiscretions?
Davido, in the 21st century, despite his exposure, money, and education, continues to make the deliberate decision to have sex without protection with random women he meets i.e. groupies at his shows or events. This is dangerous.
When one of the visible consequences of his actions occurs i.e. he gets them pregnant, his father comes running to the rescue. At what point is Davido's father going to stop running to his rescue,  pull him aside and demand that he man up? Davido is not a kid. He is a young man able to discern right from wrong.
As to the claim of this third woman, I think Davido needs to leave his family out of it. They didn't sleep with the girl and are not the ones with no memory of prior conquests so that a test is even necessary to discount her claim. Further, I think Davido needs to get a new paternity test (since the woman claims she saw Davido bribe the doctor hired by his father for the DNA test with money), claim the child if the child is his, and then introduce the child to his family, at that point, for the sake of the emotional support necessary to raise the child. The "umbilical cord" can't continue to remain attached to a 24-year-old man who makes his own money, has his own place, and makes the choice to have unprotected sex.
By the way, Davido says he will sue the Punch newspaper who published the exclusive news and he goes on to play the victim card. I'd like to see him try. If he has "never met" the woman who claims she has a child for him, as he claims, why would he even show up for a paternity test in the first place?
-Ms. Uduak
Excerpt from Punch:
"Just last week, news made rounds that popular singer, Davido, impregnated a 24-year-old Georgia University undergraduate named, Amanda. This week, the young lad is in another paternity issue as another young lady, Ayotomide Labinjo, has stepped forward alleging that the 'Dami Duro' singer is the father of her daughter, three-year-old Aanuoluwapo.

In an exclusive chat with Saturday Beats, the 26-year-old lady alleged she had a sexual affair with the singer in 2013 and she got pregnant and had a baby girl.

Ayotomide alleged the pop singer had abandoned her and the baby and has refused to take up the responsibility of "taking care of our child."

Labinjo alleged she met Davido at a night club in Ibadan in February 2013 where he approached her and spoke glowingly of her beauty. She alleged they ended up sleeping in a hotel that same night.  She also alleged that a month later, Davido visited Ibadan again for Gbenga Adeyinka's Easter show and they hooked up again for a night out and slept together at a hotel in the upscale Iyaganku area of the city.

According to her, communication between them was intact until she told him that she was pregnant at the end of March 2013…"
Punch Newspaper has the full story
Exhibits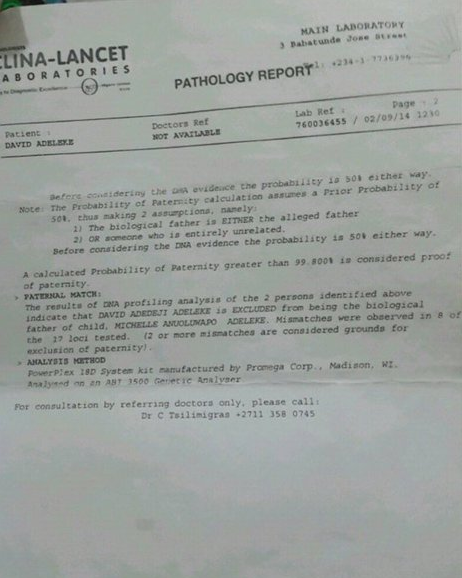 Davido's response
Photos Subdelivery Man | Davido