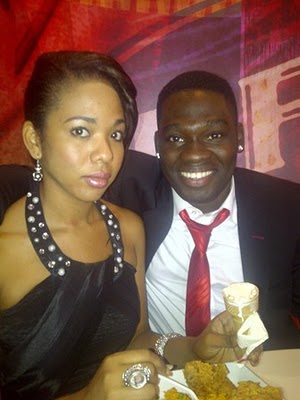 What do I say to all this? Nothing.What concerns me is the lawsuit filed. But, really at this point, it is hard to know what to believe without real evidence. So just check out Deji's press release sent below and link to the full scoop below:
From the Deji Falope Camp:
"After a lot of false notions spread in the media by Divine Logico, Deji decided to remain silent and face his work as he has always been doing. But recent false tales continue to filter to the press even when Deji has not made any statement. In view of this, and with advise from his lawyers, Deji's publicist has decided to clarify issues. Minding his status, Deji is in no position to trade words with a lady who with her mother have continued to seek cheap publicity while soiling the name of Deji which he has built for over a decade and a half.
Deji Falope broke off his wedding plans with Divine Logico a half Nigerian half Philipino lady, after discovering many characteristics he cannot deal with. This include some fraudulent acts by her mother.
Divine Logico verbally swore to destroy all the years of hard work the young celebrity has put into the Nigerian entertainment industry. She connived with a lawyer and created false allegations to charge Deji to court claiming she was threatened. The case which is baseless is set to be thrown off the court. She has also gone to some faceless bloggers claiming to be journalists to peddle lies.
She claims Deji Falope sent her threatened messages for which she had no records. Deji Falope is currently at an undisclosed hotel for fear of his life and his lawyers and his family have tightened his security. He is relaxing after a hectic day in the hands of a gold digger whose plan has failed. This should be a warning to all Nigerian celebrities to be on the look out for the young lady Divine Logico and her mother Mrs. Edowaye Edwina Logico.
This is the kind of woman that gives women a bad name. Her plan was to embarrass Deji Falope with more lies and a media scandal in attempts to gain cheap popularity using his name. Deji Falope is an honest Nigerian celebrity and promotes Nigerian music and entertainment across the world with his talent and personality and is only targeted now for his money and because he refused to get involved in a shady relationship. Deji has never ever been involved in such case ever before, and has tightened his media/entertainment team.
Now the bitter Divine Logico has called the press to witness what she thought would be an embarrassing spectacle but turned out to be a victorious day for Deji Falope. Once again we have exposed a gold digger and while Divine is giving the Philipino community a bad name, we are proud to say that our pure Nigerian women are hard working and focused.
A desperate last ditch attempt by a family of blackmailers and extortionists to silence the renowned Deji Falope.Please can someone beg Divine to move back to her country in the Philippines and stop corrupting the image of our good Nigerian women.
Thanks again for the love and support and prayers of everyone who saw through the lies of Divine Logico and protected Deji Falope from all such evil plans against him and his family.
He is grateful to fans, clients, colleagues,as well as friends and family who have stood by him in this trying times.
Those who know Deji Falope know what number to call him on. You can also reach his publicist on 08032420176 for details.
Cheers and God bless.
Akin Adesola PR
###
For the full scoop, click here.
Photocredit: Gistmaster