Emeka Mba, Former Director General/CEO (DG) of Nigeria's National Broadcasting Commission (NBC), whose position was akin to that of Tom Wheeler, current Chairman of America's Federal Communications Commission; appears on the 79th episode of The Africa Music law Show with Ms. Uduak for an exclusive interview to discuss his tenure at NBC. Mba discusses the importance of storytelling and the untold stories Nigerian and African filmmakers are still to tell the world about Nigeria/Africa, the legal and regulatory framework and distribution of entertainment content, ethics, leadership and entrepreneurship. He also addresses the alleged fraud of 15billion Naira surrounding his handling of Nigeria's switchover from analogue transmission to digital, EFCC detaining him, investigations and what the future holds for him.
Emeka Mba who has more than 26 years experience in the converged fields of media, entertainment and technology, as well as regulatory policy management, is considered by many of his peers as a leading visionary and thinker on the role of government policy and technology in shaping the trajectory and growth of the sector, and its impact on social and economic development.
Emeka served for two and half years as DG of NBC, Nigeria's broadcasting regulator; where he worked to reshape the NBC and raise funding for the analogue to digital television transition. In 2015, Emeka was awarded the 'African Regulator of the Year' for his groundbreaking work in the sector.
Prior to appointment as DG of NBC, Emeka also served two terms as the Director General of the National Film Video Censors Board (NFVCB), the federal government agency responsible for regulating films and video works distribution and exhibition in Nigeria.
He also was managing director of Phillips Media Entertainment Ltd, a specialised media entertainment consulting service of Phillips Consulting Nigeria, and was for eight and a half years, Regulatory Affairs Manager for MultiChoice Nigeria, responsible for Regulatory strategy and Policy. He also managed and was responsible for Development of Local Programming Policy, conceived and facilitated the launch of the continent's first satellite movie channel "AfricaMagic" on the DStv bouquet
Emeka has a BSc. Mass Communications and an Advanced Management Programe (AMP) diploma in Media & Entertainment management from the IESE Business School of New York; Mr. Mba also completed the the Strategic Management of Regulatory and Enforcement Agencies Program, at Harvard University, John F. Kennedy School of Government, Executive Education.
EPISODE PREVIEW
Emeka Mba shares insights current socio-political/economic issues: Chibok girls, Africa's growing diabetes and overmedication problems.
Emeka Mba discusses the untold stories Nigerian filmmakers are still to tell about Nigeria.
Emeka Mba shares insights on the NBC's regulation of the broadcasting industry.
Emeka Mba shares insights on tackling the entertainment industry's distribution problem.
Emeka Mba addresses the alleged 15Billion Naira fraud under his tenure & EFCC detaining him.
About The Africa Music Law Show with Ms. Uduak
Hosted by California based Fashion & Entertainment Lawyer Uduak Oduok (Ms. Uduak), The Africa Music Law show is a show empowering the African artist through brilliant music business and entertainment law commentary and analysis, industry news, and exclusive interviews. The show has been downloaded over 100,000 times and made iTunes top 4 'New & Noteworthy.' Subscribers include Africa & hollywood's power executives, investors, lawyers, artists and other industry stakeholders. The blog itself has been cited in a U.S. top-ranked law school's 'International Law Review' journal. Country demographic: Nigeria (26%), USA (23%), UK (15%), UAE (7%), and Other (29%).
Where to Find Ms.Uduak
Twitter: @uduaklaw
Website: www.ebitulawgrp.com
Rate us on iTunes
If you enjoy the show, please leave a comment on our iTunes page and our Stitcher page.
Sponsorship and/or Guest Appearance
Please send email to: (africamusiclaw@gmail.com)
Thanks for Listening!
If you enjoyed the show, please share on your social media pages and with friends and family. Also if you have any questions, please feel free to send an email to (africamusiclaw@gmail.com)
Subscribe to Our Podcast Show
Some of Our Achievements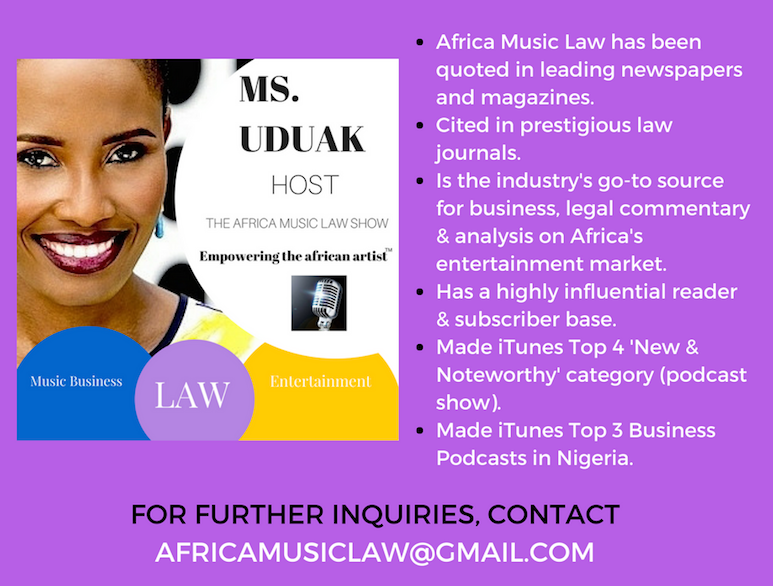 AFRICA MUSIC LAW™ (AML) is a pioneering music business and entertainment law blog and podcast show by Fashion and Entertainment Lawyer Ms. Uduak Oduok empowering the African artist and Africa's rapidly evolving entertainment industry through brilliant music business and entertainment law commentary and analysis, industry news, and exclusive interviews.
Credited for several firsts in the fashion and entertainment industry, Ms. Uduak is also a Partner and Co-Founder of Ebitu Law Group, P.C. where she handles her law firm's intellectual property law, media, business, fashion, and entertainment law practice areas. She has litigated a wide variety of cases in California courts and handled a variety of entertainment deals for clients in the USA, Africa, and Asia. Her work and contributions to the creative industry have been recognized by numerous organizations including the National Bar Association, The American University School of Law and featured in prestigious legal publications in the USA including ABA Journal and The California Lawyer Magazine. She is also an Adjunct Professor at the prestigious Academy of Arts University in San Francisco.
For legal representation inquiries, please email (uduak@ebitulawgrp.com). For blog related inquiries i.e. advertising, licensing, or guest interview requests, please email (africamusiclaw@gmail.com). Thank you for visiting Africa Music Law™.