After a terrible fall out with record label MMMG in which artist Emma Nyra accused her label executive, Ubi Franklin, of physically abusing her, Nyra seemed like she was ready for a new beginning. She released a remix of her song 'For My Matter,' new promotional pictures, and a new song titled 'Work Hard,' her first single off her upcoming debut EP "Love vs Money Vol. 1."
Nevertheless, potential legal drama now threatens to put a damper on her upward swing.
Late last week, Nigerian based music producer Samson Ohda aka OD Beats accused Nyra of stealing the masters he produced for 'Work hard.' He claims he was solicited to help produce the song, orally and via text messages. He claims he actually produced the song but Nyra made a partial payment for the music and refused to pay the total amount owed. Instead, she stole the song and enlisted the help of a Houston based American producer to rework the song.
Nyra, on the other hand, responded with a threat to sue and claimed she was being victimized as a woman, but does not explicitly address the issue.
I believe her statement is poorly written. I also don't understand the reference to entering an agreement via text messages. She needs to address the issues/allegations OD raised.
What was the agreement entered into? Did she fully compensate him?
Let's see what these two actually will do. It is not unusual to see a lot of posturing on social media with no action from Nigerian artists who claim their rights are infringed on, or those who threaten to sue.
-Ms. Uduak
Audio of 'Work Hard'
[audio-clammr mp3="https://www.africamusiclaw.com/wp-content/uploads/2016/07/Work-hard-__-Africamusiclaw.com_.mp3″]
Producer OD Beats' Statement (bold added for emphasis)
"On June 29th Emma Nyra was in the studio with Samson Ohda aka OD Beats when he creatively produced and composed the reggae/afropop influenced beat for 'Work Hard' off her released EP. After OD beats had been contracted (Verbally/Text Messages) to produce her EP, shortly after started having difficulty with payment from her camp. Subsequently after trying to make a deposit for OD to send over some tracks, they started making up excuses which led to her stealing the intellectual property in a sordid attempt to recreate an idea she did not pay for and sell it off as having produced by another Houston based producer Giggz in a show of spite."

'My reason for highlighting and sharing this story is to touch on the manner producers are often taking advantage of when they try to work with an estab artist to a mutual end. I hear these stories countlessly and it's devastating to the psyche when someone puts his heart and soul into something and someone else feels entitled enough to steal your efforts with impunity. In an industry that's already lacking compensatory structure, I can only imagine how producers in Nigeria and other countries are being taken advantage of; which is not to say all artists are that way."
Emma Nyra's Statement
"I have been patient with those who have been attacking me for years. Is it because I am a woman? Do you think I am weak and do not have a voice? I have my own self-funded company. I write and compose MY OWN music with my team way before I enter the studio as well as with any writer I may work with.

I ALWAYS conduct business honestly with ALL of my staff members and anyone who renders me a service. You should know by now that I am not weak. You cannot prey on me just because I am a woman. This is the year of women; I speak for all women when I say that we should no longer take any form of defamation sitting down. Any one and any company, trying to defame me henceforth will be prosecuted to the fullest extent of the law. You will see the power of God and His love work through me this year and forevermore. This is the first and last time I am addressing anything like this ever again."
Subscribe to Our Podcast Show
Some of Our Achievements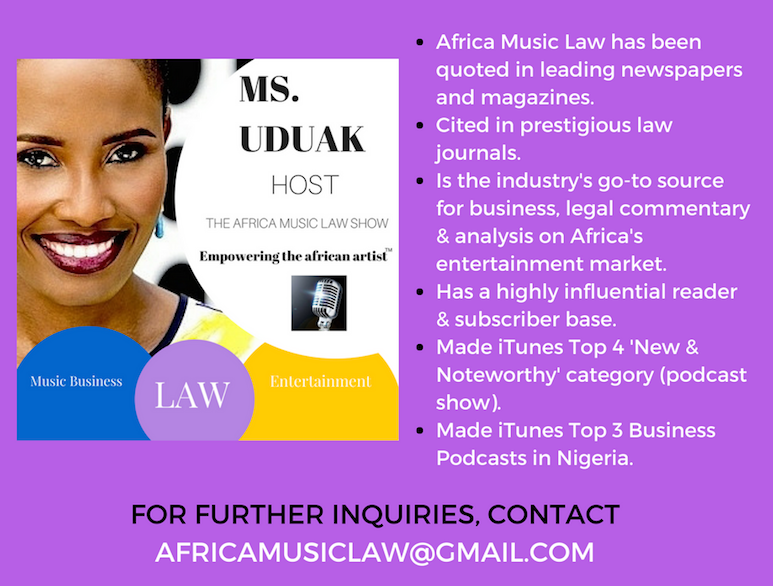 AFRICA MUSIC LAW™ (AML) is a pioneering music business and entertainment law blog and podcast show by Fashion and Entertainment Lawyer Ms. Uduak Oduok empowering the African artist and Africa's rapidly evolving entertainment industry through brilliant music business and entertainment law commentary and analysis, industry news, and exclusive interviews.
Credited for several firsts in the fashion and entertainment industry, Ms. Uduak is also a Partner and Co-Founder of Ebitu Law Group, P.C. where she handles her law firm's intellectual property law, media, business, fashion, and entertainment law practice areas. She has litigated a wide variety of cases in California courts and handled a variety of entertainment deals for clients in the USA, Africa, and Asia. Her work and contributions to the creative industry have been recognized by numerous organizations including the National Bar Association, The American University School of Law and featured in prestigious legal publications in the USA including ABA Journal and The California Lawyer Magazine.
For legal representation inquiries, please email (uduak@ebitulawgrp.com). For blog related inquiries i.e. advertising, licensing, or guest interview requests, please email (africamusiclaw@gmail.com). Thank you for visiting Africa Music Law™.