We've see these kinds of claims for breach of contracts involving organizations and artists countless times on AML. What's unique is Runtown seems to be earning a reputation as a lawsuit magnet. A similar lawsuit in the same state occurred last year. I do note it odd, per the reported facts in this case, that artists are expected to perform at 1-2am in the morning. That is quite late for a show, although a common pattern amidst disorganization.
-Ms. Uduak
An Anambra youth association, Dynamic Minds League (DML), has sued a recording artist, Douglas Jack Agu (popularly known as Runtown) at the Lagos State High Court in Ikeja over an alleged breach of contract. DML is claiming N14.3 million damages from the musician.
The group, through its president, Chizuo Anetoh, said it agreed with Runtown to perform at the popular harmattan carnival held last January 1 in Adazi-Nnukwu town.

The claimant, through its counsel, Raphael Anagbado, said it contacted the musician's management company, Eric Many Entertainment, and after a meeting with the manager, Armani Henshaw, a fee of N800,000 was agreed, which was fully paid.

Based on the agreement, the group said it printed fliers to advertise the show's ticket prices of N3,000 for VIP and N1,000 regular, which were posted across the state. The association said it also booked for two hotel rooms for the musician and his manager, and paid for their flight tickets to Port Harcourt, from where they would head for Anambra by road.
The claimant said Henshaw demanded that four armed mobile policemen be provided to escort them to the venue, but the group was only able to provide two.

According to the claimant, when the artiste and his manager arrived Port Harcourt, they refused to be escorted by the two armed policemen, and eventually refused to attend the event on the basis that it was already late.

"The carnival took place without the attendance of Runtown, who was billed to perform between 1:00a.m. to 2:00a.m. Cash refunds were made to many people who demanded a refund because Runtown was the high point and attraction, which justified the ticket prices. Due to the absence of Runtown, the association lost millions of naira in expected profit and severe damage to its reputation," the claimant said.

The Guardian has the full story.
Subscribe to Our Podcast Show
Some of Our Achievements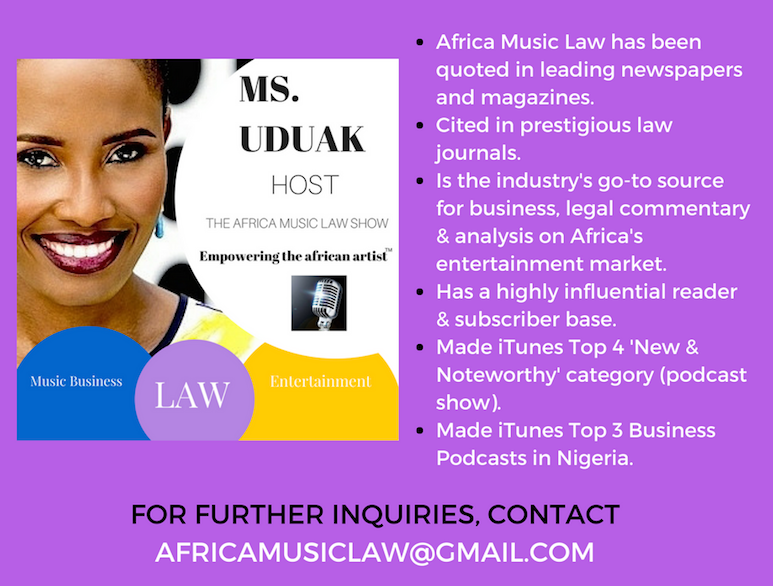 AFRICA MUSIC LAW™ (AML) is a pioneering music business and entertainment law blog and podcast show by Fashion and Entertainment Lawyer Ms. Uduak Oduok empowering the African artist and Africa's rapidly evolving entertainment industry through brilliant music business and entertainment law commentary and analysis, industry news, and exclusive interviews.
Credited for several firsts in the fashion and entertainment industry, Ms. Uduak is also a Partner and Co-Founder of Ebitu Law Group, P.C. where she handles her law firm's intellectual property law, media, business, fashion, and entertainment law practice areas. She has litigated a wide variety of cases in California courts and handled a variety of entertainment deals for clients in the USA, Africa, and Asia. Her work and contributions to the creative industry have been recognized by numerous organizations including the National Bar Association, The American University School of Law and featured in prestigious legal publications in the USA including ABA Journal and The California Lawyer Magazine.
For legal representation inquiries, please email (uduak@ebitulawgrp.com). For blog related inquiries i.e. advertising, licensing, or guest interview requests, please email (africamusiclaw@gmail.com). Thank you for visiting Africa Music Law™.