[spp-player]Is Tiwa Savage gambling her career away? Nigerian artist Tiwa Savage releases a controversial music video titled
'Wanted'
that has fans reacting with a strong back lash towards her. We discuss and offer tips on how artists can avoid gambling their careers away.
SHOW NOTES
Credit: Written, Produced & Edited by Uduak Oduok, Esq.
AML Theme Song 1 'Delight': Nigerian-American Producer Kid Konnect
AML Theme Song 2 'Africans Modern Mix': American Producer John Keller
Special Guest: Attorney Unwam Oduok | Family & Business Lawyer with EBITU LAW GROUP, P.C.
For sponsorship inquiries or to appear on the show as a guest, please email (africamusiclaw@gmail.com)
I. INDUSTRY NEWS
A. GENERAL NEWS
DR. DRE, JIMMLY IOVINE, APPLE
JAY-Z & JOHN MENIELLY SPLIT
NEA AWARDS
MTV MAMA AWARDS
AMAA AWARDS
KIM KARDASHIAN TIES THE KNOT WITH KANYE WEST
B. LEGAL NEWS
SPORTS LAW
DONALD STERLING SUES NBA FOR $1BILLION
BROADCASTER FERNANDO GONZALEZ SUES THE L.A. LAKERS
FASHION LAW
WANA SAMBO v. EX-EMPLOYEE
RACHEL ROY v. JONES GROUP
FILM LAW
CHILD PROTECTIVE SERVICEs  V. JADA PINKETT & WILL SMITH
MUSIC LAW
T.I V. MAYWEATHER OVER TINY
II. MAIN FEATURE
IS TIWA SAVAGE GAMBLING HER CAREER AWAY? (Start mark 32:00)
A. TIWA SAVAGE
B. T-BILLZ
C. TIPS FOR ARTISTS THROUGHOUT THE PODCAST
-Uduak Oduok, Esq.
Website: www.africamusiclaw.com
YouTube: www.youtube.com/africamusiclaw
Twitter: @africamusiclaw
Facebook: www.facebook.com/africamusiclaw
Hulkshare: www.hulkshare.com/africamusiclaw
Soundcloud: www.soundcloud.com/africamusiclaw
Subscribe to Our Podcast Show
Some of Our Achievements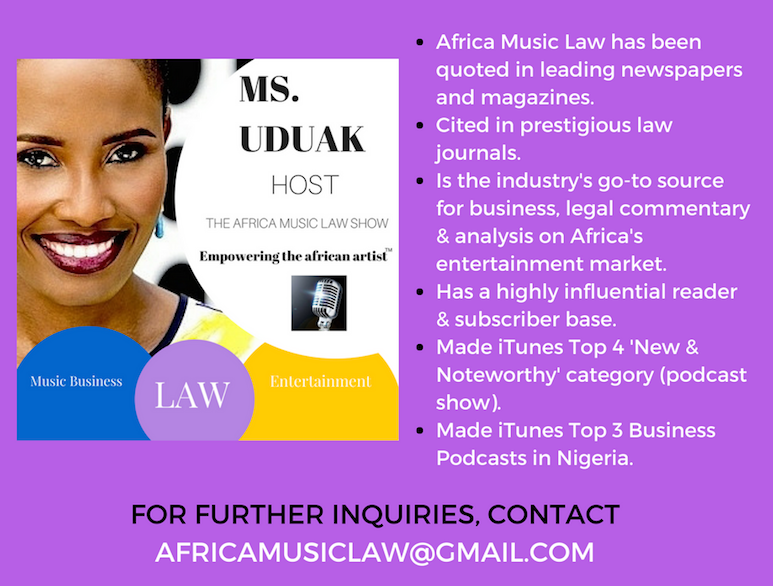 AFRICA MUSIC LAW™ (AML) is a pioneering music business and entertainment law blog and podcast show by Fashion and Entertainment Lawyer Ms. Uduak Oduok empowering the African artist and Africa's rapidly evolving entertainment industry through brilliant music business and entertainment law commentary and analysis, industry news, and exclusive interviews.
Credited for several firsts in the fashion and entertainment industry, Ms. Uduak is also a Partner and Co-Founder of Ebitu Law Group, P.C. where she handles her law firm's intellectual property law, media, business, fashion, and entertainment law practice areas. She has litigated a wide variety of cases in California courts and handled a variety of entertainment deals for clients in the USA, Africa, and Asia. Her work and contributions to the creative industry have been recognized by numerous organizations including the National Bar Association, The American University School of Law and featured in prestigious legal publications in the USA including ABA Journal and The California Lawyer Magazine.
For legal representation inquiries, please email (uduak@ebitulawgrp.com). For blog related inquiries i.e. advertising, licensing, or guest interview requests, please email (africamusiclaw@gmail.com). Thank you for visiting Africa Music Law™.