Below are relevant updates from the "ABSU" Gang rape case involving five Nigerian men against a young female university student. News media reports the school denies the incident took place on their campus.
CHANGE.ORG ABSU PETITION CALLS FOR JUSTICE. SIGN HERE.
YNAIJA.COM
How to help:
If you have any information about the victim of this crime, a team of young people have put together a bounty of N200, 000 – send information to info@eienigeria.com
You can also send an email to the Honourable Minister of Youth on abdullbolag@gmail.com – he is coordinating with the office of the Police Affairs Minister. The deputy commissioner of police has said no such event was reported by the university. If you have any information, the ministry needs it now.  
The National Human Rights Commission has also sent staff to Abia to investigate wih a report promised on Wednesday.
There will be a Walk Against Rape on Wednesday, 28 September at 11am at Upgate, Abia State University. To Join or support, please email absuslutwalk@gmail.com.
If you are in any doubt about what to do, send us an email at info@ynaija.com and we will help you.
1. Esther Ijewere, Founder of Walk Against Rape Nigeria Interviews with YNaija.com and calls for stiffer rape laws.
( I want to see enforcement with what we already have.  Enforcement is the biggest issue. )
2. Blogger Sugabelly addresses statements on Twitter about what constitutes rape
3. Blogger Sugabelly identifies names of perpetrator of Gang rape on college female victim in Abia State
4. Youth Minister Calls for Prosecution of Rape Victims
Subscribe to Our Podcast Show
Some of Our Achievements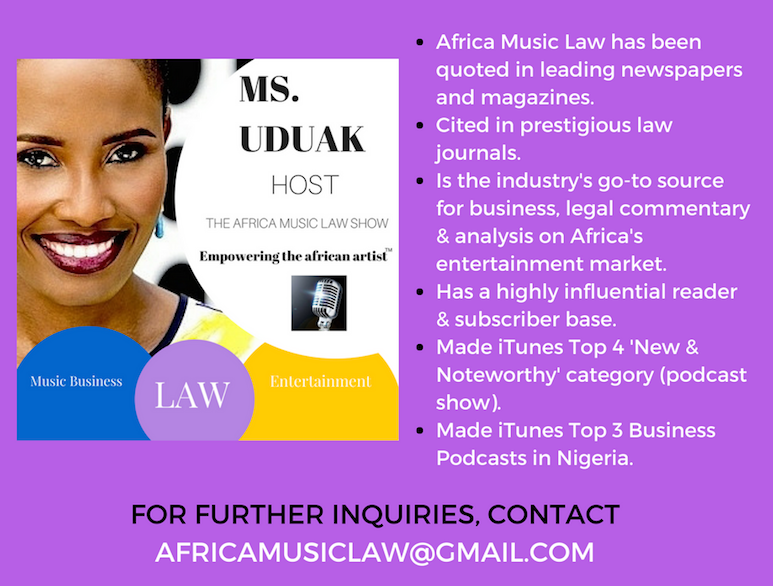 AFRICA MUSIC LAW™ (AML) is a pioneering music business and entertainment law blog and podcast show by Fashion and Entertainment Lawyer Ms. Uduak Oduok empowering the African artist and Africa's rapidly evolving entertainment industry through brilliant music business and entertainment law commentary and analysis, industry news, and exclusive interviews.
Credited for several firsts in the fashion and entertainment industry, Ms. Uduak is also a Partner and Co-Founder of Ebitu Law Group, P.C. where she handles her law firm's intellectual property law, media, business, fashion, and entertainment law practice areas. She has litigated a wide variety of cases in California courts and handled a variety of entertainment deals for clients in the USA, Africa, and Asia. Her work and contributions to the creative industry have been recognized by numerous organizations including the National Bar Association, The American University School of Law and featured in prestigious legal publications in the USA including ABA Journal and The California Lawyer Magazine.
For legal representation inquiries, please email (uduak@ebitulawgrp.com). For blog related inquiries i.e. advertising, licensing, or guest interview requests, please email (africamusiclaw@gmail.com). Thank you for visiting Africa Music Law™.