Real recognize real. If there is one thing I know about Genevieve Nnaji in my dealings with her, it is that as a fellow Taurus whose birthday is two days apart, she says what she says and means what she says. Like me, she also calls out BS and has no time for it. So, when Nnaji tweeted back at a follower/fan denying allegations that she charged fans $20.00 to take pictures in her recent appearance in New York for a film screening,  I believed her.
Unfortunately, Nnaji did not correctly identify the source of the original tweet so she tweeted her anger at a follower/fan.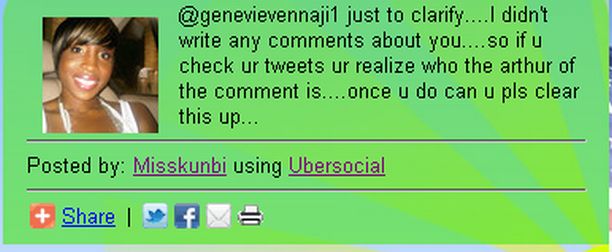 Still on the real recognize real, I also know that Amebor.com twitter handle who initiated the original tweet on twitter, would not in their right mind make allegations directly levied at Nnaji if that fact did not occur? How do I know this? For one, the owner of Amebor.com is a fellow industry insider who is as real as real gets, based also on my dealings with him and his brand. He does not do BS well, either. If the tweet was false, whether originated by his staff or him, he would have recanted or retracted it by now.
Well, if I believe both two scenarios are plausible, then what the heck is the truth?
Here is what I believe happened and which raises a couple of legal issues.
I believe, event organizers negotiated and worked out a deal for the film premiere of a Nollywood film, this weekend, in New York. I believe the day arrived and someone, somewhere, manning the table, most likely a representative purporting to act in behalf of the organizers, decided to take it on him/herself/themselves to inform attendees and fans that if they wanted pictures with Nnaji, they had to pay $20.00.  I have seen all kinds of craziness in attending African organized events and the above scenario is totally plausible.
If the facts prove me wrong and it is indeed true that Nnaji charged fans to take pictures with her, then I stand corrected and can't even touch what would be nothing short of "nonsense and rubbish."  But, I am hard press to believe a woman who earns a relatively decent living per Nigerian and even American standards, has several brand endorsement deals and is trying, even more aggressively than ever before, to enter the Western market, would stoop that low and also deviate drastically from industry norms.
RIGHT OF PUBLICITY

Will a lawsuit ensue in New York on this case? Nigerians don't really use the court system both at home and abroad. If they did, depending on how wealthy the organizers are, Nnaji would sue organizers of the event. She would sue them under New York's 'Right of Publicity' Law. The suit essentially would say they used Nnaji's name for commercial gain without her consent. It might also allege other tort claims. Is there money to be made under Nnaji's facts? No.  Newspapers, blogs, social media etc. have not done much with the story, so, she does not have much to show in terms of monetary damages. Also Nnaji is not a New York resident so she will have an issue here.
SOCIAL MEDIA & THE LAW
What about the tweet? Any lawsuit? There is no money in this case. But there have been suits by celebrities and also against celebrities on similar facts where twitter or other social media platforms are used to publish defamatory/libelous statements. When it comes to the legal threshold that a Plaintiff i.e. a public figure or celebrity must show, it is quite a very difficult legal hurdle to overcome. That is why it would make more sense for a celebrity or public figure to sue under 'Right Publicity' statute. Note that this area of the law is all new territory for even courts here in the USA. Technically, a fan/third party could be liable for republishing defamatory/libelous statements. But, good luck with trying to sue all who republish/repost tweets etc. Needless to say, it makes more sense to hyper target the real culprits or those with deep pockets (money) if  a lawsuit was to commence.
PUBLIC RELATIONS
If there is even a possibility that any of Nnaji's fans paid to take pictures with her, she should be horrified. To rule out this possibility, I think the prudent action on Nnaji's part and any talent who experiences a situation like this would be to immediately contact organizers to look into and clarify what happened. Further, once it is clear what happened, a press release clearly disassociating herself and her personal brand from the activities i.e. $20.00 in exchange for picture should also be forthcoming. Not doing so is an implicit endorsement of what organizers did, whether Nnaji consented to it or not.
For persons who were actually charged $20.00 in exchange for taking a picture with Nnaji, you can file a complaint against organizers of the event with the Better Business Bureau New York here. I suggest you speak with the organizers first to determine their awareness and willingness to return your money.
For Defamation cases involving twitter, check out the Courtney Love case here.
For Right of Publicity case in New York, check out the Linday Lohan v. Pitbull case here.