Both Nigeria and Ghana, in particular, seem to have an epidemic disease of having American celebrities from D-list to B list host events in their respective countries. They also have a major disease of having America's superstars perform in their respective countries at the detriment, to a large extent, of their local stars. Over the years, from ThisDay Festival events, and my ever vocal objection about this, we have seen major improvements. Ghana and Nigeria's local artists are now slowly but surely gaining the respect they deserve, but there is still room for improvement.
The latest news is, Amber Rose, yes Amber Rose that was supposed to host Music Meets Runway in Nigeria until her highly scandalous photos hit the internet, heads to Ghana  to host an event sponsored by Vodafone. Yes, the same Vodafone that Ghana's rapper D-Black has sued for copyright infringement.
Apparently local acts did not like this and they made it known on social media networks.
Here is what Ghanamusic.com reports:
"Vodafone had some exciting news this week when they announced that American model, Amber Rose from USA was going to be the host of 020 Live 2011. This was part of the surprises that Vodafone Ghana promised to be releasing periodically prior to the show.

Amber was so excited about it that she posted it up on her twitter page but some ladies in the media took this news to the social media site, Facebook to discuss about it. Their point was that we have good female MCs like Blakofe, Caroline, Jeremy, Jessica and more who could have steered the event well.

"It's so annoying when you live in Ghana and patronize the services of these telecommunication services and then it comes to shows which they use money generated from your patronage to pay people who are nowhere near talents for you to pay and go watch. Come on, guess it's time we start calling a spade a spade not a cutlass. We have females MCs who have worked their way to the top and made their names right here in Ghana. Sincerely if Vodafone really wants us to see them as serious, they would have to sit up and go back to the drawing board, Efua Hiagbe commented. . ."
Our entertainment industries need to get over this inferiority complex. P-Square recently said we do not need the likes of Jay-Z and Kanye West to validate Africa's industries. People seemed to have consternation over what the twins said. Seriously people, get over it. The twins were right. The inferiority complex is exhausting. Great if American celebrities are in the mix, but it is so not needed. Plus, what's with the obsession on Amber Rose??? *Confused face.*
Ghanamusic.com has the full story.
Photocredit: Elle Magazine
Subscribe to Our Podcast Show
Some of Our Achievements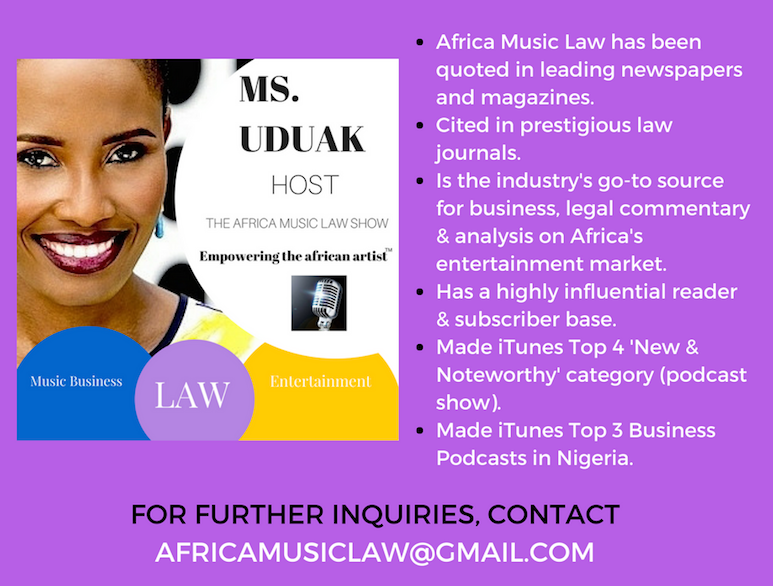 AFRICA MUSIC LAW™ (AML) is a pioneering music business and entertainment law blog and podcast show by Fashion and Entertainment Lawyer Ms. Uduak Oduok empowering the African artist and Africa's rapidly evolving entertainment industry through brilliant music business and entertainment law commentary and analysis, industry news, and exclusive interviews.
Credited for several firsts in the fashion and entertainment industry, Ms. Uduak is also a Partner and Co-Founder of Ebitu Law Group, P.C. where she handles her law firm's intellectual property law, media, business, fashion, and entertainment law practice areas. She has litigated a wide variety of cases in California courts and handled a variety of entertainment deals for clients in the USA, Africa, and Asia. Her work and contributions to the creative industry have been recognized by numerous organizations including the National Bar Association, The American University School of Law and featured in prestigious legal publications in the USA including ABA Journal and The California Lawyer Magazine.
For legal representation inquiries, please email (uduak@ebitulawgrp.com). For blog related inquiries i.e. advertising, licensing, or guest interview requests, please email (africamusiclaw@gmail.com). Thank you for visiting Africa Music Law™.