Chin Okeke and his business partner Oriteme Banigo are the stars on the cover of Accelerate TV's  magazine called 'Cover.' In the issue and complimentary video, the duo explain how they co-founded and built Africa's biggest music festival, Gidi Fest.  Read excerpts, and watch the video interview.
If you want more of Chin Okeke, also listen to Africa Music Law Show Podcast episode 86 flashback interview that delves deeper into building Gidi Fest and the business of live events in Nigeria.
-Ms. Uduak
Q. What is the inspiration behind the Gidi Festival?
A. I wouldn't say Gidi Fest is our first promo festival, I will say it is our first modern day music festival. So it is the first of what we know as music festivals today because there was Lekki Sunsplash, Kenny Music Festival, among others before, which is part of the reason why we felt the need to recreate – not invent but recreate – what had been done before. There was a big gap where everybody was just doing concerts and growing up, we had bonanzas, extravaganzas, all these things that used to bring communities together, but it kind of died out. We are reviving that with Gidi Fest.
Q. What can we expect from the 5th edition of Gidi Culture Festival?
A. I mean every year the experience gets better, It means it gets easier. What we do is that we learn from the mistakes we made from the past. We care about the festival goal experience from when it starts, into when it leaves, to when it works through to the artiste donation, from when it interacts with the stage, the vendor's etc . The most exciting part of our Gidi Festival 5 Is that we are moving to Hard Rock Café. And it's going to be a different venue, more interactive venue, and that's actually where we are right now. So I think we are going to do a great job. So it's going to be definitely interesting and we are excited about the new venue.
Q. What is the criteria for selecting performers for Gidi Culture Festival?
A. Every year we get asked that question because it's not your typical lineup, right? I think every time everybody is booking artistes, they look at the most popular artiste. For us, our criteria range from popularity which is not the first priority, as well as the ability to perform live and then content and consistency. You know some times we have had times we want to book somebody because we think you know right now they are really popular but they have only released one song in the last year. When we started Gidi Fest, our team was made up of people who understood what was happening in the music industry. It is important to give people what they want, but what's more important like Teme talked about, is "the experience" the interaction with the stage, to entertain people. So the way people perform is also probably one of the most important things. There are people we've wanted on our lineup that I have gotten a chance to see live before Gidi Fest and I have had to take them off. I think that's what we always do right, and we always have to see the person live before line them up. The truth is that we think people can evolve, so two years ago, there was somebody we wanted on the festival, but we changed our minds. But a year later, we explained to the management about their evolution and we had them on because it was like they had grown.
Gidi fest
Q. So how did you two meet?
A. You know, it's a funny story. You know how Nigeria is, you end up becoming friends, and you now realize your parents were friends. My dad and his (Teme's) mum had known each other way back before my parents were married. Then Teme dated my cousin, and I was like who is this guy? I think I was very territorial about my cousin. Then it turned out we had mutual friends, he went to AIS and we got talking. But I think where we meet in terms of alignment and in terms of the creative industry, Teme Executive produced a TV series called Gidi Culture TV; now a lot of people don't know this but that's pretty much the Genesis of the Gidi Culture Festival.
Q. Who are your favourite local and international brands?
A. Zara, Top Shop, Orange Culture, Asos.
Gidi fest
Q. Have you ever thought of any serious investment in fashion and collaboration with designers?
A. Yes, because fashion adds value to our existing customer base, so we've done some collaborations, and we are gearing up to release our second collection and its items that are wearable. Yes some have Gidi Fest on them, but some of them don't and I think that is enough. Fashion is so broad, its clothes, textiles, etc, and one thing we don't do is pretend we know everything. So if we see an opportunity with the brand, and we have to go into fashion, we would find somebody who would be a genius.
Q. If you single-handedly had the power to change anything in your industry, what will you change?
A. There is power to change a lot together rather than as individuals. Therefore the one I would change or I wish is that everybody would collaborate, we would walk together. It's a problem not just in our industry, it's a problem we face in Nigeria as black people. We fail to understand the power in working together as opposed to against each other. Competition is healthy, but when it comes to building, to change the industry is not about individuals. There are individual game changers, and they change it within their ecosystem. But being able to build something that you know is going to benefit those who come after you is not about the commercial game. There are two things I would say, we talk about moving culture, for the culture – culture. What does it mean? To me, it is that the culture in the present only exists because of the past and the future. It means we acknowledge those who came before us and you build on that for those who come after you. If everybody looked at it that way, and they understand that for everything you do for monetary gain there should be something else that you are doing that only those who come after you will benefit from. I was just in London and I was saying to him, we were walking just past St Paul's Cathedral and I said wow like look at this, why we don't have structures like this or the pyramid in Nigeria? And our response was because to do that, it means it doesn't benefit you and I think we think too much about only what benefits us as opposed to what can benefit everybody. So the one thing would be for us to collaborate.
Teme:
On that note I think it's important to just appreciate and thank all those people that have made it possible for us to make it to year 5. And another five years would require us to continue to work together.
Subscribe to Our Podcast Show
Some of Our Achievements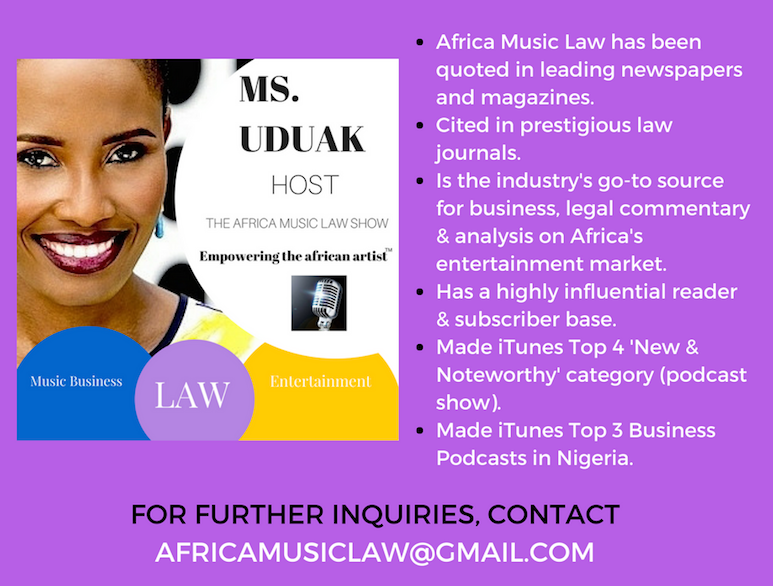 AFRICA MUSIC LAW™ (AML) is a pioneering music business and entertainment law blog and podcast show by Fashion and Entertainment Lawyer Ms. Uduak Oduok empowering the African artist and Africa's rapidly evolving entertainment industry through brilliant music business and entertainment law commentary and analysis, industry news, and exclusive interviews.
Credited for several firsts in the fashion and entertainment industry, Ms. Uduak is also a Partner and Co-Founder of Ebitu Law Group, P.C. where she handles her law firm's intellectual property law, media, business, fashion, and entertainment law practice areas. She has litigated a wide variety of cases in California courts and handled a variety of entertainment deals for clients in the USA, Africa, and Asia. Her work and contributions to the creative industry have been recognized by numerous organizations including the National Bar Association, The American University School of Law and featured in prestigious legal publications in the USA including ABA Journal and The California Lawyer Magazine. She is also an Adjunct Professor at the prestigious Academy of Arts University in San Francisco.
For legal representation inquiries, please email (uduak@ebitulawgrp.com). For blog related inquiries i.e. advertising, licensing, or guest interview requests, please email (africamusiclaw@gmail.com). Thank you for visiting Africa Music Law™.