Organizers of  Gidifest2017 provide a recap and photos from the event. Check on it.
-Ms. Uduak
The Festival doors officially opened at 12 noon on Saturday 15th April 2017 recording well over 5,000 attendees throughout the day and into the night at Eko Atlantic, ready for the complete Gidi Fest Experience.
The day's activities started with exhilarating games of soccer and volleyball between celebrity teams and fans, which saw the participating teams go home with N100,000 cash prizes courtesy of Pepsi and Red Bull. The vendor stalls offered a wide selection of foods, drinks and interesting experiences like live art in the Vortex enclosure and life size board games to keep everybody engaged. It was a fun filled afternoon for friends and family.
The evening's hosts, Jimmie and Folu Storms, welcomed the audience and called out the first performance of the night, Nneka. The soul/reggae singer held festival goers spell bound as she delivered a stellar performance, having been in Kenya for another festival performance just a week before #GIDIFEST2017, it seemed the energy was right as the audience sang to every tune and was mesmerized by her energy.
Singing sensation Simi was next on stage, backed by her energetic dancers, she captivated music lovers with her thrilling performance. Mild showers weren't going to stop the show and exciting new acts like, Falana, Dremo, Mayourkun, Wale Turner, Pryse, BOJ, Fresh L, Cykay, amongst many more took turns to thrill the audience.
From the moment the sun set over the Atlantic, painting an idyllic backdrop for what was gearing up to be a night of world class entertainmnent, clouds started to gather and circle above the festival with the imminent threat of heavy rain.
Rain or shine, the show went on and Niniola, Reekado Banks and Seyi Shay led the charge leaving their bands behind. As each of them hit the stage, they sent the audience into a frenzy running out from their cover to the stage. The Gidi Squad wasn't going to let some showers of blessings spoil their fun.
Just when it seemed like the rain was going to slow down, the second brigade led by DJ Obi showed up, to turn up. Burna Boy, Davido and Diplo waiting in the wings ready to give the brave crowd what they deserved as their fighting spirit had pushed through. They made it clear Gidi Fest is theirs and they are Gidi Fest.
As soon as he took to the stage, Burna Boy commanded the audience like a conductor as they sung along with him. He surprised his fans by bringing out Skales who features him on his recently released track, Temper.
Following suit was "rave of the moment" Davido, who picked up where Burna Boy left off and brought the house down with his trademark energy and 30 Billion for the account ringing across the sea of people causing complete fanfare!
Major Lazer front man, Diplo, was the last act of the night and setout with a mulititude of heavy beat wrenching sounds and surprised everybody with a few unreleased Remixes of Nigerian favourites Tekno's "Pana", and Mr Eazi's "Leg Over".
In the blink of an eye, Diplo became Major Lazer, as Walshy Fire appeared on stage and climbed the DJ table. 2 for 1 was definitely more than anybody had bargained for. The duo had fans dancing till the wee hours of the morning and the moment Diplo waved the Nigerian flag up high with pride, it all came together for the culture.
Gidi Fest Co-founder, Teme Banigo says "It was a trying evening with challenges around the rain and its effects on the performances, but it was fulfilling to see the festival close at such a high with thousands having braved the rain and interruptions. It was truly the birth of a tribe, a movement, the #Giditribe! We applaud You!"
"This year was special for so many reasons, I couldn't even start to count. We had so many acts that were either on tour or starting tours choosing to use #GIDIFEST2017 as their home for the Nigerian leg, including Diplo. Davido sets off on a Nigerian tour in a few weeks and Burna Boy in America later this month. Live music is the biggest revenue generator for musicians globally and #GIDIFEST has become a necessary stop for the global artist wanting to tour Africa. We ARE part of the tour circuit on this continent and always aim to deliver a world class live production", says Gidi Fest co-founder, Chinedu Okeke.
For those who couldn't make it to the festival, the show was streamed on Facebook Live to over 200,000 people worldwide. WATCH HERE.
Subscribe to Our Podcast Show
Some of Our Achievements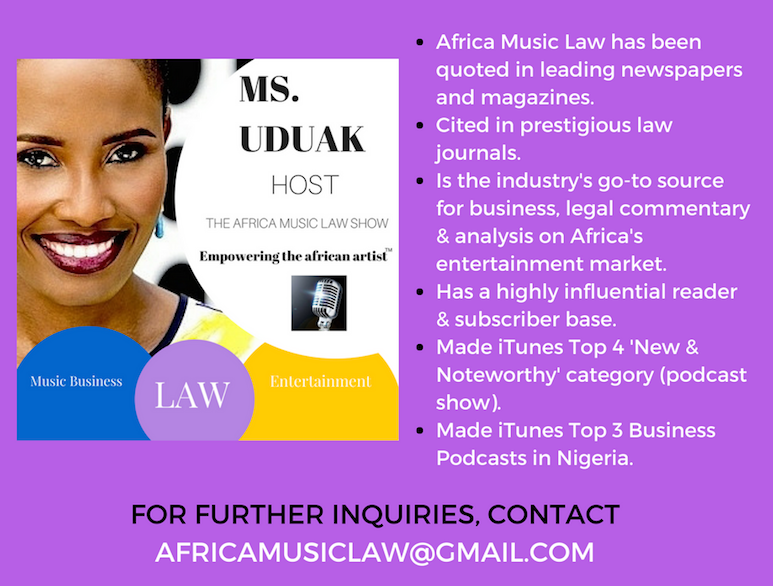 AFRICA MUSIC LAW™ (AML) is a pioneering music business and entertainment law blog and podcast show by Fashion and Entertainment Lawyer Ms. Uduak Oduok empowering the African artist and Africa's rapidly evolving entertainment industry through brilliant music business and entertainment law commentary and analysis, industry news, and exclusive interviews.
Credited for several firsts in the fashion and entertainment industry, Ms. Uduak is also a Partner and Co-Founder of Ebitu Law Group, P.C. where she handles her law firm's intellectual property law, media, business, fashion, and entertainment law practice areas. She has litigated a wide variety of cases in California courts and handled a variety of entertainment deals for clients in the USA, Africa, and Asia. Her work and contributions to the creative industry have been recognized by numerous organizations including the National Bar Association, The American University School of Law and featured in prestigious legal publications in the USA including ABA Journal and The California Lawyer Magazine. She is also an Adjunct Professor at the prestigious Academy of Arts University in San Francisco.
For legal representation inquiries, please email (uduak@ebitulawgrp.com). For blog related inquiries i.e. advertising, licensing, or guest interview requests, please email (africamusiclaw@gmail.com). Thank you for visiting Africa Music Law™.