Just recently I was discussing Brand Ambassador Agreements with you all and what do I know? This news pops up on the radar. I actually read it when it first emerged two weeks ago, but just paid attention to it the second time around because I find it very hard to believe this is true:
"News filtered out a few weeks ago that Globacom has dropped Kate Henshaw-Nuttal and Jim Iyke as their brand ambassadors, but the two say they are not aware of the new development. Kate had no comment on the matter when approached by journalists, Jim Iyke said he only heard it in the news, that they've not been officially notified.

So basically what happened was that Glo released the names of their ambassadors to the press and in the list, Sunny Neji, Kate and Jim Iyke's names were missing and new names were added. Globacom Marketing Communications manager, Onyeakachi Nwosu then said that 'anybody whose name doesn't appear on the list is definitely not a Glo Ambassador . . ."-Linda Ikeji
While I think the duo are quite talented, I am not necessarily a fan of their work. Notwithstanding that, I get quite irritated when our stars are treated with less than the respect they deserve when working with corporate companies.
There is still a need to truly ascertain the real facts on whether these stars where dropped in the method reported.
If and only if this is true, then how very disrespectful! GLO super shame on you if indeed this is true. Shame on you for disrespecting Nigeria's stars like that. Even if they signed their names to a contract saying you can fire them anytime, you ought to be more tactful about it. Who is that communications manager that says "'anybody whose name doesn't appear on the list is definitely not a Glo Ambassador?" If s/he said that, how the heck was he/she hired as a Communications manager? Why does s/he still have a job? How about a press conference or press release after notice and discussion with the stars to RESPECTFULLY inform the public, Glo patrons and fans of the duo that the relationship is ended and they decided to part ways amicably?
If the alleged facts reported are true, Glo just used a line in those Nollywood films I hate with a passion where the man throws out the woman's belongings, usually without notice, on the streets.
What Can Jim Iyke and Kate Henshaw-Nutall do?
They can file a breach of contract and tort claims in court. People use the legal system. That is what it is there for.
The damages can include an injury to reputation, depending on what Nigeria's  laws provide for.
Tip
Make sure your termination clause in a contract does not leave you out in the streets with your belongings. That Nollywood script is so 1800s.
Total nonsense and rubbish!
___________________________________
Follow me on Twitter @africamusiclaw @uduaklaw
Cheers,
Uduak
Subscribe to Our Podcast Show
Some of Our Achievements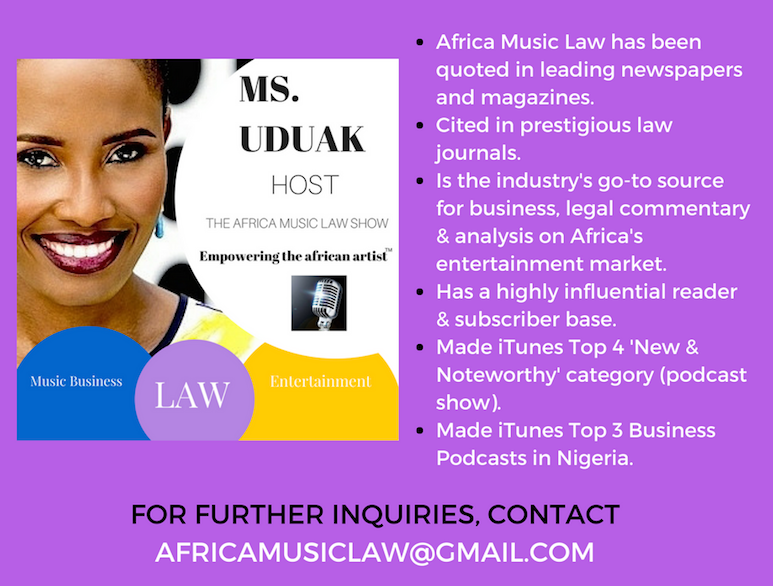 AFRICA MUSIC LAW™ (AML) is a pioneering music business and entertainment law blog and podcast show by Fashion and Entertainment Lawyer Ms. Uduak Oduok empowering the African artist and Africa's rapidly evolving entertainment industry through brilliant music business and entertainment law commentary and analysis, industry news, and exclusive interviews.
Credited for several firsts in the fashion and entertainment industry, Ms. Uduak is also a Partner and Co-Founder of Ebitu Law Group, P.C. where she handles her law firm's intellectual property law, media, business, fashion, and entertainment law practice areas. She has litigated a wide variety of cases in California courts and handled a variety of entertainment deals for clients in the USA, Africa, and Asia. Her work and contributions to the creative industry have been recognized by numerous organizations including the National Bar Association, The American University School of Law and featured in prestigious legal publications in the USA including ABA Journal and The California Lawyer Magazine. She is also an Adjunct Professor at the prestigious Academy of Arts University in San Francisco.
For legal representation inquiries, please email (uduak@ebitulawgrp.com). For blog related inquiries i.e. advertising, licensing, or guest interview requests, please email (africamusiclaw@gmail.com). Thank you for visiting Africa Music Law™.