"On Jan. 26 in New York City, the full House Judiciary Committee conducted a field hearing titled "Music Policy Issues: A Perspective From Those Who Make It." Held at ranking member Jerry Nadler's (D-N.Y.) alma mater, Fordham University School of Law, the all-star, all-music panel of witnesses included singer/songwriter Aloe Blacc, platinum-selling producer Mike Clink, country songwriter Tom Douglas, three-time GRAMMY winner Booker T. Jones, Recording Academy President/CEO Neil Portnow, and five-time GRAMMY winner Dionne Warwick.
"A few years ago, at GRAMMYs on the Hill, majority leader [Kevin McCarthy (R-Calif.)] and Democratic leader [Nancy Pelosi (D-Calif.)] both cautioned the audience of industry members that 'unity is what this community needs to pass legislation,'" testified Portnow at the hearing. "Members of the Judiciary Committee: We listened."
Speaking for music people of every variety, Portnow encouraged the lawmakers not to let outdated regulatory categories slice up the panel into songwriters versus performers versus producers because a better framework is now the music community's consensus.
On Jan. 8 this "united support" was announced. The key pieces of legislation that it was agreed fit so well together for a better framework include the Music Modernization Act of 2017, CLASSICS Act, the Allocation for Music Producers Act, and establishing a market-based rate standard for satellite radio…" – Grammy.com
____________________________
House Judiciary Committee Chairman Bob Goodlatte (R-Va.) and House Judiciary Committee Ranking Member Jerrold Nadler (D-N.Y.) issued the following statements in advance of the hearing.
Chairman Goodlatte: "As part of our ongoing efforts to update our nation's copyright laws, the House Judiciary Committee will hold a hearing in New York City to specifically look at the state of the music industry and the challenges they face in the digital age.
"From compact discs and vinyl records to music streaming services and internet-based radio, music is more available now than it has ever been. When crafting our current copyright laws governing music licensing, Congress could not have foreseen all of today's technologies and the myriad of ways consumers engage with creative works. Next week's field hearing will be an excellent opportunity to hear directly from a wide of range of music professionals on the opportunities and challenges the music industry faces in the digital age."
Ranking Member Nadler: "There is widespread agreement that the music licensing system is in need of comprehensive reform. This hearing will be an important step in our effort to update the music licensing system and examine the specific problems most in need of a legislative solution. New York City is home to thousands of creators, including songwriters, performers and musicians, as well as some of the nation's leading technology companies. Given the wealth of talent, experience, and expertise in New York, I am proud to welcome the Committee to my district for this field hearing."
WITNESSES
Mr. Aloe Blacc, Musician, Singer, Songwriter
Mr. Mike Clink, Record Producer
Mr. Booker Jones, Songwriter, Record Producer, Artist, and Arranger
Mr. Tom Douglas, Songwriter
Mr. Neil Portnow, President, The Recording Academy
Ms. Dionne Warwick, Recording Artist
Watch the Hearing session

Subscribe to Our Podcast Show
Some of Our Achievements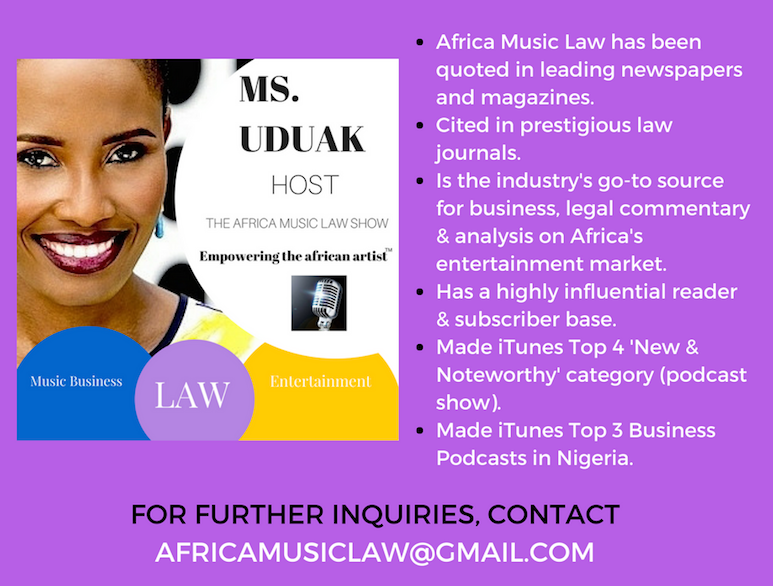 AFRICA MUSIC LAW™ (AML) is a pioneering music business and entertainment law blog and podcast show by Fashion and Entertainment Lawyer Ms. Uduak Oduok empowering the African artist and Africa's rapidly evolving entertainment industry through brilliant music business and entertainment law commentary and analysis, industry news, and exclusive interviews.
Credited for several firsts in the fashion and entertainment industry, Ms. Uduak is also a Partner and Co-Founder of Ebitu Law Group, P.C. where she handles her law firm's intellectual property law, media, business, fashion, and entertainment law practice areas. She has litigated a wide variety of cases in California courts and handled a variety of entertainment deals for clients in the USA, Africa, and Asia. Her work and contributions to the creative industry have been recognized by numerous organizations including the National Bar Association, The American University School of Law and featured in prestigious legal publications in the USA including ABA Journal and The California Lawyer Magazine. She is also an Adjunct Professor at the prestigious Academy of Arts University in San Francisco.
For legal representation inquiries, please email (uduak@ebitulawgrp.com). For blog related inquiries i.e. advertising, licensing, or guest interview requests, please email (africamusiclaw@gmail.com). Thank you for visiting Africa Music Law™.