This could fall in the category of "Celebrities Behaving Badly" but it is not quite a neat fit, I don't think.
Anyway, it seems these days, Olisa Adibua, who was removed as a Company Director for Storm 360, is not getting much of a break from artists, his label and public alike.
Now, GT the Guitarman accuses him of allegedly not playing his songs on his radio. Hmmm . . . there might be some legitimacy to the argument but even when GT was with Storm, he wasn't getting as much play time on radio/tv networks. Storm could have pushed a lot harder than they did, in my opinion, with GT. He was my favorite artist of the bunch back in the days, a truly fresh and gifted talent but half the time, he was no where to be seen on the promotional front including having an album in a timely fashion.  In any event, it formed one of the key catalyst of GT saying goodbye and moving on with his life. So, I am not sure this is solely an Olisa Adibua problem.
Also, GT, I am yet to see any of your marketing or promotional materials online since you left Storm. I think maybe one has emerged? Do Nigerian music blogs have you on their black list? I think not. Go back to the drawing table and fall back on the twitter comments. Even the internet and social media that is free is not screaming your name or that of your artists. So, it can't all be an Olisa Adibua problem.
You should take your own advice and "grow up" as  a businessman and seasoned artist. #justsaying.
Have a great Wednesday folks.
-Uduak
@uduaklaw
"Former Storm Records artiste GT Da Guitarman is mad at his former boss, Beat FM OAP, Olisa Adibua, for allegedly refusing to play his songs at the station.
GT quit Storm Records in June 2011, after he complained he wasn't receiving the desired attention and claiming the label had delayed the release of his debut album for years. The album was finally released, but he parted ways with the label shortly after, a move which caused some controversy, as Storm claimed he was still under contract. .  .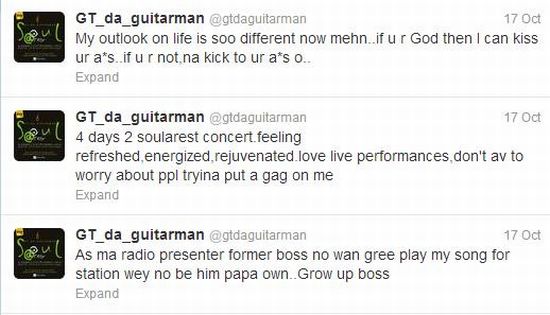 TheNetng.com has the full story.