Nollywood film professionals, many of you are constantly at my virtual AML door asking for more film coverage on AML. I will do my best to create more film law and business of film related content for you.  In the meantime, I want to know your thoughts about the note and the  film challenge posed by Pascal Atuma, Nollywood-Hollywood film filmmaker, which he shared on his Facebook page earlier today.
In recent times both in Nigeria and here in the States, all I seem to hear is about squabbles among industry professionals, inflated egos and lack of cohesiveness in getting film projects done. Has Nollywood lost its focus? Let's hear your thoughts.
-Uduak
My name is "Pascal Atuma", Nigerian Hollywood based actor, writer, director, producer and stand up comedian with numerous credits by Gods grace.

I am here today to openly challenge "Nollywood Houston Branch and Nollywood Atlanta Branch", all the players involved in Houston except Mohammed Bah, A B Saliu , Austin Sharp Sharp Ndukwe, Don Okolo and Merlissa Determind, and all the players involved in Atlanta, Georgia side excluding Robert Peters to raise ONE (1) , I mean ONE(1) talented star or not talented star for the continent of Africa in the next 5 years!!!.

The time you guys spend gossiping, envy and jealousy is sickening, please channel it and produce ONE(1) star that can carry a feature film and sell it in the next 5 years. If you can't do it in 5 years counting from today, Wed the 13th of Feb, I "Pascal Atuma" will visit both cities and raise ONE(1) each for you in a span of a year (one)(1) year.

I am putting it public so the African press and fans will be the judge and the watch dogs. Talk is cheap, very cheap, action speaks louder than voice. You guys are disgracing the whole of Nollywood USA/Africa as a whole in the name of making movies, and blocking the road for the professionals, I am sick of it. Take me up on the challenge please.

I remain,
Pascal Atuma.
Subscribe to Our Podcast Show
Some of Our Achievements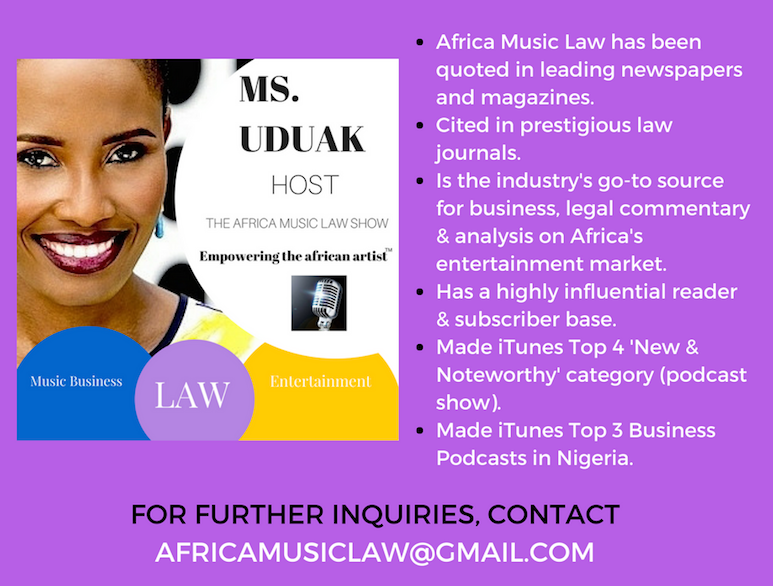 AFRICA MUSIC LAW™ (AML) is a pioneering music business and entertainment law blog and podcast show by Fashion and Entertainment Lawyer Ms. Uduak Oduok empowering the African artist and Africa's rapidly evolving entertainment industry through brilliant music business and entertainment law commentary and analysis, industry news, and exclusive interviews.
Credited for several firsts in the fashion and entertainment industry, Ms. Uduak is also a Partner and Co-Founder of Ebitu Law Group, P.C. where she handles her law firm's intellectual property law, media, business, fashion, and entertainment law practice areas. She has litigated a wide variety of cases in California courts and handled a variety of entertainment deals for clients in the USA, Africa, and Asia. Her work and contributions to the creative industry have been recognized by numerous organizations including the National Bar Association, The American University School of Law and featured in prestigious legal publications in the USA including ABA Journal and The California Lawyer Magazine. She is also an Adjunct Professor at the prestigious Academy of Arts University in San Francisco.
For legal representation inquiries, please email (uduak@ebitulawgrp.com). For blog related inquiries i.e. advertising, licensing, or guest interview requests, please email (africamusiclaw@gmail.com). Thank you for visiting Africa Music Law™.